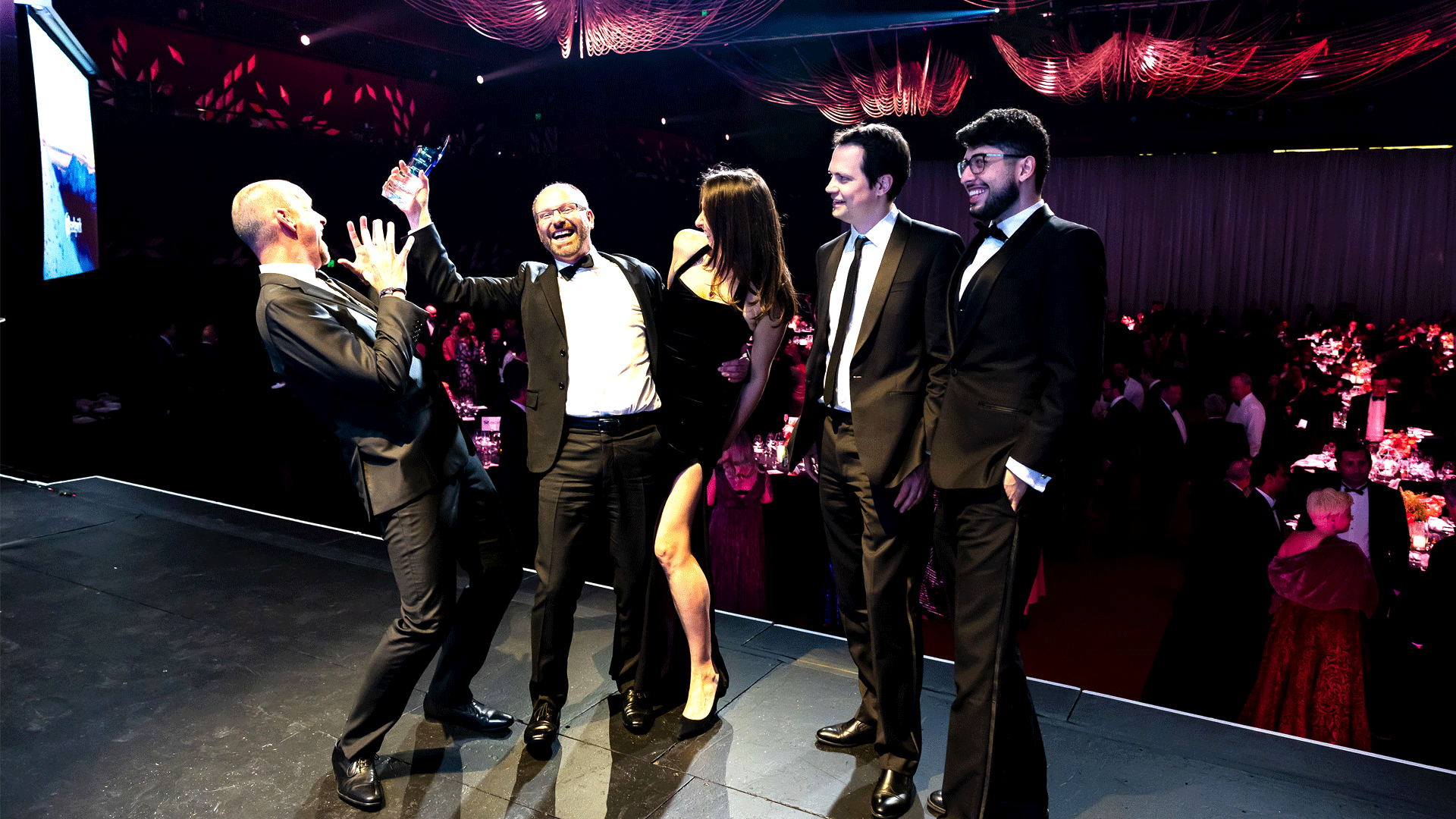 There was plenty of razzle and dazzle as the who's who of Australia's insurance industry came out in style to attend ANZIIF's 19th Australian Insurance Industry Awards at the Star Hotel in Sydney last week.
MC for the evening, Narelda Jacobs, a Whadjuk Noongar journalist and presenter, kept proceedings moving quickly, engaging an audience of around 800 people.
The night of celebration began with the launch of ANZIIF's latest industry initiative, a Claims Handling Framework which sets minimum professional standards given the recent implementation of licensing requirements for claims handling.
Win-Li Toh, a principal and director of Taylor Fry and head of its insurance business, was chosen as the 2023 Insurance Leader of the Year.
The judges described Toh as an articulate, proactive leader, a creative thinker, and praised her wider community and media work as an advocate for insurance. They noted that through her actuarial career of more than 25 years, predominantly in general insurance, she had applied an international mindset to problem-solving.
Commenting after her win, Toh said: "Actuaries are generally quiet achievers. We do a lot of valuable and interesting work that's not in the public domain, whether that's ensuring a company remains solvent or its pricing is right and fair – where no news is good news.
"Having the value of your work acknowledged publicly for such an important issue is exciting and a wonderful surprise. Being able to celebrate it with all the people who helped you get there is the cherry on top."
The night ended with Sedgwick National Executive Adjuster Tony Morgan winning the 2023 ANZIIF Lifetime Achiever award.
Morgan's career has included advocating for education across the industry. He developed ANZIIF's own loss adjusting program which is seen as setting the standard for the industry in Australasia.
He was also part of a subcommittee tasked 10 years ago with finding a new CEO for ANZIIF. It led to the appointment of Prue Willsford, who steps down from that role at the end of the year.
Having spent the past 50 years in the insurance industry, Morgan is struck by how valuable the work it does is.
"As an industry, we provide an invaluable safety net for people to take sensible risks. It means that they, society and the economy can function in a way that they couldn't without the prediction of insurance," he said.
"As loss adjusters, we help put the pieces back together. Helping people to recover from loss is a great privilege. My work is more than a career. It's a vocation, in the literal sense of that word. It's a sense of calling and purpose."
At the end of his speech, Morgan and Willsford joined hands and walked off the stage together. Willsford received a standing ovation from the audience in recognition of her contribution to the industry.
Brokers in the spotlight
The glittering awards evening kicked off with the award for small broking company of the year, which went to Simplex Insurance thanks to its focus on providing its SME customers with quality advice and service.
Judges noted that the Steadfast member company, based in Ballarat, had a steady client retention rate of 98 per cent and excellent overall NPS scores. They were also impressed that with just 18 staff members, Simplex could offer each of its clients a dedicated account management team.
View Legal Insurance was a finalist in this category.
Another Steadfast member, Warren Saunders Insurance Brokers, was the winner Medium Broker of the Year category. Judges said the independent, Australian-owned family business's long-standing commitment to its customers, people and the community had resulted in outstanding financials. They were also struck by its solid processes and initiatives that have carved out its clear point of difference in the market.
Warren Saunders managing director John Saunders said receiving recognition in such an esteemed company was a privilege. "Everyone says their culture is unique, but we certainly have a unique culture. We treat everyone inside and outside of the organisation with respect and that started 60 years ago with our founder Warren Saunders."
Guardian Insurance Brokers was a finalist in this category.
Meanwhile, Aon's impressive people development initiatives and innovation helped it pick up the Large Broking Company of the Year award for the sixth time.
The judges particularly liked CHIP Carbon, launched in 2022 as part of Aon's Combined Hazard Information Platform. It provides peril-specific risk insights for each building in Australia and New Zealand and is the only carbon footprinting tool available for Australia.
The judges also valued Aon's new online cyber insurance solution, CoverWallet, and its community and charitable initiatives, especially its support for Oz Harvest, which works to reduce food waste and provide meals to those in need.
"At Aon, we exist to shape decisions for the better, to protect and enrich the lives of people around the world. Every day, our colleagues bring Aon's values of being committed, united and passionate to life when supporting our clients," Jennifer Richards, CEO of Aon Australia, told the gathering.
"The recognition by ANZIIF is a testament that we are living our values for our colleagues, clients and communities."
Honan Insurance Group and Marsh were finalists in this category.
Insurers recognised
AIA Australia walked off with the Life Insurance Company of the Year award for the second year in a row, beating fellow finalist MetLife Australia.
AIA was praised by the judges for its efforts in customer satisfaction, supporting its people and the community and contributing to the professionalism of the life insurance industry.
Its AIA Embrace well-being ecosystem was acknowledged as its key differentiator and its Voice of Customer program, which collects customer experience perceptions, was also viewed positively.
Judges believed AIA's focus on people development gave it a winning edge.
They noted AIA's pivotal role in forming the Council of Australian Life Insurers (CALI), a new industry association aimed at giving the life insurance industry a stronger voice and commended AIA for its central, proactive role in the second iteration of the Life Insurance Code of Practice.
CEO and managing director of AIA Australia Damien Mu saw the award as a testament to AIA's hard-working team of talented people who continuously put customers first.
"We could not have achieved this on our own; our partners play an integral part in helping us ensure that Australians have the insurance protection they need and access to a broader health and wellbeing ecosystem that supports them to lead healthier, longer and better lives," he added.
Turning to general insurance, RACT, Tasmania's leading motor and home insurance provider, won the Small-Medium General Insurance Company of the Year award. It has done so every year since 2018, with 2021 the only exception. The other finalist was Adica Insurance.
Judges noted RACT's increasing member satisfaction and retention rates as well as its growing market share over the past five years after successfully engaging customers aged under 35.
RACT's local advocacy to lower road trauma was seen as unique. Its steps to make electric vehicle (EV) purchases more viable and to enhance supply chain management capabilities also helped it stand out, as did its people development programs.
Paul Sofronoff, chief insurance officer at RACT, said: "In 1923, RACT made a promise to Tasmanians that we would be there when they needed us.
"This year we celebrated 100 years of doing just that. While we must have insurance professionals who are doing a great job every day, we also have a terrific group of people who support us across the whole organisation. I would like to acknowledge the support we get from our technology, finance and HR partners."
At the bigger end of town, Suncorp Group beat rivals such as Allianz, CGU, Chubb Insurance and QBE Australia Pacific to win the Large Insurer of the Year category for the second year in a row.
Judges were drawn to Suncorp's impressive technology, people and ESG strategies. Its advocacy and contribution to the industry, particularly in promoting resilience and investment in mitigation infrastructure, was also recognised.
Judges applauded Suncorp's strong rolling NPS score and customer retention rate. Suncorp's innovative use of geospatial images of Australian homes combined with artificial intelligence was seen as a remarkable achievement.
Authorised representative networks
Insurance Advisernet (IA) picked up the gong for the Authorised Representative (AR) Network of the Year for the third consecutive year.
The company stood out on its adviser development, innovation, broker network integration, client support and contribution to the community.
Judges extolled IA's commitment to strategic partnerships supported by collaboration, dedicated resources, planning and annual networking for insurers and advisers.
Plus, they thought IA's new digital content platform for its advisers was an excellent addition as was its STEPS program for preparing prospective advisers for the transition into owning a business.
Shaun Standfield, managing director of Insurance Advisernet, thanked the team he works with. "They get up every day to help our ARs grow. Our motto for some time has been to protect, enhance and grow our ARs and we will continue to do that.
"Our advisers are the backbone of our company. In Australia, we have now 204 practices, putting into the market over $1.4 billion invoiced premium.
"What's more pleasing is the number of new clients that are now been referred to our practices with more than a 20 per cent increase in new client count over the last 12 months. I'm so proud of what our advisers do. Our recent externally measured NPS score of +76 and client satisfaction rates of 97 per cent says it all.
"Every year we introduce new initiatives that meet our advisers' needs and allow them to spend more time with their clients."
Community Broker Network was also a finalist
Underwriting Agency of the Year
CHU Underwriting Agencies won the fiercely contested Underwriting Agency of the Year category for the third time in a row, beating finalists such as NTI, ProRisk and Underwriting Agencies of Australia.
CHU stood out because of its best-practice approach to people development, industry contribution, focus on community work and environmental strategy. It enjoys very positive NPS scores across all its branches and a consistently high customer retention rate.
CHU improved its services by adding a dedicated catastrophe response team and making technology enhancements to give intermediaries a 24/7 view of claims progress. Judges also praised its collaboratively customised education and training for brokers and strata managers.
CHU is carbon neutral and continues to offset emissions. It's "green team" oversees the implementation of environmental strategies and a partnership with SDG Align has been formed to mentor and guide CHU on its road to further sustainability.
"This win is a validation of our strategic direction and efforts to lead the industry," CHU CEO Kimberley Jonsson noted.
"We are all extremely proud of what we achieved in 2022. It was a massive year of growth, development, innovation and importantly, giving back to our people and our community."
"We intend to continue as thought leaders within our industry, through sustainable business practices, innovation and collaborative partnerships. The future is bright for CHU, and we will continue to act with integrity, build strong relationships and work towards a sustainable future for the whole community."
A winning claims teams
NTI was the winner of the Claims Teams of the Year award, with finalists including ARC Projects, CHU Underwriting Agencies, CGU, ProRisk, Suncorp Group, Woodina Law and Youi Insurance.
NTI, a joint venture between IAG's CGU and Suncorp's Vero, insures 35 per cent of Australia's transport businesses and an annual portfolio of around $150 billion worth of cargo globally.
It was commended for its firsthand relationships with customers through associations, manufacturers, mental health charities and the industry regulator. This has led to strong NPS scores and excellent claims operations customer feedback.
Judges were impressed by NTI's response to the specific flood-impacted hubs of Rocklea and Lismore during the 2022 weather events. They also praised NTI's commitment to learning and on-the-job coaching.
NTI CEO Tony Clark said: "Our people show up every day to help make the lives and businesses of fellow Australians, safer and more sustainable. This award is a testament to the genuine passion and unique workplace culture at NTI."
"We aim to go above and beyond — from understanding customers and connection to the industry to building close relationships with our broker partners and better servicing them in ways that make a real difference.
"This, along with our market-leading products, in-house capability and expertise, and claims excellence is what has earned our people this recognition."
Professional services
Finity took home the Professional Services Firm award for the first time since 2018, jumping ahead of other finalists such as Barry Nilsson, DLA Piper, Hall & Wilcox, MinterEllison, Moray & Agnew and Sparke Helmore Lawyers.
Finity is the largest independent actuarial and strategic analytics firm servicing the insurance industry and employs 240 people.
Judges commended its strong and consistent customer retention rate and customer satisfaction measures. They liked its innovative enhancements to long-established models to incorporate future climate scenarios using a combination of perils data and economic data.
Scott Collings, principal and managing director of Finity Consulting, described the award as "one for the actuaries" and praised his exceptional team.
Elsewhere, Allied Universal Compliance and Investigations won the Service Provider to the Insurance Industry award for continually stepping up its quality service.
As a national investigation and claim support service provider, Allied Universal focuses on technology-led risk insights to help insurance customers make more accurate decisions and meet corporate and social responsibilities.
Judges noted that its digital InVue survey process, which combines with a variety of other methods for capturing customer feedback, resulted in 100 per cent client retention for three years in a row.
Other initiatives include Express COG Workflow, a customised modification to improve the speed of service and claim cycle times, and InterviewMe which speeds up claims decisions.
"This year we are celebrating our 35th year in business and what a way to add to that celebration," Kieran Milne, managing director of Allied Universal, said when collecting the award.
"Receiving this award means a lot to us, but even more importantly, receiving is a testament to the true value that the broader investigative industry delivers to the insurance industry.
"We work hard on keeping our core purpose at the forefront of everything we do. We help our insurance clients make the right decisions.
"Right now, we are focusing heavily on a range of technology solutions that streamline our delivery and provide a positive customer experience. These are essentially faster, more cost effective and friendlier That's our path hopefully for the next 35 years."
Insurtech start-up
Sync Technology snatched the Insurtech Start-Up of the Year award on the back of its articulate promise for what's possible and innovative use of technology to solve problems with sharable tools that serve a variety of customers.
Other finalists included Clover Insurance, Curium, FreightInsure and Loop Logics.
Sync's platform offers a digital twin solution for home and building claims. Digital twins provide both internal and external replicas of a property, allowing loss assessors and builders to conduct desktop assessments and scope claims remotely.
The high-quality data provided using Sync's digital twin solution lowers the initial assessment time from around five to ten days to between 24- and 48 hours.
Judges were also dazzled by the potential use cases of Sync's AI-powered defect detection solution that can identify building damage such as roof defects and wall cracks.
Environmental, Social and Governance (ESG)
Allianz took out the 2023 award for Excellence in Diversity and Inclusion ((D&I) thanks to the strength of its data and its many well-received D&I initiatives.
Other finalists for the award included CHU Underwriting Agencies, Hollard Insurance, Honan Insurance Group, Marsh and MetLife Australia.
At Allianz, staff are allocated D&I KPIs and leaders undertake training in the specific related focus areas of the strategic plan. Remarkable D&I achievements include a like-for-like gender pay gap of 0, maintaining a target of 40 per cent men, 40 per cent women and 20 per cent either across the business since 2019.
IAG won the excellence in the ESG change category. Judges were impressed with its ESG staff training and its work to align its ESG approach of "making your world a safer place" and the four pillars of its corporate strategy.
In 2022, IAG introduced a technical peril pricing engine that can provide incentives for physical risk reduction activities based on modelling developed by its in-house natural perils team.
Judges were also awed by IAG's EV program and its NRMA Insurance Carbon Offset Program which allows customers to offset their car's annual emissions and support partner projects, such as bush regeneration, renewable energy and rainforest protection.
Internally, IAG has reduced scope 1 and 2 emissions by 13 per cent since its 2021 financial year and 54 per cent since 2018. It's also engaging with suppliers on how it can support the decarbonisation of its supply chain.
Christine Stasi, IAG group executive people performance and reputation, said: "Our ESG approach continues to be embedded in our strategy and forms an integral part of our engagement with customers, suppliers, employees and the communities that we serve.
"With natural peril events increasing in frequency and severity, we take a proactive role in addressing climate change and disaster resilience as the ESG issues closest to our core business."
Finalists for this award include Honan Insurance Group, Marsh, QBE Insurance Australia and Swiss Re.
Young Insurance Professional of the Year
Finity Consulting senior consultant Calise Liu was this year's winner after demonstrating big-picture thought leadership across climate risk and insurance affordability.
Liu joined Finity in 2015 as a UNSW graduate. In 2022, she focused on developing her expertise in climate science, disaster resilience and the role that insurance and actuaries can play in this space.
She currently works directly with appointed actuaries, responsible for the design and delivery of modelling work, client communications and project management.
Crucially, the judges commended Liu for her involvement in Finity's recent highly-regarded project examining climate change and disaster resilience in Australia, which culminated in the publication of an Actuaries Institute green paper on home insurance affordability.
She also leads Finity's carbon-neutral certification through Climate Active, which requires buy-in from leadership and the development of strategies to achieve the firm's emissions reduction commitments.
Liu was a key contributor in a pro-bono project that examined the financial impacts of climate change for First Nations communities and she has chaired Finity's Giving Back Committee.
Find out more about the ANZIIF Australian Insurance Industry Awards