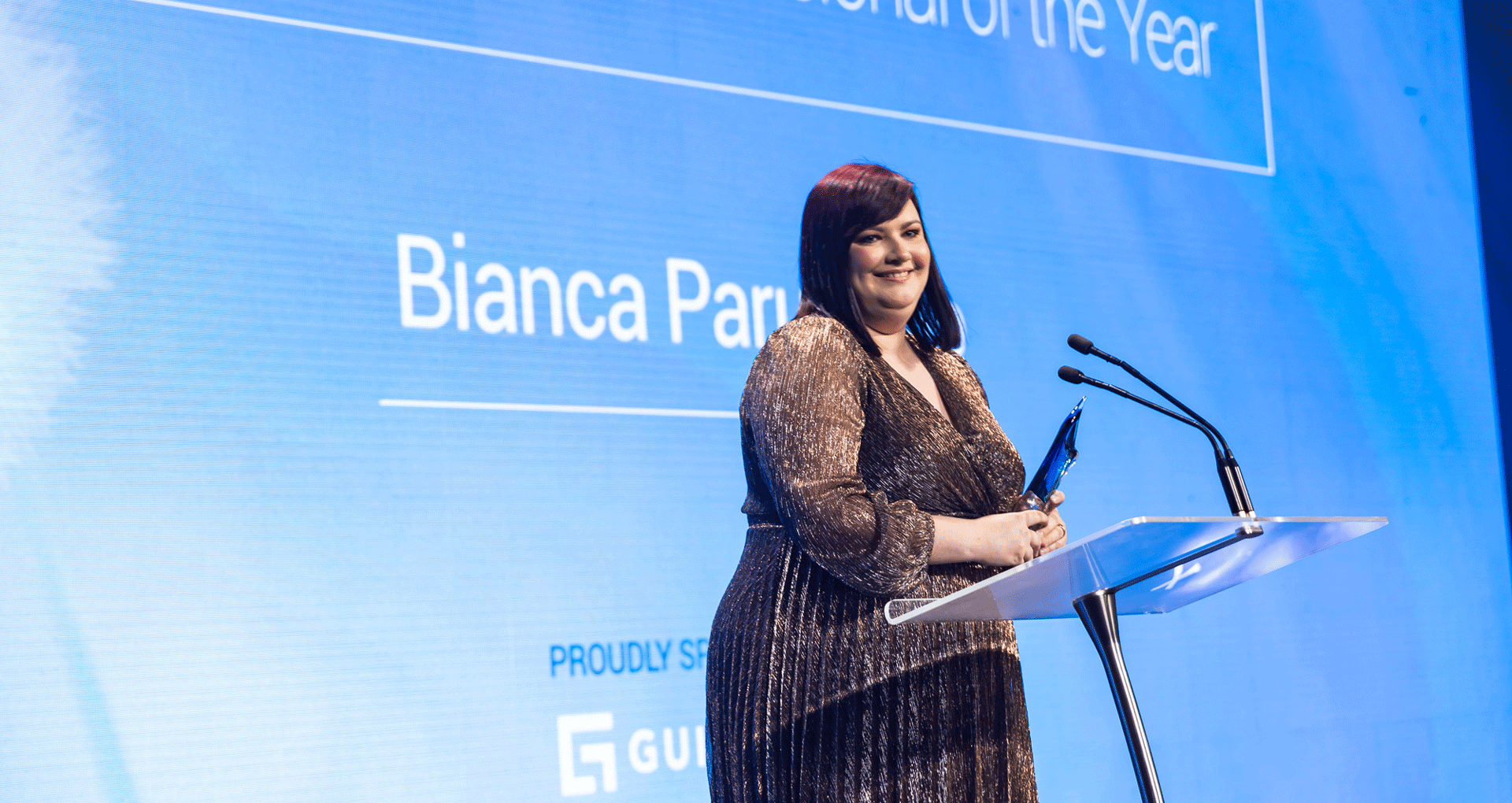 Bianca Parussolo has garnered an impressive number of accolades since she joined the insurance industry five years ago. Last month, she won Young Insurance Professional of the Year at ANZIIF's Australian Insurance Industry Awards in Sydney. In 2021, Parussolo was a finalist in the same category and her team won the inaugural ANZIIF Making a Difference Award for Most Valuable Team. The year before that, she won Victorian Regional Student of the Year and ANZIIF Student of the Year, in both the Diploma of General Insurance and Certificate IV in General Insurance.
Parussolo's passion and commitment to the industry underpins her success in a complex and often emotive area of insurance. As claims team leader at Professional Risk Underwriting (ProRisk), she manages a portfolio of professional indemnity, medical malpractice and general liability claims. She also oversees claims for ProRisk's other product lines through mentoring and supervising the organisation's claims examiners.
Leaving law for insurance
Parussolo left a promising career as a solicitor to join ProRisk as a senior claims examiner in 2017. She did so because she felt she could make a greater impact.
'I loved the law and I worked very hard to get my degree and get a place at a law firm. It was a big decision for me to change industries,' she says.
During the four years she worked in private practice at DLA Piper, she provided advice to insurance companies, but the final decision on strategy lay with her clients.
'Being in [insurance] claims puts me at the forefront of helping our clients, because I'm ultimately responsible for the outcome of the claim,' she says.
High stakes of malpractice claims
Parussolo's work is high stakes for everyone involved. She recently supported a psychologist who was the subject of a regulatory complaint from a patient who alleged that they were in a romantic relationship at the same time as the professional relationship. This is considered a boundary transgression and one of the most serious breaches of the Australian Psychological Society's Code of Ethics.
The regulator was proposing to immediately suspend the psychologist's practicing registration, pending the outcome of an investigation into the allegation. The psychologist told Parussolo that the allegation was unfounded.
'You only get a couple of days to put a response in, and to appear before the board before it makes a decision on the proposed immediate action,' says Parussolo. 'When this happens, you drop everything.'
The psychologist was allowed to continue practicing while the two-year investigation was underway.
'And of course, having a complaint made against you is very stressful — not knowing what the outcome is going to be, and whether you will be able to continue to do what you love doing, as well as to make a living. We're protecting somebody's livelihood and professional reputation, and I take that responsibility seriously.'
The investigation found no evidence of a relationship and the insured was extremely relieved when the ordeal was over.
'She was so grateful to me and the lawyers we appointed for our guidance, advice and support. When we get a great outcome like that, it is very rewarding,' says Parussolo.
Parussolo loves that no two days in claims are the same, with claims arising that require urgent attention. The circumstances of each claim are unique and require excellent analytical skills. The stakes are high in medical malpractice and her work requires empathy for everyone involved.
Along with supporting professionals who face the prospect of losing or having their registration impacted, she has had cases involving claimants who have been paralysed as a result of alleged medical malpractice.
'In medical malpractice, claims that involve compensation mean that you're dealing with someone who's been injured, as compared with other types of professional indemnity claims, such as for property damage or economic loss,' she says.
This necessitates a different approach to how the claim is handled.
Bound to be a lifelong learner
Parussolo loves learning and is glad to be in an industry that is knowledge-based. Ongoing professional development enables her to stay up to date with regulatory and legislative changes and to deliver the highest standard of service to customers.
'When I studied law I gained theoretical knowledge, but I felt like I then had to start to learn all over again when I joined a law firm to understand how to practice as a lawyer. Whereas when I studied with ANZIIF, I was able to see the benefits straightaway because I could implement what I was learning. It was a great experience to work and study at the same time.'
Parussolo cannot foresee ever wanting to leave the insurance industry, and in time hopes to become more involved as an advocate for the insurance profession.
'I'm passionate about promoting insurance as a profession. I want to help people discover that they can have a rewarding and long-term career in this industry,' she says.
Meet all the 2022 ANZIIF award winners