Our Business
ANZIIF is an insurance industry membership organisation in the Asia-Pacific region. Its mission is to lead and engage industry through education and the promotion of professional standards, enabling members to achieve their career and corporate aspirations. ANZIIF also assists the community to understand insurance through initiatives such Careers in Insurance.
Our Purpose
We lead our industry through professional standards and lifelong learning which enable our Members to achieve their career (and corporate) aspirations.
Our Vision
The platform for professionalism in insurance and finance
Our Essence
Learning to thrive together
Our values
Our values are the backbone of everything we do, from how we interact with each other to the decisions we make as a business and the service we provide to our customers.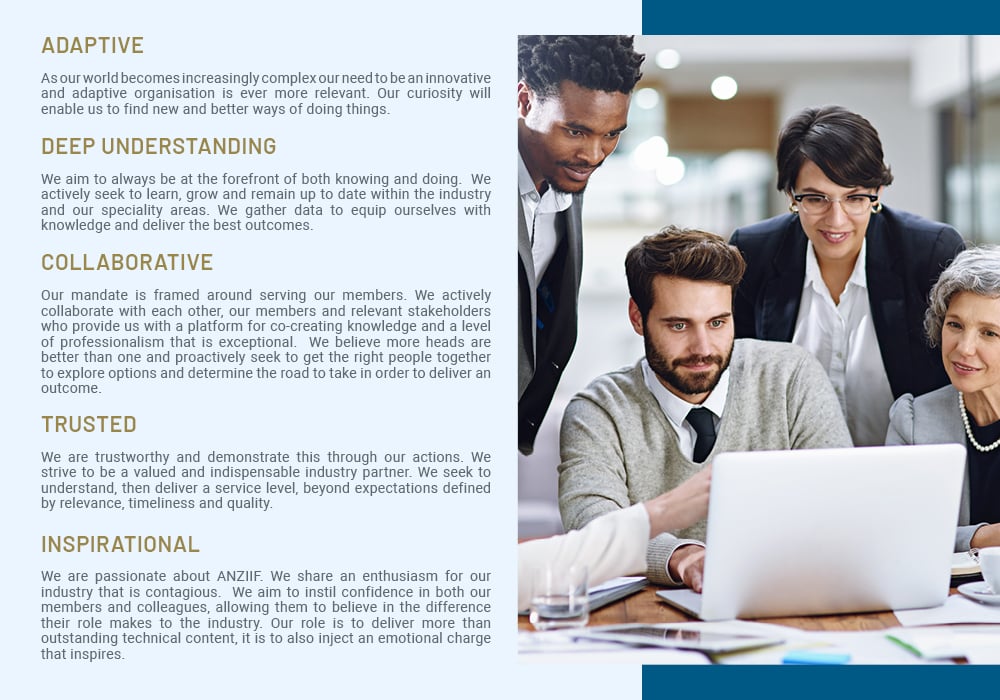 Why Join ANZIIF?
Benefits
At ANZIIF, employees have access to a variety of benefits and rewards including salary continuance insurance, complimentary ANZIIF membership, discount gym membership, LinkedIn Learning membership, 2 paid volunteer leave days and 3 'recharge' days a year that goes towards supporting our employees' health and wellbeing.
Employee Recognition
ANZIIF's Reward and Recognition Program is a significant way for employees to acknowledge their peers for their outstanding performance and behaviours that lead directly to the achievement of ANZIIF's vision, mission, values and strategic goals.
Spot Award - Immediate recognition for effort and achievement that above and beyond their job.
High Achiever Award - Recognises positive behaviours and actions of an employee and/or a team
Service Excellence Award - Recognises outstanding behaviours and actions of an employee and/or team
Career Opportunities
If you are seeking a career opportunity with an industry leader and want to make a difference in the world of learning, insurance and finance, we would love to hear from you!