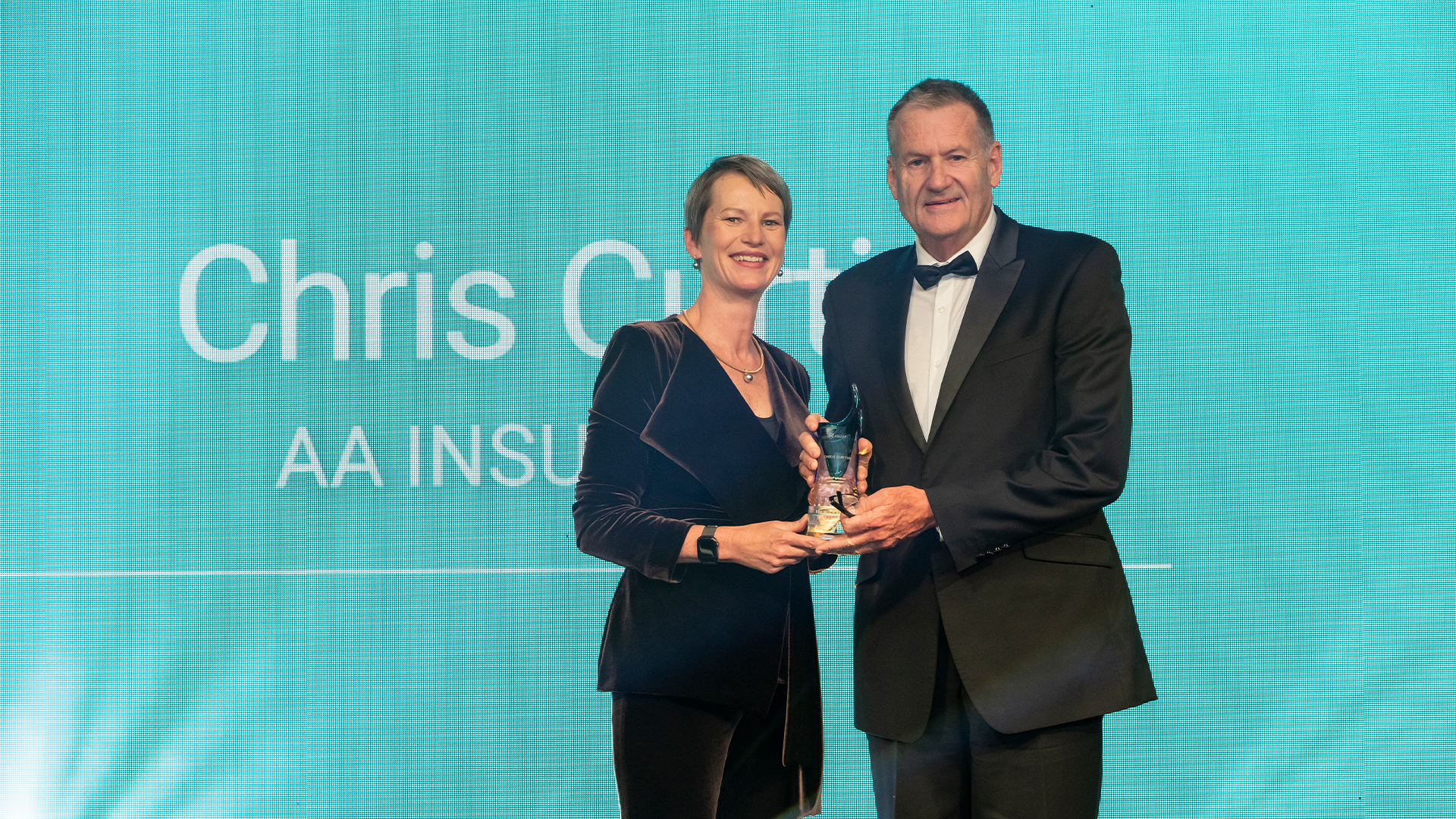 Chris Curtin, Chief Executive Officer, AA Insurance and winner of the 2022 ANZIIF Lifetime Achiever Award considers helping people to be 'at the very heart' of what the insurance industry does.
He is 'genuinely proud to work in insurance, helping customers and communities recover from unexpected and sometimes lifechanging events.'
A thriving business
Under Curtin's stewardship, AA Insurance has thrived, growing from a start-up venture into one of New Zealand's leading direct personal insurance companies, with over 1,000 employees, delivering more than a million policies to half-a-million New Zealanders.
In recent years, the company has consistently been ranked in the top six organisations according to the Kantar Corporate Reputation Index, an annual survey of New Zealanders that rates companies' performance across the pillars of trust, leadership, corporate and social responsibility and success.
'We are excited about the possibility that an insurance organisation could attain the aspirational goal of getting to number one,' Curtin says of the achievement.
He is extremely proud of the many acknowledgements that the organisation has received, particularly, having AA Insurance named New Zealand's best workplace in 2011, at the height of the Canterbury earthquakes.
More recent accolades include receiving Consumer New Zealand's People's Choice award for car, home and contents (2019 and 2020) and consistently being voted New Zealand's most trusted general insurer in the annual Reader's Digest survey since 2011.
Traditional values
Curtin credits his home life with fostering the values that have driven his success. His father taught him to work hard, be persistent and to never give up pursuing his goals. 'He instilled in me an ethos of "always playing with a straight bat", which I've tried to stick to throughout my working life,' he says.
Born in Taree on the mid north coast of NSW, he attended Oakhill College in Sydney as a boarder and completed his education at Balgowlah Boys High School, graduating in 1976.
After completing high school, he took a job in underwriting with GIO in Sydney, planning to work there for a year before studying journalism at university.
It wasn't long before he was fascinated by the work and realised that the insurance industry offered a wealth of career opportunities to those who are diligent, motivated and passionate about working with people. He had all these qualities in spades.
Curtin worked his way up through various management roles at GIO, before being appointed in an executive position.
Proud Kiwi
In 1995, GIO sent Curtin to New Zealand on a short-term basis to oversee the development of AA Insurance, which GIO Australia was establishing as a joint venture with the New Zealand Automobile Association.
Curtin relished the role and decided to stay on in the Chief Executive position. He now counts himself as a proud New Zealand citizen.
Remarkably, in a time of significant employment mobility, Curtin has worked for two connected companies for 46 years. In that time, has played a considerable role in ensuring that AA Insurance is a company that retains its workers.
From the outset, AA Insurance has been committed to creating a healthy and genuine organisational culture, based on 'having the courage to always do the right thing, even when those decisions are hard.'
As a result, Curtin is very proud to share that AA Insurance has achieved engagement scores in the mid-80s for the past ten years.

'The significant accolades and awards we've received for our workplace culture, highlight the impact of the organisation's purposeful approach,' Curtin says.
Intentional culture
For over 20 years, AA Insurance has deliberately nurtured and monitored this approach in all aspects of its work. For example, regular engagement surveys and cultural health checks, are undertaken and employees who align themselves to core organisational philosophies are acknowledged and rewarded.
In addition, the workplace culture at AA Insurance nurtures young talent.
'Looking back over 28 years, it's terrific to see so many AA Insurance people growing, learning, creating successful careers and achieving their full potential in insurance and across other industries,' Curtin says.
He adds that the company's vision and philosophy has also maintained its unwavering commitment to developing a model that serves customers.
Notably, insurance policies have been rewritten in plain language, ensuring they can be easily understood by customers. 'If we invest in our people and culture first and foremost, then success will follow,' Curtin asserts. 'Our purpose to care for, help and get things sorted for our customers is deeply embedded.'
Being genuine and having the courage to do the right thing is a mantra that Curtin repeats. 'It's been an absolute privilege to have been involved with AA Insurance almost from the outset,' he says. 'AA Insurance aims to earn the trust of every New Zealander by protecting what matters most.'
Rising to challenges
Curtin lists the Auckland power crisis, the Manawatu floods in 2004, the Canterbury earthquakes and the global pandemic as some of the business challenges the organisation has faced.
But AA Insurance's greatest challenge, according to Curtin, has been the creation of a positive workplace culture.
'A strong, healthy culture with the support of a group of amazing people has always been the solid foundation steering us through all the challenges we've faced,' he asserts. 'The organisation's greatest challenge has also been its greatest achievement.'
Curtin names climate change as the greatest global challenge the industry faces. He believes insurers need to be more proactive and outspoken as this challenge evolves.
'There needs to be more urgency and collaboration across all stakeholders to ensure New Zealand is prepared for the future,' he says. At the same time, he is confident that the future of insurance is 'in good hands' as the industry is 'brimming with talent.'
Caring for customers and community
He is also optimistic that people are seeking employment in organisations that share their personal values and beliefs.
'They are looking for an employer that authentically cares about their customers and communities, has a strong social conscience, and wants to do good in the world,' he says, adding that he is confident that the industry will continue to attract great new talent.
'If you have a hunger to learn and are prepared to work hard, insurance remains a great choice for a wonderfully rewarding career,' he says.
Having also played a key role within the broader insurance industry, as a member of the Institute of Directors and a director on the board of the Insurance Council of New Zealand, Curtin's colleagues describe him as inspirational.
Humbled by ANZIIF win
True to form, Curtin says he was 'totally humbled and surprised' to be named the 2022 ANZIIF Lifetime Achiever.
'I'm extremely grateful to have my passion for AA Insurance and the insurance industry recognised in this way and am touched to be honoured for doing something I love,' he shares. I've also had some fantastic mentors and role models throughout my career.
'I'm still learning from many wonderful and exceptional people I come across every day,' he says. 'I've met so many talented and genuine people on my journey. I wouldn't be receiving this award if it wasn't for all of them.'
Curtin is also quick to acknowledge his partner Alison, who 'has been a steady influence on me and my greatest support over the years.'
'I've learned so much from so many, and I'm extremely grateful to have had this amazing opportunity to lead an organisation that makes me proud every day.'