Brett Peppler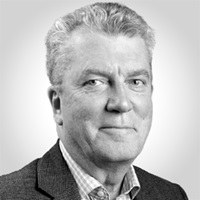 Managing Director
Intelligent Futures
Brett Peppler is the Managing Director of Intelligent Futures Pty Ltd (www.ifutures.com.au) – a specialist management consulting practice providing intelligence-led approaches for managing uncertainty in strategic planning.
Brett spent over 40 years working as a professional intelligence officer, including appointments and professional engagements across multiple domains of intelligence practice in the United States of America, United Kingdom, Germany, New Zealand, and across South-east Asia.
Brett has made a significant contribution as a thought leader in intelligence studies, developing scholarly articles and presentations to national and international intelligence conferences.
Brett is a Fellow, Past President, and Life Member of the Australian Institute of Professional Intelligence Officers (AIPIO), a Member of the Australian Institute of Company Directors (AICD), a Member of the International Association for Intelligence Education (IAFIE), and an Adjunct Fellow at Macquarie University.
Follow Brett on Twitter @cbrettp and @iFuturesAU
Details
Time and date:

14 September 2022, 12:00pm - 1:00pm AEST*
Add to Calendar
*Please visit Time and Date to establish the start time in your local time zone.

Venue:
Online
Price:
$35 AUD
CIP points:
1
Speaker:
View the speaker
Registrations closed | Browse upcoming events
About
An intelligence-led risk culture helps us approach risk management with a growth mindset rather than the traditional preoccupation with efficient risk administration.
This shift informs strategic conversations and will help businesses focus on 'dissolving' emerging issues rather than 'solving' existential issues.
This webinar will help you understand what Risk Intelligence is and why adopting this practice is beneficial for your organisation.
Our presenter is Brett Peppler, Managing Director at Intelligent Futures. Brett is a thought leader in intelligence studies and boasts extensive professional experience providing intelligence-led approaches for managing uncertainty in strategic planning.
Ideal for anyone interested in risk management, attendees at this session will learn:
Why growing complexity requires us to be less concerned about the efficient operation of the risk system and more concerned about informing 'strategic conversations' from different points of view
How robust strategic conversations can lead to positive outcomes by shifting our focus to preventing problems from happening in the first place
How to follow a surer path to risk maturity by making decisions more anticipatory, making insights more actionable, and reducing the prospect of surprises
For further information about this professional development program, please contact Melanie Hansen, Event Manager.
Learning Outcomes
At the end of this webinar, attendees will be able to:
Understand why the Risk Intelligence practice is of benefit to organisations and how this impacts risk culture
Explain the importance and outcomes of robust strategic conversations
Sponsorship
Are you interested in sponsorship opportunities for ANZIIF webinars? For more information on how your organisation can benefit as a sponsor of this leading professional development program, please contact Sara Cheong, Sponsorship Executive by phone on +61 3 9613 7200 or by email at [email protected].
---
Speaker