Shaji Sethu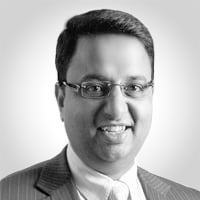 Managing Director, Asia Pacific
Duck Creek Technologies
Sethu brings more than 20 years of leadership and general management experience to Duck Creek. Having started his career as an engineer, he quickly transitioned into IT as a developer, and then into consulting roles and general management of consulting practices within the region.
Most recently, Sethu drove sales and delivery of cloud-based platform solutions, managed services, and IT transformation consulting for Oakton, a subsidiary of Dimension Data and NTT Group. During this period, he has helped a number of organizations with their digital and business transformations.
Within General Insurance sector within Asia Pacific; Sethu has had extensive experience in helping organisations transform their Policy Administration Systems and Claims Management Systems.
Details
Time and date:

24 November 2021, 12:00pm - 1:00pm AEDT*
*Please visit Time and Date to establish the start time in your local time zone.

Venue:
Online
Price:
$35 AUD | $37.50 NZD
CIP points:
1
Speaker:
View the speaker
Registrations closed | Browse upcoming events
About
The last few decades have seen significant technological changes to the general insurance sector. These have given rise to unicorns in the industry who have thrived by introducing insurers to transformational technology and operating models.
In this webinar, Shaji Sethu will unlock the benefits of replacing current fixed legacy insurance products with new tailored digital offerings. He will explore why insurers need to get behind the digital revolution by likening the evolution of the music industry to the current state of the insurance industry.
Historically, there were three main battles for insurers which included capital, distribution and access, and brand and product differentiation. With the emergence of the internet and transformational technology, the industry became more consumer-centric, both from a consumer and an insurer perspective. For some traditional general insurers, becoming a digital insurer can seem like a daunting task, but this kind of transformation is not unprecedented.
For further information about this professional development program, please contact Melanie Hansen, Event Manager.
Learning Outcomes
At the end of this webinar, attendees will be able to:
Understand how modernising legacy insurance products through a 'Product Factory' approach empowers digital insurance?

Describe how insurers can develop the 'right and holistic' mindset for innovation and digital transformation, and discuss what is holding them back.

Recognise what benefits insurers are missing out on, and what opportunities this new technology has to offer.
Sponsorship
Are you interested in sponsorship opportunities for ANZIIF webinars? For more information on how your organisation can benefit as a sponsor of this leading professional development program, please contact Sara Cheong, Sponsorship Executive by phone on +61 3 9613 7200 or by email at [email protected].
Sponsors
Platinum
Gold
Support
---
Speaker