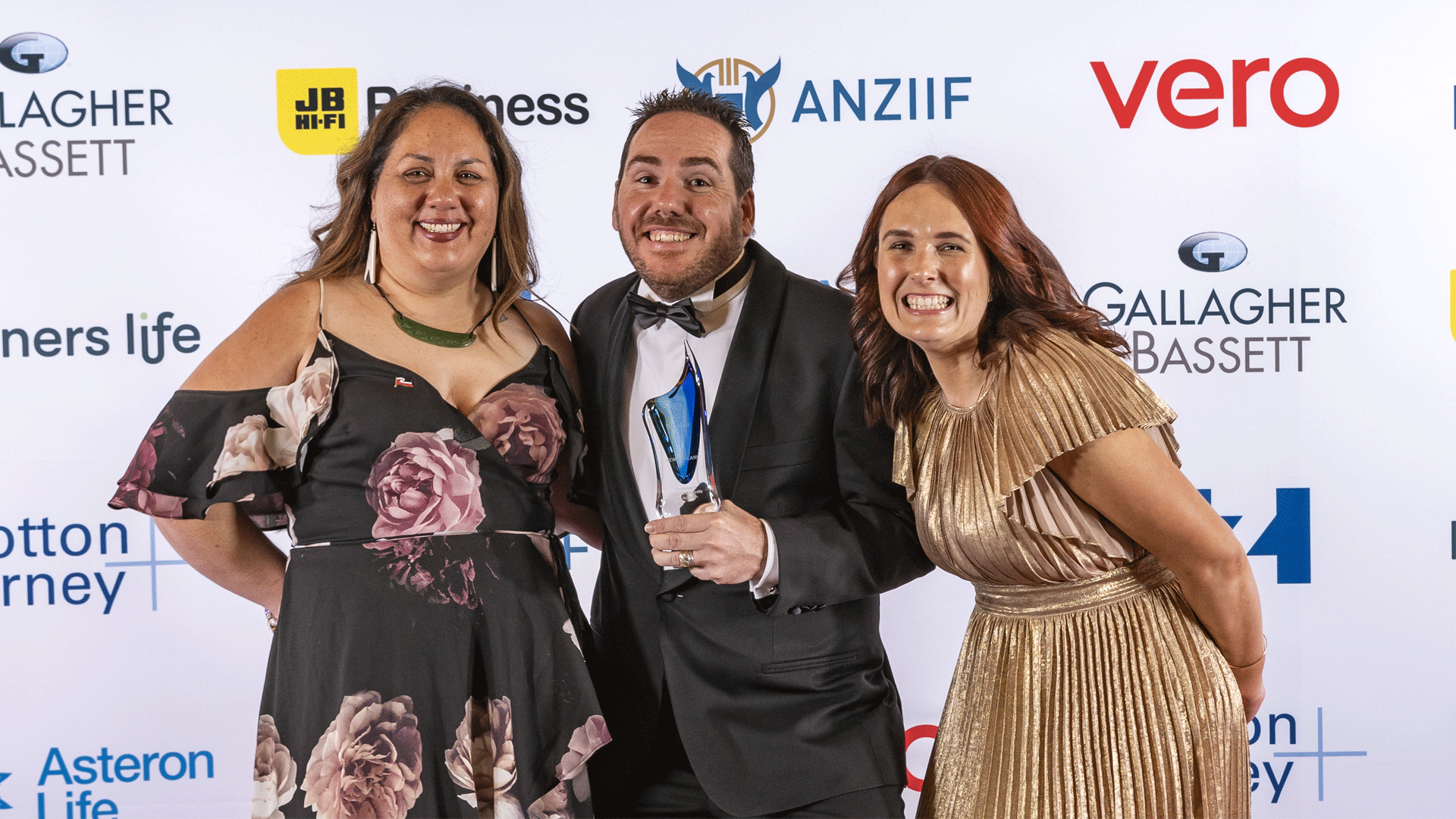 IAG New Zealand has an ambitious vision for its diverse and inclusive workplace culture.
For Louise Harvey-Wills, Executive General Manager Business People Culture and Sustainability that vision is "to respect and value the different experiences of our people."
Harvey-Wills says winning the 2022 ANZIIF Excellence in Workplace Diversity and Inclusion Award confirmed that they were on the right track.
"It motivated us to further develop our successful diversity and inclusion work," she says.
The award recognised IAG New Zealand's comprehensive strategy for embedding gender equality; embracing all employee and customer cultures and supporting the inclusion of gender diverse workers through sound gender affirmation guidelines.
Showing up for each other and customers
Lavinia Taylor, Principal, Māori Engagement (Ngāpuhi, Ngā Rauru, Ngāti Tūwharetoa), says respecting differences in the IAG New Zealand workplace is achieved by supporting everyone to contribute to how they show up for each other and the company's customers.
"When you consider the needs of those who may think differently, you create space for people that wasn't there before," Taylor says.
"This can be especially important in ensuring everyone has a voice, the opportunity to use it, and that they feel culturally and psychologically safe to do so.
"Fostering openness like this in a workplace sets a standard and expectation for how to maintain respectful, professional and empathetic inclusion of multiple perspectives" she says.
IAG New Zealand strives to be a welcoming workplace with recruitment policies and processes that aim to reduce bias and create equality of opportunity for all, regardless of gender, sexuality, age, race, ethnicity or disability.
For example, job advertisements include te reo Māori [the Māori language]. Gender equity and cultural diversity are important considerations in determining the composition of job interview panels and in deciding on candidate shortlists.
He Rautaki Māori
IAG New Zealand's comprehensive He Rautaki Māori [Māori strategy] supports the revitalisation of the Māori language and celebrates Māori culture, fostering inclusion and a sense of belonging for Māori staff and customers.
According to Taylor, "Creating impact with He Rautaki Māori comprises the integration of tikanga Māori [Māori customs and protocols] into everyday practices."
This includes "conducting our Mihi ki ngā Tāngata Whenua [Welcome and acknowledgement of the people of the land], supporting our people to share te reo Māori internally and externally, celebrating Matariki [Māori New Year] and supporting Māori businesses".
"We also encourage our people to engage in Te ara ki tua — a Māori cultural competency survey," Taylor says.
Exploring cultural identity
Taylor's lived experiences inspire her passion for working in language, culture, diversity and inclusion.
"As a wahine [woman] Māori who did not live in Aotearoa New Zealand as a child or grow up surrounded by te reo Māori, I've spent all my adult life exploring my cultural identity," she says.
"What most excites me about my current role is being able to support others to do the same.
"I am privileged to have the honour of encouraging our next generation to stand confident in who they are, be proud of where they come from, and know that their whakapapa [cultural heritage] is as valued as the skills they bring to this industry."
Taylor is motivated by the hope of an equitable Aotearoa New Zealand that is accepting of all and truly embraces Tāngata Whenua [the people of the land] and Te Ao Māori [the Māori world].
She believes He Rautaki Māori can inspire others in the industry to be more inclusive by recognising the importance of Tāngata Whenua in Aotearoa New Zealand.
To that end, IAG New Zealand has established a three-year partnership with TupuToa, a non-profit providing Māori and Pacific leadership internships and programs.
"In alignment with our pou [pillar] 'Fostering Māori Leadership', this partnership allows us to create opportunities that enhance Māori and Pacific achievement and sow the seeds for future success within IAG," Taylor says.
The bi-cultural foundations that the organisation has established demonstrate the value in better supporting Māori communities.
"This has helped us to embed diversity, equity, and inclusion into who we are, what we do, and how we show up for all the communities we serve," says Taylor.
Gender equality
Gender equality is embedded in staff roles and workplace culture through a talent framework that supports growth and development. The organisation also runs programs to bridge identified gaps.
Examples include 'Code like a Girl', which provides paid internships for women in tech roles while 'Game Changers' enables female future leaders to build and demonstrate skillsets. It supports them to create networks while solving genuine business problems.
Additionally, staff have access to global leadership programs for women, gaining connections and learning outside of the industry.
"We are committed to employees feeling comfortable and supported in bringing their whole selves to work," says Louise Harvey-Wills of the company's gender affirmation guidelines.
"Our gender affirmation leave refers to the range of processes involved in helping people transition to their authentic gendered selves.
"We acknowledge that every gender affirmation path will be different. We know that staff who are transitioning feel supported to focus on themselves and their journey. Our leaders are more aware of their employees' needs and are empowered to support them."
Taylor concedes that it can sometimes be challenging for team members to participate in many diversity initiatives while focusing on supporting customers. "We have now developed ways of working to ensure that no one misses out," she says.
Harvey-Wills adds that IAG New Zealand's priority is to harness the opportunity and business benefits that diverse ideas and perspectives bring to the organisation, customers, and stakeholders.
Momentum to stay the course
Harvey-Wills says winning the ANZIIF Award for Excellence in Workplace Diversity and Inclusion "credited the incredible work that our people do to make IAG New Zealand a fair, diverse and sustainable place".
She says the win highlighted that the company was doing the right thing. "It gave us momentum to stay the course, there was more to do," she says.
Since receiving their award, IAG New Zealand has developed self-paced learning, and extended diversity questions in the annual survey.
Taylor adds that the award has helped IAG New Zealand consider how best to support all its communities. "Our commitment to He Rautaki Māori has only continued to grow," she says.
She hopes IAG New Zealand's approach to diversity, inclusion and belonging will inspire others in the industry.
"You need to share the decision-making with your people to truly honour the meaning of diversity, inclusion and belonging.
"Make it easier for them to get involved, remove barriers to participation for all regardless of role, tenure, or team. Work together to identify what is important to them and focus on these areas."
Image: (from left) Lavinia Taylor, Steve Jordan-Law, and Claire Bourne.