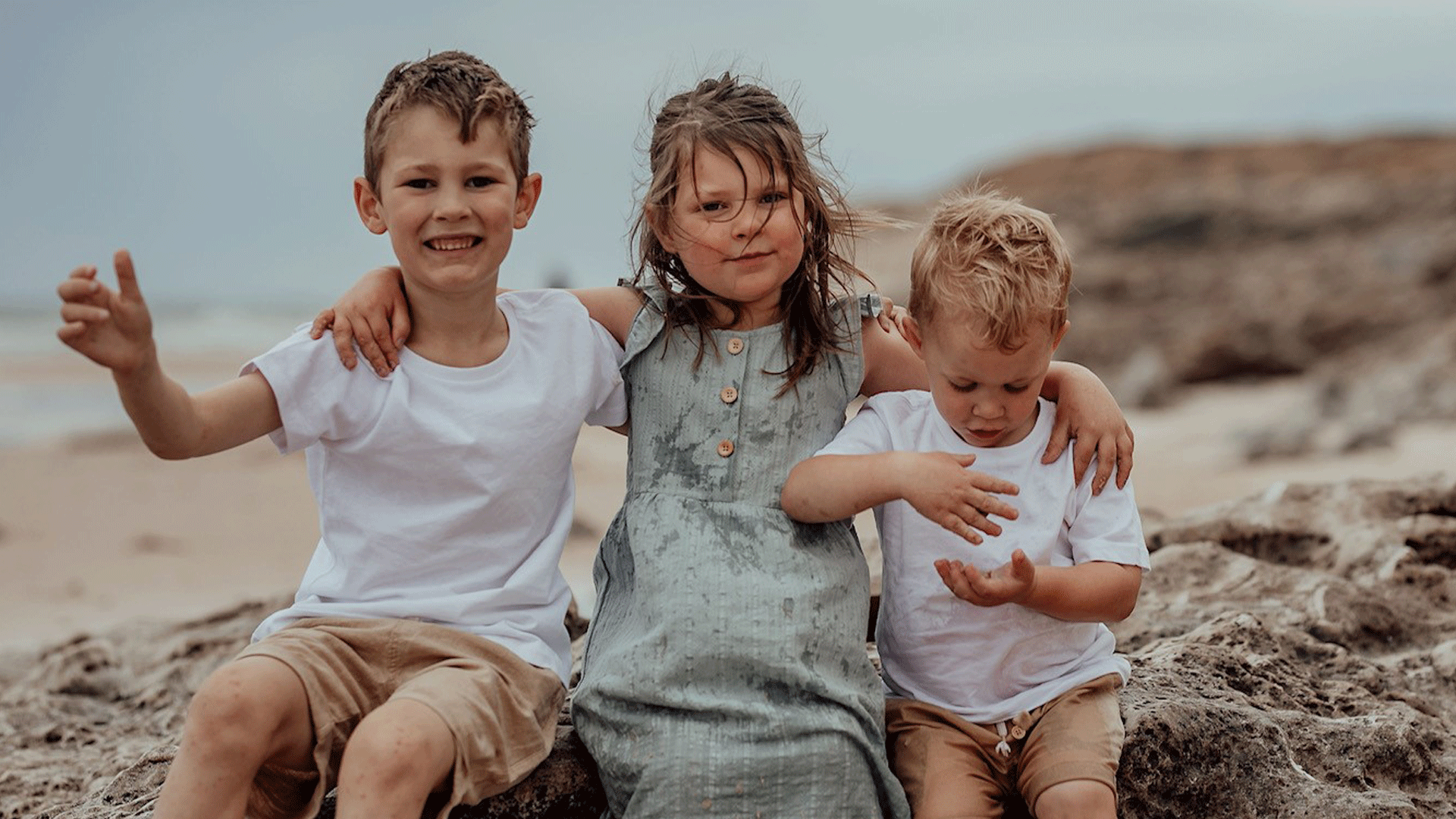 When South Australian mum Renee Staska received a Facebook message from Crows footballer Chris McDermott, she thought it was a scam.
But McDermott's charity Little Heroes and his big heart is now providing the support and hope that she, and other local families like hers, desperately need.
For Staska, whose three children, aged eight, six and four, all suffer with a rare form of childhood dementia, the days can sometimes be long and tough. But Renee says being a mum forces her to get out of bed no matter what.
"There are good days, but even the rainbows and lollypops days like Christmas and birthdays are overshadowed by the fear of what the future might bring for my children. They are my world."
A miracle baby
Staska's third pregnancy had been progressing smoothly until she went for a routine 28-week scan.
Doctors delivered some devastating news: the baby boy had fluid in his stomach, which they said was "not compatible with life". Staska was sent to the Adelaide's Women's and Children's Hospital for monitoring.
The medical experts were amazed when Staska carried the pregnancy to full term. Her son Austin was born with a large liver and spleen, but his life did not appear to be in danger.
"Everyone was shocked. All these tests were run but they couldn't find anything wrong, so they sent us home," says Staska.
Months passed, and Austin was meeting his developmental milestones. He was adored by his older siblings Hudson and Holly.
Doctors began to express cautious optimism that their concerns about Austin's health would one day pass completely.
Rare genetic disease
However, Austin's eight-month check-up brought some terrible news. Doctors diagnosed him with a rare progressive genetic disorder Niemann-Pick Type C, a form of childhood dementia.
"I was called into the [doctor's] office, which is never a good thing," says Staska, who is now 31.
"I was told that the illness is ultra-rare, and that it is terminal. They said, 'Take him home, love him, and make memories with him.'
I completely zoned out. I was looking at Austin and he was smiling back at me and trying to stand up. I was thinking, 'How can this be?'"
As there is no known treatment or cure for Niemann-Pick Type C, Staska was introduced to a palliative care team. She was in a state of shock.
In 95 per cent of cases, the cause of Niemann-Pick Type C is genetic. Both Staska and Austin's father carry the recessive gene, which together produces a one-in-four chance of their child being affected by the disease.
However, it is incredibly rare and was not detected in genetic tests during pregnancy.
Three months after Austin's diagnosis in 2018, Staska had her other two children tested for Niemann-Pick Type C. The results came back positive.
"The news completely destroyed me," says Staska.
Heartbreaking prognosis
Staska, a single parent, found herself with the bleak prognosis that most children with childhood dementia are unlikely to reach their 20th birthday.
"It's frightening for think that I am going to lose all my children, and in such a horrific way," says Staska.
"They are going to have to watch each other go through this, which is so heartbreaking for me. They are really close as siblings. When I was growing up, I only ever wanted to be a mum. I don't want it to play out this way."
Symptoms of childhood dementia include loss of eyesight, epileptic seizures, deafness, cognitive deterioration, and impaired motor functions.
Other symptoms are similar to adult dementia, such as memory loss, confusion, difficulty concentrating and communicating. Personality changes, disturbed sleep and anxiety are also common.
Isolated and alone
Most people are familiar with adult dementia, which affects more than 401,000 Australians according to the Australian Institute of Health and Welfare.
Childhood dementia, however, is incredibly rare, affecting an estimated 700,000 children globally and 2,000 in Australia.
"We're the only family in the whole of South Australia at the moment with Niemann-Pick Type C," says Staska. "There was one other family that I knew about, but unfortunately their child died. It's very isolating."
While the siblings appear completely normal, they have a variety of symptoms that manifest differently among each of them, and because it is so rare, it is difficult for carers and teachers to know how to best support the children.
"Hudson [who is eight] struggles with fine motor skills. He gets fatigued quickly but struggles to fall asleep at night," says Staska.
"Holly [who is six] gives everything her best go and it breaks her heart when she can't do something. Each of my children are high energy, with small attention spans. I am just trying to keep them as strong and healthy as I can."
Help from Little Heroes
The Little Heroes Foundation raises funds for essential equipment and services accessed by thousands of seriously ill children with rare illnesses.
It was founded in 1996 by former Adelaide Crows player Chris McDermott, who reached out to Staska last year after learning of her story from a news story.
Little Heroes is currently supporting Staska's family through the Raise it for Renee campaign, and Staska has teamed up with Little Heroes to help drive awareness about childhood dementia in the hope of finding a cure.
Renee says the greatest part of the support McDermott offered was the ability to listen fully and be with her situation without discomfort, fear or pity.
"That was something I'd never had before and it really meant a lot to me," she says.
In addition, McDermott made her little girl's dream come true by inviting her idol, Port Adelaide Women's AFL player and former basketballer Erin Phillips to a Little Heroes Christmas event.
"Holly was over the moon, and it was such a special moment, and very humbling to have someone care enough to do something like that," Staska says.
She will share her story at ANZIIF's upcoming South Australia Charity Luncheon, the annual insurance industry fundraising and networking event now in its 50th year.
Last year, the event raised more than $13,400 for children's cancer charity Camp Quality and ANZIIF is delighted to be partnering with Little Heroes in 2023.
"So long as this disease is not spoken about and nobody knows about it, nobody will research it or be passionate about helping to find a cure," says Staska. "Ultimately, that's what I am hoping for."
Donations can be made to the 'Raise it for Renee' campaign by Little Heroes' at the South Australian Charity Luncheon or by visiting the campaign funding page at https://raiseitforrenee.gofundraise.com.au/
Pictured: (From left) Hudson 8, Holly 6, Austin 4
Find out more about the 2023 ANZIIF SA Charity Luncheon