Details
Time and date:

13 May 2022, 12:00pm - 4:00pm ACST*

Registration: 12

:00pm - 12:30pm ACST

Luncheon & Presentation: 12:30pm - 3:00pm ACST

Networking drinks: 3:00pm - 4:00pm ACST

Add to calendar
Venue:

Adelaide Convention Centre

North Terrace

Adelaide, South Australia

Price:

Member: $204 AUD

Non-Member: $255 AUD

Group Booking (3 or more): $184 AUD per seat

Table of 10: $1840 AUD

All pricing is inclusive of GST.

MC
View the MC
Registrations closed | Browse upcoming events
If you have any questions regarding registration for this event please contact [email protected].
About
The South Australian Charity Luncheon is back. In 2022, we are delighted to support Youth Opportunities, a renowned non-for-profit dedicated to creating opportunities for young people to develop lifelong skills, habits and confidence to thrive.
We are incredibly proud to continue hosting the largest social and networking event for the South Australian insurance industry. Join your industry peers at the 49th instalment of this annual headline event.
During the event, fundraising activities will include a silent auction, wine wall and a raffle. Funds raised will help Youth Opportunities continue to grow and deliver their invaluable initiatives.
In May 2021, the South Australian Insurance community helped raise over $16,000 for the valuable initiatives of Camp Quality. We'd be thrilled to surpass that in 2022.
About Youth Opportunities
Youth Opportunities creates opportunities for young people to develop lifelong skills, habits and confidence to thrive.
Through the delivery of their wellbeing intervention and leadership development programs, they equip young people across South Australia with the skills to overcome adversity, build resilience and optimism, and prepare for their future - while also providing access to opportunities that reduce barriers to achieving their potential for those experiencing social or financial disadvantage.
Youth Opportunities support over 2,000 young South Australians each year through their range of programs and services which are extremely valuable to all young people. However, they raise funds to ensure young people experiencing disadvantage or adversity are able to access their programs and services by subsiding the cost, where there is clear and evident level of social and/or economic disadvantage.
For more than 24 years, they have supported the development of more than 14,000 young South Australians, positively impacting their schools, families and communities.
Youth Opportunities is a not-for-profit organisation that relies heavily on the generosity of supporters in the community to deliver their programs and services for young people experiencing adversity or disadvantage. Visit their website for more.
Acknowledgements
ANZIIF gratefully acknowledges the generous assistance and support of the event content committee.
Blaise Silva — Underwriter, Millennium Underwriting Agencies (MUA)
Meredyth Stewart — Risk & Corporate Governance Manager, Medical Insurance Group Australia (MIGA)
Rod Winders — People and Talent Development Advisory Council (PATDAC), ANZIIF
Sponsorship
Are you interested in sponsorship opportunities for this event? For more information on how your organisation can benefit as a sponsor of this premier industry event contact Sara Cheong, Sponsorship Executive by phone on +61 3 9613 7200 or by email at [email protected].
---
Sponsors
Platinum
Gold
Silver
Networking Drinks
Satchel
App
Support
In-Kind Wine Donations
Thank you to the wineries who are supporting this event and our Charity partner through in-kind donations of wine for the wine wall.
Bird in Hand

Chalk Hill Wines

Cooper Burns Cellar Door

Elk Wines

Gods Hill Wines

The Lane Vineyard
New Era Vineyards
Nick Haselgrove Wines
Purple Hands Wines
Skillogalee Wines
Speakers
Tim Ginever (MC)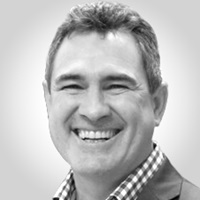 If you were to undertake a detailed objective assessment of Tim Ginever's football ability - marking, kicking, pace, ball skills and so forth - you might conceivably end up wondering how they could possibly be combined to produce a player of league standard.
Tim Ginever, however, was much more than just an average league player; he was arguably one of the most important SANFL footballers of the 1980s and 1990s, and provided conclusively persuasive evidence that success in football as much attributable to mental strength as it is to physical capabilities.
When Tim Ginever entered the playing arena he became so consumed by white line fever as to metamorphose, almost literally, into a completely different person from the happy-go-lucky larrikin who confronted the TV cameras during post-match interviews, to a tough, intense, courageous and dynamic player. He was the heartbeat of a Port Adelaide side that won no fewer than seven SANFL premierships between 1988 and 1996.
For the flags of 1994-1995-1996 Ginever led from the front as team captain, and the longer his 314-game league career went on, the better he played.
Tim has carved a part time career off field in media, both on Radio and TV with his larrikin sense of humour appealing to all supporters. This sense of humour saw him perform at the Adelaide Fringe in both 2016 & 2017 for a total of 20 performances.
Tim is Married to Angela for 31 years and they have three children, two grand children and a partridge in a pear tree.