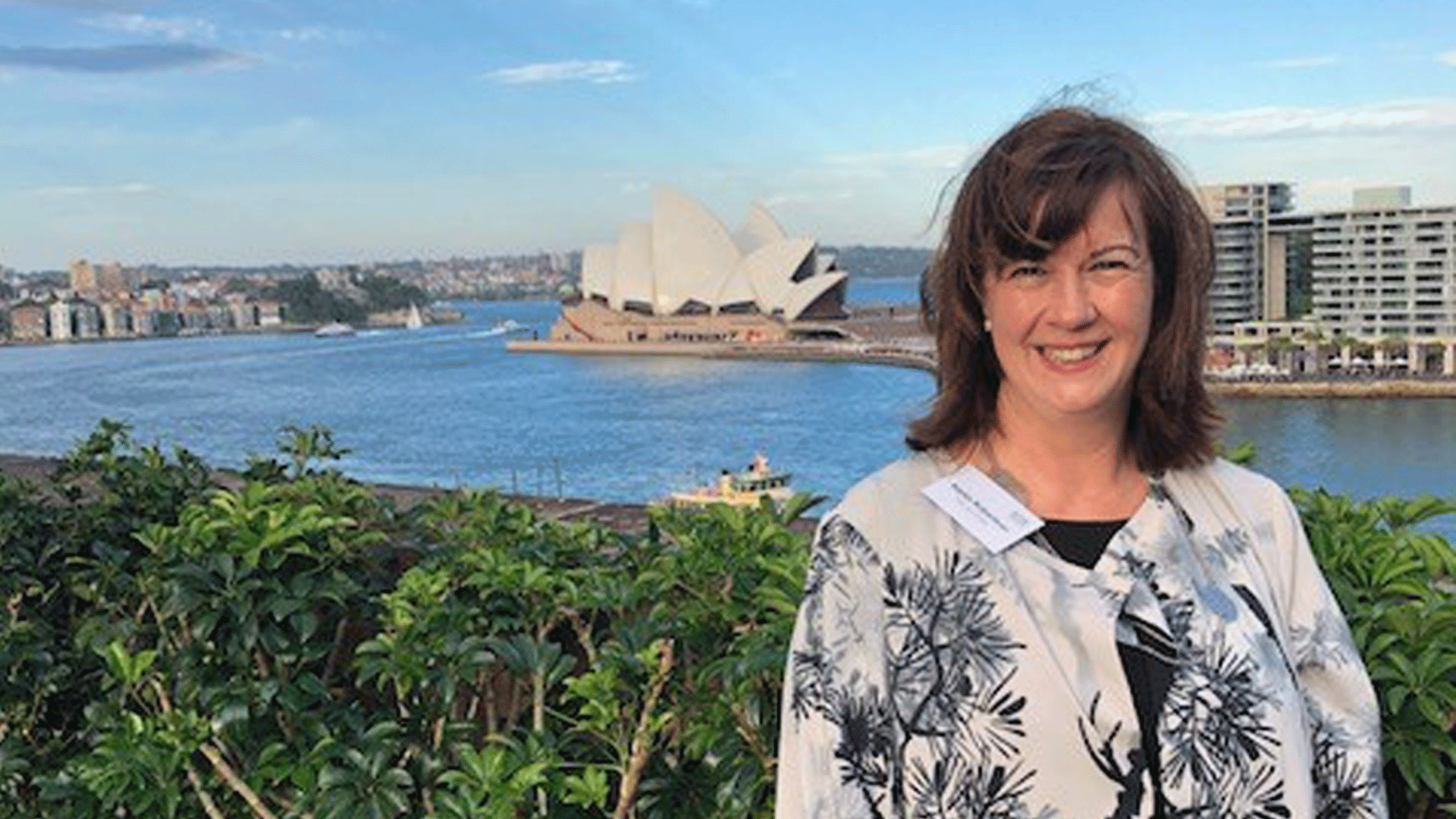 Karen Robertson, Rehabilitation and Wellbeing Team Manager, AIA Australia, had just returned from a two-year back packing trip around Europe, Africa and Asia in 2001, when a work colleague suggested she might like to apply for a short-term contract at Mercantile Mutual (which became ING Life, then One Path and now Zurich).
'I never looked back — and that was 20 years ago,' Robertson says.
Heath and wellness journey
Born in England, Robertson emigrated to Australia with her family when she was a teenager. Initially, she studied orthoptics (eye therapy) and worked at the Royal Blind Society before deciding to complete a Master of Applied Science (Rehabilitation Counselling).
It was after graduating that Robertson found her calling for working support people on their journey from disability or illness to recovery at the Commonwealth Rehabilitation Service (CRS) in Rehabilitation Counselling.
'It was inspiring and satisfying to realise that I could make a real and positive difference to their lives,' she says.
When she was hired in 2011, Robertson was the first permanent rehabilitation consultant employed in the Life Insurance Industry.
She has since helped grow AIA's team of rehabilitation consultants to thirty-four, with more than 2,500 people assisted to return to work and life as a result of their comprehensive rehabilitation programs.
Growing rehabilitation services
Robertson is very proud of the suite of innovative rehabilitation services she helped to develop across different insurance books.
'We address a range of a client's challenges, including crisis management, mental health, cancer and chronic pain, among others,' she says.
'Our services have directly contributed to countless life-changing wellness, psychosocial, and return to work outcomes for clients.
'I'm committed to rehabilitation because a well-thought-out program that supports and gives people the tools, resources and confidence to make changes in their life and really works to get them back on the road to recovery.'
Robertson says getting back to work is an important rehabilitation milestone. 'I truly believe in the health benefits of good work — that work gives people a purpose, independence and a link to community.
'Work also helps people set themselves up financially, which being in the insurance business, I can see is critical for all.
Celebrating RESTORE
One of her greatest achievements is the RESTORE program — AIA Australia's mental health rehabilitation program launched in 2013.
'RESTORE is now almost 10 years ago when the industry considered rehabilitation in the mental health space just too difficult and too complex and considered that it did not result in people returning to health and work,' Robertson says.
'I can say that the success of the RESTORE program has proven this line of thinking wrong, which has improved the experience for all people on claim with a mental health condition.'
Strong mentors
For Robertson, it's important to acknowledge some important mentors that contributed significantly to her professional growth. In particular, she points to her current manager Joanne Graves, with whom she has worked for 15 years, and who nominated her for the Making a Difference award.
'Karen has set the standard for innovation and best practice in the rehabilitation sector,' Graves noted in Robertson's submission. 'Her considerate and innovative nature means she truly makes a difference for customers, her team and the wider business.'
In addition, Robertson wishes to acknowledge her colleague Dr Margaret Black, with whom she has worked for over 10 years.
'Both Joanne and Margaret lead by example,' Robertson says.
'Like me, they are truly passionate about evidence-based rehabilitation and always prioritise working with people during the recovery journey.'
In turn, Robertson would like to do more mentoring of new rehabilitation consultants coming into the industry.
'I believe I have a wealth of knowledge to share but at the same time I am still hungry to learn new things and to always be on a path of continuous improvement,' she says.
Champion for good work
In the next few years, Robertson would like to see her team continue to champion the health benefits of good work and to drive rehabilitation initiatives that contribute to research improvements that drive positive outcomes for all customers.
Winning the Making a Difference — Life award was an unexpected honour for Robertson.
'I am thrilled that I can represent AIA Australia by being recognised for the improvements rehabilitation has made to our customers at one of the most difficult times in their lives,' she says.
Robertson hopes that winning the award will help spark new connections and conversations with the broader insurance market about rehabilitation.
'It is great to have recognition from the industry I work in and to be acknowledged for the dedication to rehabilitation my peers and I have in Life Insurance,' she says.
The ANZIIF Making a Difference Awards recognise an individual who has demonstrated outstanding professionalism, commitment, achievement and passion in the insurance industry. They highlight individuals across different sectors in insurance who have gone above and beyond to display exemplary professionalism in their workplace, and with their customers.