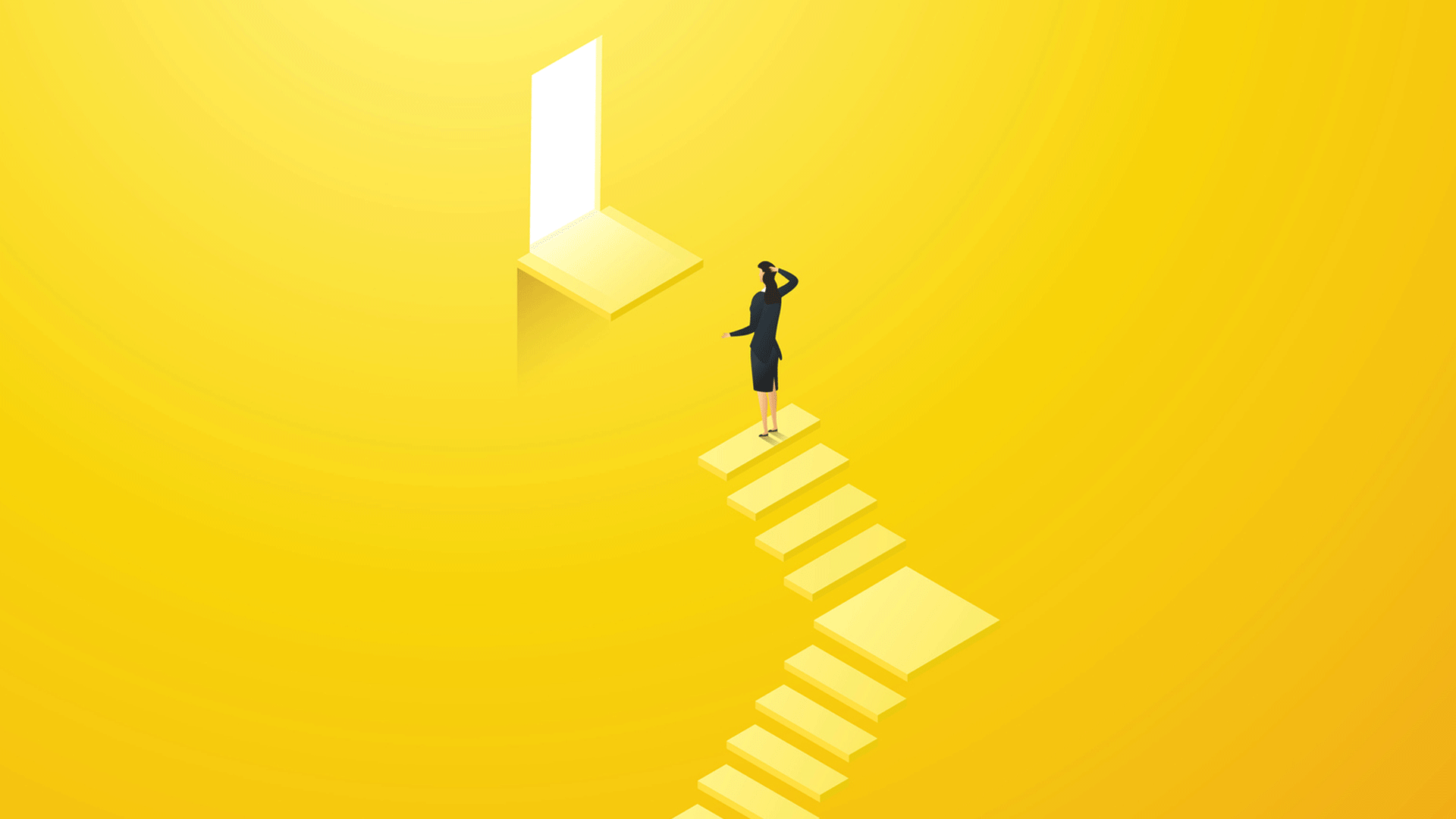 CHU has recently been awarded the ANZIIF 2021 Underwriting Agency of the Year with a key driver of success being the launch of a permanent hybrid working model.
It took a global pandemic to trigger many businesses to reflect on how they operate and adapt for the future. CHU Underwriting Agencies was one of these.
The judges of CHU's winning submission for the Underwriting Agency of the Year Award were impressed by how the team was supported during the pandemic and the company's ability to maintain strong customer satisfaction and a high NPS [net promoter score].
Good business sense
Before COVID-19, CHU had a clear business strategy with three pillars: AI and technology, environment and sustainability and diversity and inclusion (D&I). We believe a diverse and inclusive world is better for the team, customers, and the community — and that this makes good business sense.
Numerous studies internationally, and closer to home, by the Diversity Council of Australia (DCA) show diverse workplaces are ahead of their non-diverse competitors in employee engagement, innovation, customer satisfaction and financial performance.
But what does this mean for businesses of the future?
It's a question our team thought about as we confronted the harsh realities of the pandemic. Our response was to launch a hybrid working model we named the 'FuCHUre of Work'. Also, in 2020, we launched a series of D&I initiatives for our team, customers and the community.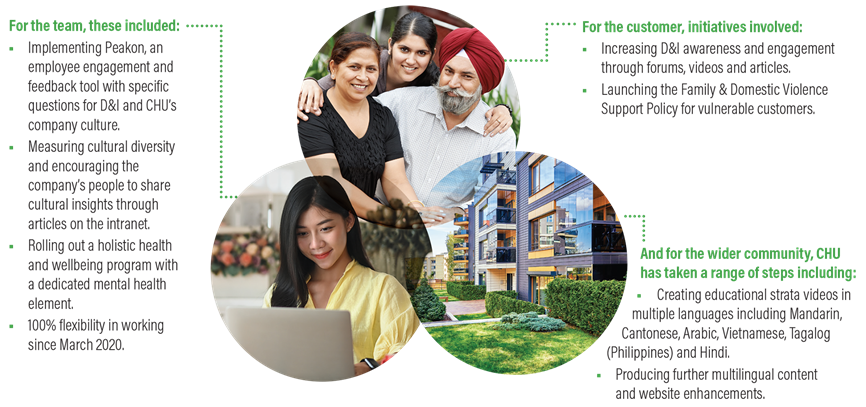 A flexible future
So, the FuCHUre of Work was born from the pandemic and the sudden need to work from home.
We quickly mobilised when Covid-19 hit. Our teams were able to be up and running at home thanks to technology we'd already developed and being on the cloud.
But we needed to make sure they were okay working remotely. We surveyed them (via Peakon) to find out how they were feeling about COVID-19, working remotely, and most importantly, how we could help.
It became clear that they believed flexible working conditions were a big plus.
One of the biggest learnings was understanding what our team needed to work effectively within the FuCHUre of Work model.
I believe flexible work isn't only about 'where' and 'when' you work, it's 'how' you work to adapt and respond to changing needs. The 9-5 workday is now a thing people do rather than a place they go.
We wanted to establish a hybrid model that allowed everyone — and I mean everyone at CHU—to design where we work and when we come together with purpose. Importantly, we saw flexible working as an enabler to provide the best service and experience for customers.
We put together a CHU Hybrid Flexible Work Charter for our people to sign up to. I'm pleased to report we've had genuine buy-in from everyone.
It's been an exciting journey so far, but the FuCHUre of Work is still a 'work in progress' and will evolve over time.
The FuCHUre of Work isn't just about working from home, it's about connecting with each other in meaningful ways at meaningful times. The bottom line is that it's about working where it works. It's about finding clever ways to serve customers. That may not have been possible in the traditional working model.
A hybrid model of work
There are many benefits to a hybrid model of work — importantly, many related to customers. These include: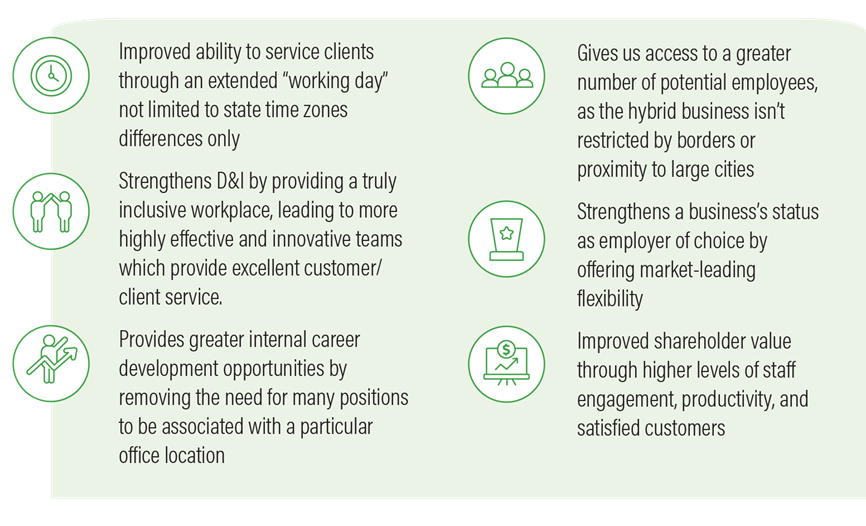 Numerous studies show those working from home were often more productive than in the office. CHU is a witness to that. We saw productivity increase. 2020 was our best year ever in financial terms; our customer survey results; and staff engagement.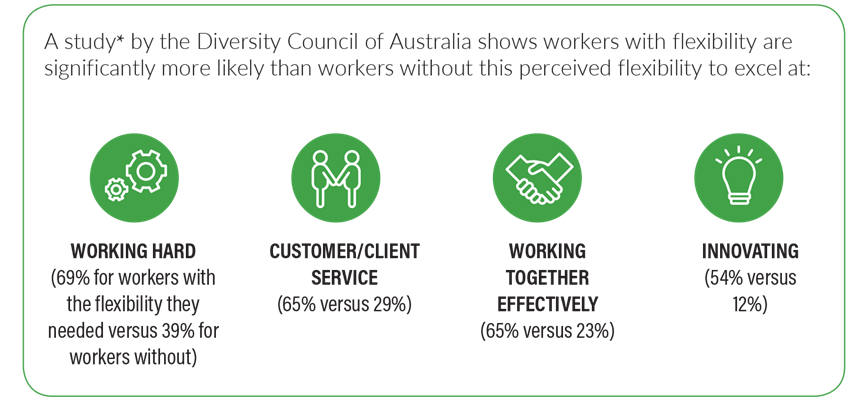 The opportunities ahead
We're far from over the pandemic and it's tempting to hibernate and stagnate. But history has shown a crisis can trigger innovation and new ideas to overcome the problem. The pandemic has seen a large number of entrepreneurs – especially in Australia - kick-starting new businesses.
It has also seen traditional businesses pivot to find new avenues to explore, regaining their entrepreneurial spirit.
Statistics from the Australian Small Business and Family Enterprise Ombudsman shows 40 per cent of small businesses changed the way they provided products and services in response to the pandemic - 20% have indicated those changes will stay in place going forward.
We believe the FuCHUre of Work is a great example of seizing the moment and creating a working model of the future.
*https://www.dca.org.au/media-releases/flexible-working-day-2020-lets-make-flexible-work-new-normal

Disclaimer: CHU Underwriting Agencies Pty Ltd (ABN 18 001 580 070, AFS Licence No: 243261) acts under a binding authority as agent of the insurer QBE Insurance (Australia) Limited (ABN 78 003 191 035, AFS Licence No: 239545). Terms, conditions, limits, deductibles and exclusions apply to the products referred to above. Any advice in this article is general advice only and has been prepared without taking into account your objectives, financial situation or needs. Before making a decision to acquire any product(s) or to continue to hold any product, we recommend that you consider whether it is appropriate for your circumstances and read the relevant Product Disclosure Statement ('PDS'), Financial Services Guide ('FSG') and the Target Market Determination ('TMD') which can either be viewed at www.chu.com.au or obtained by contacting CHU directly on 1300 361 263.