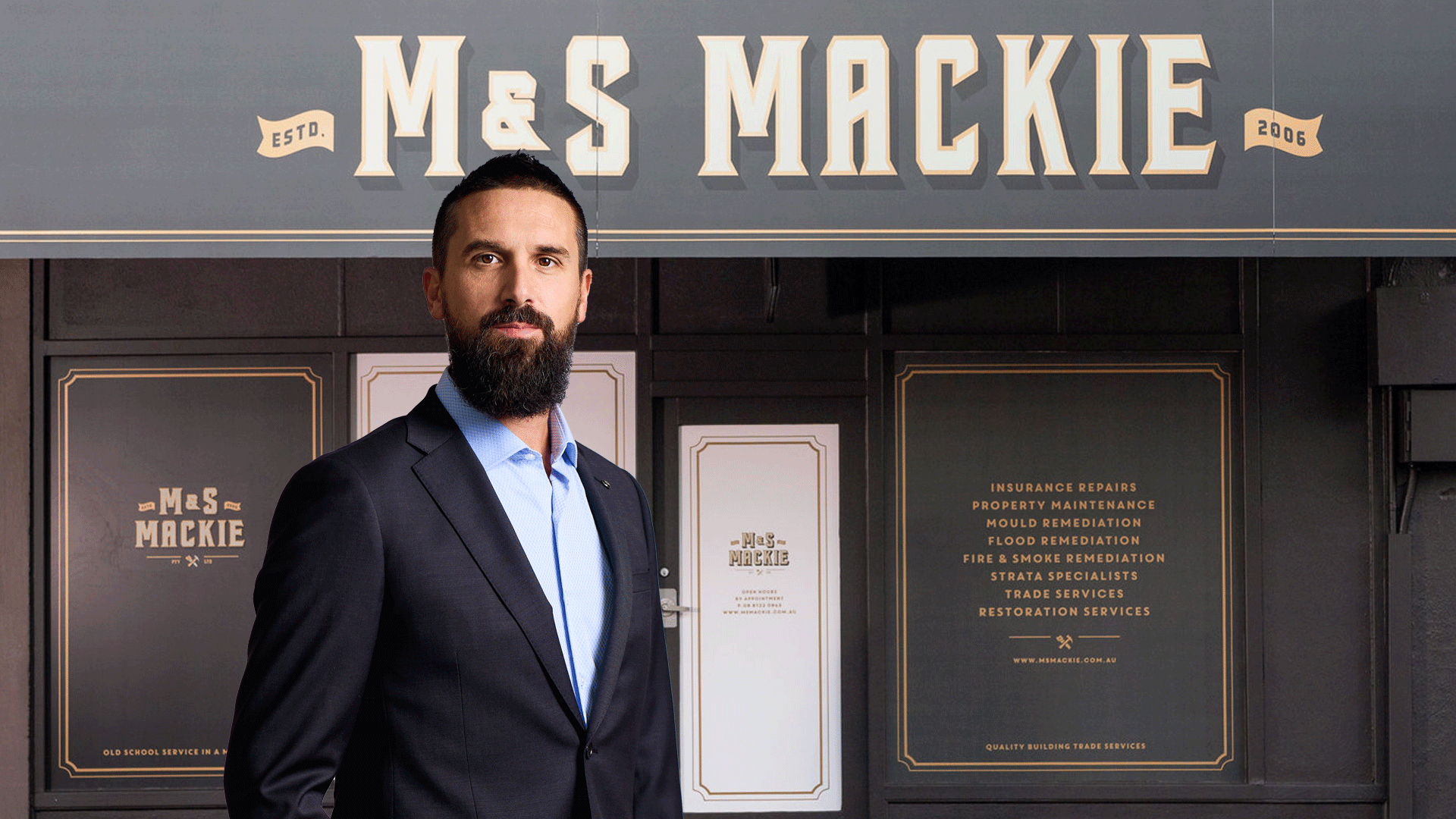 In today's fast paced, society, the importance of taking the time to interact with people in a caring and respectful manner can be forgotten.
But for Daniel Reiman, Director of South Australia-based insurance construction company M&S Mackie, old-fashioned consideration, politeness and empathy is the cornerstone of his business.
'We always strive to uphold those traditional values within the culture of M&S Mackie, so our staff and trades offer customer service that's second to none,' Reiman says.
'Our attention to customer satisfaction means few to no complaints due to the care we take in every aspect of a claim.'
'Of course, there must be a balance of between the traditional and modern approaches when it comes to technology and the focus on KPIs for the insurer.
'Our steady growth over the years shows that we've got the mix right and we are very proud of this achievement.'
Farming work ethic
Born in the Riverland region in South Australia and raised in the Mallee, Reiman spent his early teenage years working on farms in various roles.
'Growing up in the country was great and at an early age, I gained vast experience in many different tasks as well as developing a strong work ethic.'
Reiman's journey into construction began at the age of 18, when he was offered a job working in a plasterboard business.
Having always enjoyed physical work, Reiman immediately took to the work of a gyprocker performing insulation, fix, flush and cornice.
'I was exposed to all areas of construction,' he recalls.
'We would interact with and manage the carpentry first and second fix, plumbing, electrical, roofing, bricklaying, tiling, rendering, painting and concreting on a regular basis. This exposure led to a firm understanding of construction overall.'
Growth and opportunity
After furthering his experience in various areas of residential, commercial and insurance work throughout Adelaide, Reiman and his wife started their own plasterboard business.
'So, at the age of 25, I began the transition into business management and supervision. Gradually my knowledge and experience grew and so did our opportunities.
'Before long we had evolved into various forms of building, landscaping, commercial fitouts, residential renovations, and new home construction.'
At the time M&S Mackie became a client, it was owned by the late Mark Mackie.
'Mark was nearing retirement and after getting to know each other, he offered me the opportunity to buy his business and get deeper into the world of insurance building,' Reiman tells.
'The rest is history. We have continued to grow and thrive through South Australia with close to seven years as owners of Mackie.'
A positive shift
Despite the obvious challenges presented by the past two years, Reiman has also seen a positive shift in the industry as a result of recent updates to the General Insurance Code of Practice (GICOP), which has led to more accountability at every level of the supply chain and an increase in customer care.
'Experienced staff and careful claim management have been the key to succeeding in this industry climate,' he asserts.
'In turn, we've seen further challenges in recruitment, with a shortage of experienced insurance building candidates in the face of increased demand in the industry.
'We have been lucky enough to successfully increase our team and capacity through the recent storm events and recruit some highly experienced staff to aid in our growth moving forwards. We are very proud of our team.'
A family man
As a man for whom family is paramount, Reiman says everything he does revolves around his wife and children, which drives him to strive, create and push for success every day.
'I see the world changing dramatically and I want to ensure that these changes are for the betterment of our society and the world our children will inherit,' he adds.
To that end, M&S Mackie has always valued its involvement with the small, tightly-knit rural community, providing regular donations and contributions in kind to a variety of charities as well as sponsoring several sporting clubs.
'In the township of Berri in the Riverland region of South Australia, where we have an office servicing the local Riverland, Mallee and Murrayland regions, we are always looking for ways to be involved,' he says. 'Currently we're sponsoring the local cricket club, golf club and the Dinghy Derby Races each year.'
Industry support
At an industry level, M&S Mackie is the top-tier sponsor for the South Australian annual AICLA luncheon event as well as the platinum sponsor of the ANZIIF South Australia Charity Luncheon.
'The ANZIIF South Australia Charity Luncheon is highly regarded in the insurance industry with basically the entire industry attending it on an annual basis,' Reiman says. 'It's very well organised and a pleasure to be involved in and attend.'
Reiman shares that in 2018, at the first ANZIIF South Australia Charity Luncheon he ever attended, M&S Mackie sponsored the networking drinks.
'We thoroughly enjoyed the atmosphere, and I immediately sought the Platinum Sponsorship opportunity moving forwards, which we were able to secure the following year,' Reiman enthuses.
'We look forward to supporting the event at this level for many years to come. We are proud of this involvement and value the importance of these events to our industry.'
Servicing local clients
In terms of the future, Reiman says M&S Mackie is looking to increase its client base at a local level throughout South Australia by demonstrating its keen customer care and KPI performance.
'We value our local clientele greatly, so we're focused on growing and maintaining strong service levels to the local South Australian insurance sector,' he confirms.
'The hailstorms across northern Adelaide in October 2021 and the widespread storms through the Riverland in November were a challenge, and we are proud to say that together with our staff and contractors we handled the event very well.
'Not only have we come out of that successfully, but we've increased our capacity, and notably, we hold a strong market position from the metro areas of Adelaide down though the Murraylands, Riverland and Mallee regions where our Berri office is located.'
2022 and beyond
With its increased capacity and highly experienced staff, Reiman says M&S Mackie is well on track to achieve its goals.
'We welcome the opportunities that may present in 2022 and beyond as the next generation of insurance builder emerges,' he says.