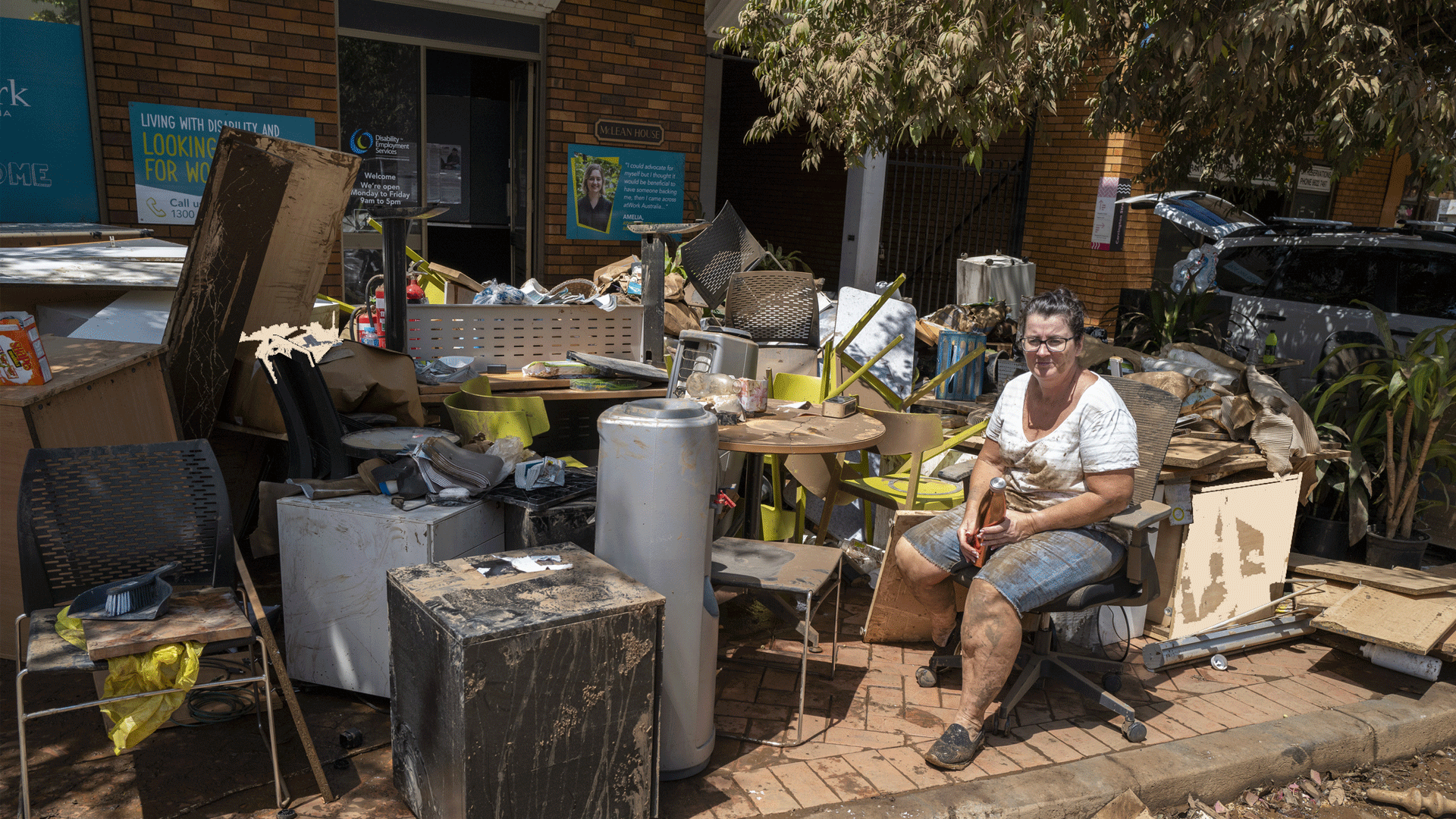 In early 2022, three weather systems swept across southern Queensland and northern New South Wales.
Record rainfall and flooding resulted in at least 23 deaths, and more than 30,000 residential and business properties were flooded.
As emergency services and recovery terms sprang into action, the Insurance Council of Australia (ICA) issued an Insurance Catastrophe declaration for the affected region.
'Under the ICA's Catastrophe Protocol, insurers triage claims to deal with the most urgent and severe first,' says an ICA spokesperson.
The ICA and insurers started working with agencies to support people affected by the floods, including sending teams to help at recovery centres in the two states.
On the ground
IAG says it has received more than 39,000 claims as a result of the floods across its NRMA Insurance, CGU Insurance and WFI brands, including more than 32,000 home insurance claims.
Craig Byfield, executive manager — peril and event claims, says IAG's dedicated major event team is on call year-round to respond immediately to disasters such as the recent floods.
'We continue our claims support for customers, with teams based in recovery centres in Lismore, Ballina and Murwillumbah in NSW,' he says.
'We also deployed teams to Goodna and Caboolture in QLD, helping customers lodge claims face-to-face and access immediate support.'
David Gow's first day as head of claims with CHU coincided with the Lismore flood event. CHU is an underwriting agency that specialises in strata insurance, so the team's focus was on supporting strata managers and brokers.
'The strata manager is the first person to contact when there is a significant issue with a unit,' says Gow.
'In the case of an insurance claim, it may be the strata manager and the broker involved. With a claim that may impact multiple owners and units in a building, arranging and coordinating repairs can be complex.'
Brisbane-based CHU loss adjusters started conducting assessments as soon as the roads reopened.
Says Gow: 'Lismore took more planning, as it was less certain when access would be available. I am a member of the ICA CAT Response Team and that gave us a lot of intel in this regard.'
Gow says the recovery centres were an invaluable one-stop shop for communities.
'People attended the centres to receive aid and assistance mainly from government bodies,' he explains. 'While they were at the centre, it was essential that an insurer presence was also there to talk them through the claim process and answer any questions.'
Saving livelihoods
Another company on the ground was specialist equipment, transport, marine and machinery insurer NTI.
Its dedicated disaster event team comprises representatives from crisis and customer communications, claims, underwriting, technical, and in-house assessors.
As the scale of the destruction became apparent, NTI relocated experienced disaster event specialists from Victoria to New South Wales to help with customers and brokers managing large losses, such as entire truck fleets.
'NTI was on site with its customers in the impacted areas as soon as the roads were open,' says Kerrie Challenor, NTI chief people and operations officer.
'Given the nature of the industries we work in, our efforts were focused on being on site at places of business and where vehicles and equipment required salvage.
'Our priority was working with customers to discover safe access points to recover their assets and move them to dedicated, pre-allocated salvage zones.'
Business owners impacted by the floods had also often suffered damage to their homes and needed to ensure their families were safe.
'Customers were tied up with saving their personal assets and belongings — their homes, cars and items of sentimental value,' says Challenor. 'It was our role to let them know we were there to take care of their businesses and livelihoods.'
Unforgettable experiences
Being present on the front line of the recovery response was both essential and heart-wrenching for insurance teams.
Says Byfield: 'Having been on the ground in some of the communities affected by these floods, it is difficult to describe the devastating damage that has been caused. To hear the stories of what our customers had been through was humbling, devastating and overwhelming.
'We've encouraged customers to lodge their claims as soon as possible, so we can provide immediate support such as emergency payments and temporary accommodation while we assess their claim.'
NTI was even able to help someone deal with a potentially life-threatening situation.
'Early one morning we received a call to our NTI Accident Assist line,' says Challenor.'
'A driver was trapped in flood water in the northern rivers area. He was in his truck cab, with a disabled passenger and pet dog. He had attempted to contact emergency services and was continually cut off.
'We were able to provide a secure connection and he was able to advise emergency services of his location and received some much-needed guidance to assist him in getting his passenger, dog and himself out of the truck safely.
'We are pleased to say they were all rescued safely — really proving the value of being available for our customers when they needed us most.'
Vulnerable customers
A member of Gow's response team was instrumental in helping a vulnerable customer who was in need of some extra support.
'One of our adjusters in Lismore received an urgent call from a strata manager advising there was a distressed, vulnerable customer at one of the sites,' he says.
'Our adjuster attended the site, which was being attended to by Australian Defence Force personnel. It was unsafe to live there, and the customer was distressed about moving out.
'Having the adjuster there to guide him through the process and provide reassurance was critical to deal with the customer's concerns.
'While this can be done over the phone, being there in person provides that extra level of comfort that the situation is in hand.'
An additional challenge for CHU — and a number of other insurers — was the widespread need for emergency accommodation.
'[There was] one block of five units that were damaged by water and uninhabitable,' says Gow. 'We arranged for accommodation in a neighbouring town for two of the occupants, one of whom was a single mother with two children.
'In another instance, we were able to use our accommodation provider for longer-term shelter — we found three months' accommodation for a single mother in a nearby town.
'With the huge demand on temporary accommodation and limited availability, it was an enormous relief for this family.'
Beyond insurance
IAG is offering customers who cannot live in their homes up to three months of temporary accommodation, as well as help with identifying the assistance that best suits their needs, and free, confidential counselling.
Beyond claims, IAG has also provided financial support for the emergency response agencies involved in the recovery effort.
'We announced a A$1 million help package for communities impacted by the devastating flooding in NSW and South-East QLD, boosting our ongoing resilience partnerships with GIVIT, Australian Red Cross and Lifeline,' says Byfield.
'The floods in NSW and QLD certainly taught me a lot about how we can band together as a community to support each other, following an extraordinary natural disaster.'
Is someone in your team making a difference?