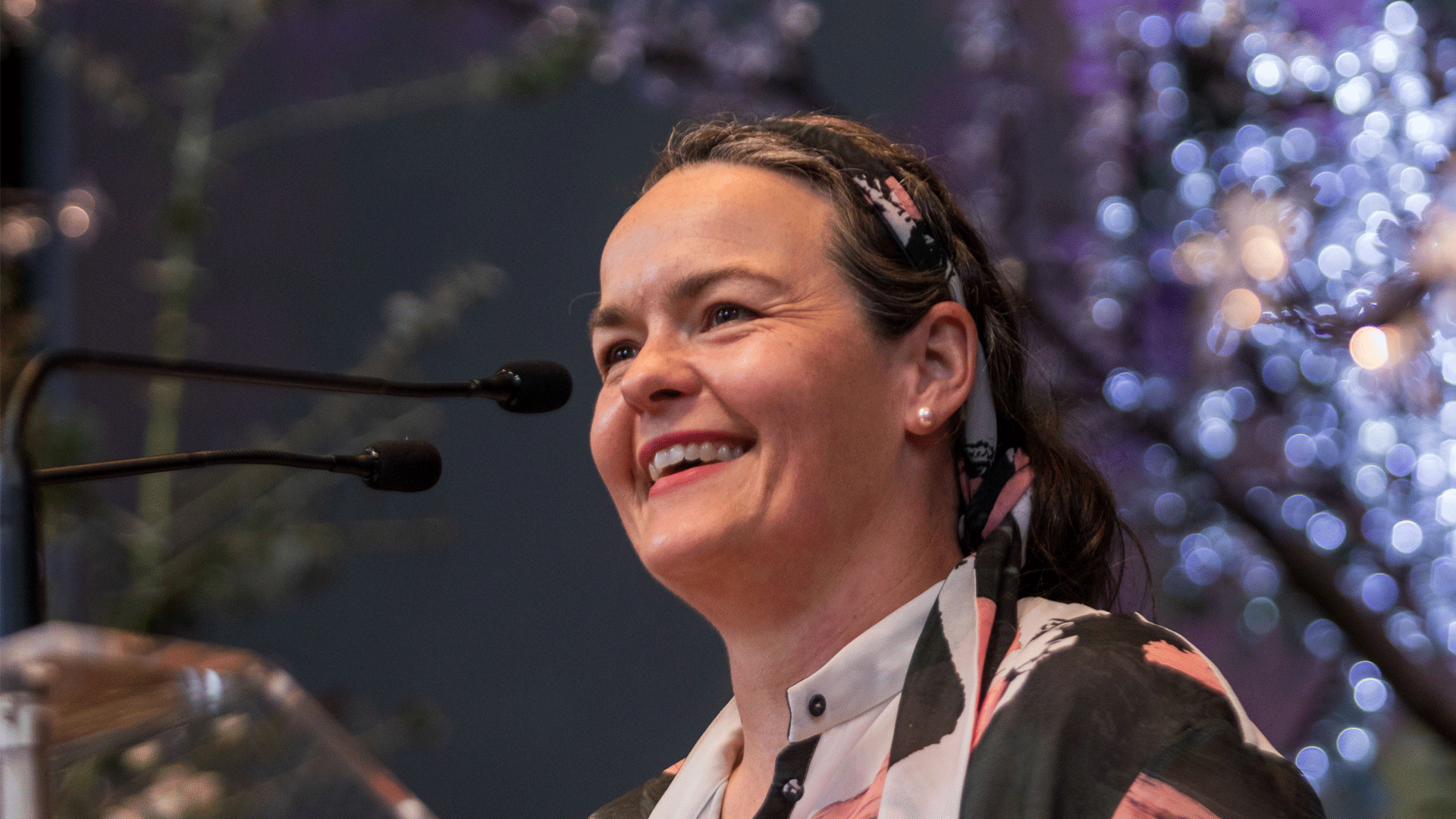 For Erin Faehrmann, CEO of Youth Opportunities, a charity that works to build the resilience of Australian youth, growing up in a small community with extremely limited resources was a tough start, but not without its benefits.
Giving youth a chance
Born in Sapphire, a remote mining community in Central Queensland, Faehrmann's early years were the source of her passion and urgency to make a difference in the world and the reason she works so hard to give young people the best chance at a good life, whatever their circumstances.
'We had a small sapphire mine in the backyard, and mum ran the general store,' she recalls.
'My mum was sadly and suddenly widowed when I was just 8, so my sisters and I were latch-key kids and often helped her in the family business before we were even 10.
'I also grew up seeing the positive side of living in close communities and the industrious adaptability of Aussie battlers trying to make a go of it.
'So I try my best to support others to build those skills of connection and resilience now too.'
Building a successful life
A graduate of the University of South Australia, Faehrmann holds an MBA, a Graduate Diploma in International Studies and a Bachelor Degree in Business Information Systems, with minors in marketing and tourism.
Faehrmann has been involved with Youth Opportunities, ANZIIF's chosen charity for this year's South Australia Charity Luncheon, since joining its Board in 2015.
Having worked in various roles within the organisation, including leading training and business development she took on the CEO role in late 2018.
Prior to Youth Opportunities, Faehrmann worked at SA Water for 17 years, most notably in asset management.
Youth Opportunities supports over 2,000 young South Australians each year to help them build the skills, habits and confidence to lead themselves towards a successful life.
Through the delivery of wellbeing, intervention and leadership development programs, the organistion equips young people with the skills to overcome adversity, build resilience and optimism, and prepare for their future, while also providing people experiencing social or financial disadvantage with access to opportunities that reduce barriers to achieving their potential.
Learning personal leadership
Faehrmann sees a huge gap between what young people are taught in school and what they need in order to thrive in life.
'Some people call it life skills or soft skllls, but they're often the hardest to learn,' she says. 'We call them enterprise skills, or personal leadership.
Sadly, too many families do not have the means to support their young people through challenging times, and to help them build these critical life skills. Our kids are suffering as a result.'
Shockingly, suicide is the leading cause of death for Australia's youth and a quarter of young people will experience mental health problems like anxiety and depression before the age of 25 years.
'At Youth Opportunities, our programs significantly reduce the risk of young people experiencing psychological distress — cutting the proportion of young people at high risk nearly in half,'Faehrmann says.
'We have years of evidence that investing in prevention by building these skills is critical to a successful future. This reduces the burden on our health and unemployment systems,' she says.
Cards stacked against them
While the cards can be stacked against young people achieving their goals, Faehrmann says Youth Opportunities provides lots of long-term and wrap-around services — like follow-up workshops, scholarships, media speaking opportunities, education for parents — to support young people to achieve their goals.
She is inspired by 'graduates' of Youth Opportunities, who've done the work to turn their lives around and her 'amazing team, who have the skill and resilience to support these young people through some of their most challenging moments'.
'I'm endlessly humbled by our supporters who give their time, treasure, talent and of their tribe to back these kids they'll never meet but believe in their potential all the same.'
Ocean of need
Ultimately, Faehrmann would love to see groups like Youth Opportunities made redundant as a result of improved social, educational and family systems enabling young people to thrive.
'The reality is that we're sweeping back a growing ocean of need and our reach is limited by the funds we can raise,' she laments.
Youth Opportunities will celebrate its 25th year in 2022 and continue to invest in youth with expanded services.
'We are growing our social enterprise Generation Thrive which provides our business partners and members of the public with access to our world-class leadership program while supporting our fundraising efforts; advocating for more funding in mental health prevention; and partnering with our myriad youth allies across Australia to have a greater combined impact,' Faehrmann says.
A shift in charities
She is pleased to see a shift with charities embracing the need for professionalism, alongside their passion.
'We need the head and the heart. It's what all good sustainable businesses do. Our supporters are now expecting, and are investing, in building the long-term leadership capability of our non-profits. For our sector, professionalism is about safety, or doing no harm; integrity, that is doing what you say you'll do; and impact — making evidence-based decisions,' she says.
On that note, Faehrmann is extremely proud to partner with ANZIIF, a highly regarded learning organisation that brings professionalism to its 17,000+ members.
'Our partnership will help raise awareness of the challenges our young people face, and hopefully mobilise the energy of great adults to help remove those barriers,' Faehrmann says.
The role of insurance
She says the insurance industry has an important role in supporting young people.
'I've long-joked with my ANZIIF friends that kids just don't understand how cool and diverse these industries are,' she says.
'I wish more young people knew that dynamic industries full of exciting opportunities like insurance existed – and raising that awareness is a great place to start.'
For its part, ANZIIF is delighted to support Youth Opportunities through its annual South Australian charity luncheon, which will raise some much-needed funds to help Youth Opportunities continue to grow and deliver invaluable initiatives.
Showcasing Youth Opportuntities
At the lunch, Faehrmann will introduce insurance guests to a Youth Opportunities graduate.
'Our students want to give back by sharing their positive experiences with our supporters,' she enthuses.
'Their stories are so energising and uplifting; to hear where some students have come from and what they've been able to learn and achieve is inspiring.
'Our students' stories are testament to te very real and powerful benefit a young person will derive from having access to, and doing the work to successfully graduate from, a Youth Opportunities program.'