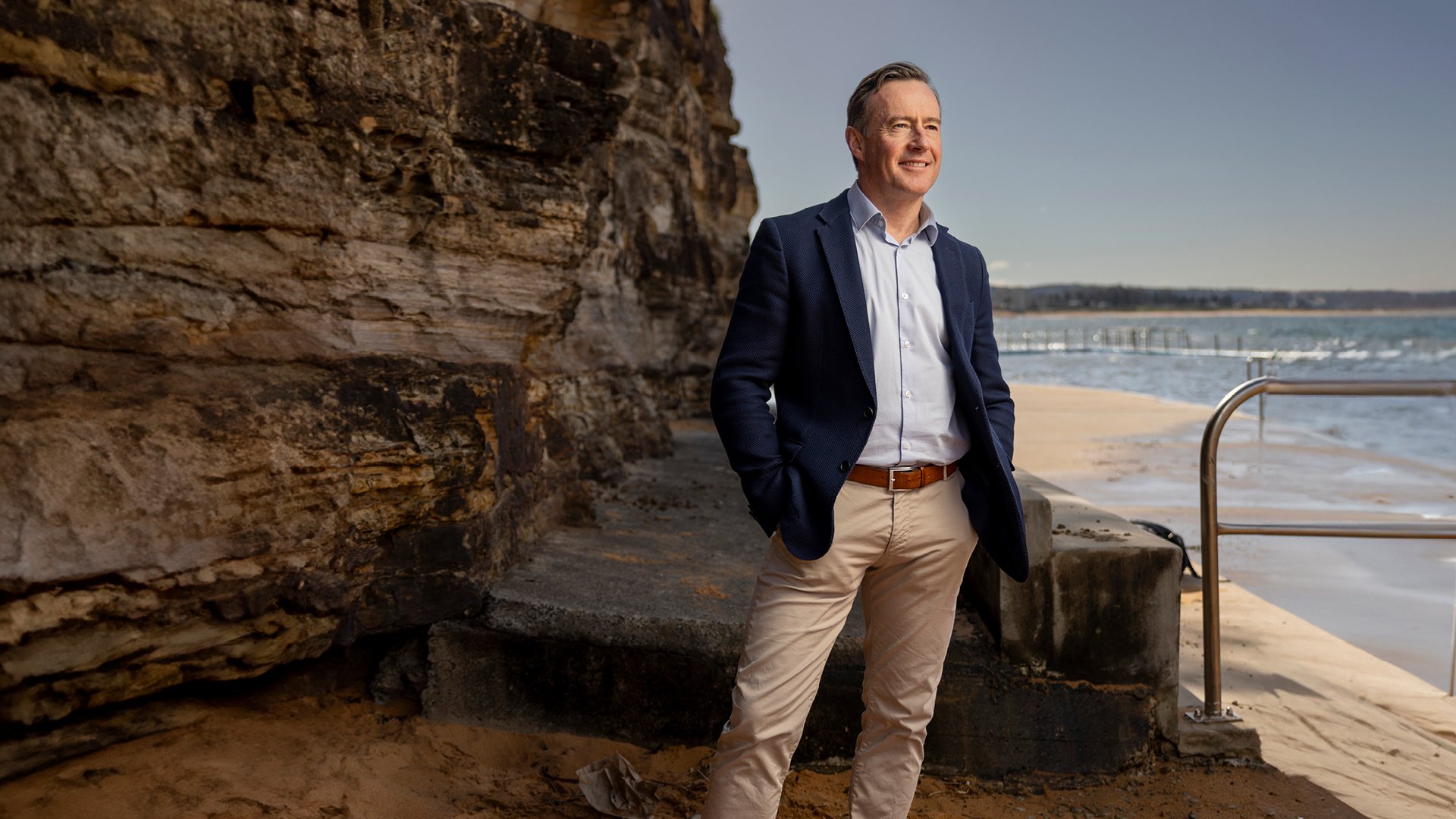 Vol 46: Issue 3 | September 2023
In June, Leney undertook his 10th consecutive Vinnies CEO Sleepout. He is an ambassador for the event and has served on its organising committee. He is proud to have raised more than A$400,000 to help the homeless over the past decade.

"I find it difficult to believe that in a sophisticated country full of terrific people like Australia, there are still over 100,000 people every night who don't have a roof over their heads."

Throughout his career, Leney has championed diversity and inclusion in the workplace. During his first tenure as CEO of Marsh Australia, he established a national diversity and inclusion committee. This drove talent development and hiring practices that encourage diversity, as well as the creation of colleague resource groups for women and young professionals, a mental-health framework and policy, and the development of the company's reconciliation action plan.

"I believe that we are all equal, and we deserve the same opportunities in our lives and careers. For me, it's just the way that I've been wired since I was a kid," says Leney. "Professional services is all about people — and people who feel a sense of belonging at work are better able to thrive."
Every career story has multiple chapters. For Scott Leney, the first half of the book is set at global brokerage Marsh, where he spent over 30 years working his way up into a variety of leadership roles, including two stints as the company's CEO in Australia — in 2015 and again in 2019 — as well as CEO of the Pacific region in 2016.

For the last two years, he had been the company's head of risk management for Asia and Pacific when, in June 2023, he announced he would be joining Everest Insurance International, an insurance division of global underwriter Everest Group, as the new head of Asia Pacific.
It was a headline-making move after more than three decades at Marsh, whose Australian operation provides professional risk and insurance services for approximately 70 per cent of ASX 100 companies, but one he describes as "a new chapter in the industry I love".

"Everest is a large global company establishing relatively new operations in Asia Pacific as part of its international expansion plans," he says. "It's an exciting prospect to be joining such a talented team and being part of building something that will have a lasting and positive impact in the industry. In many ways, it feels like a second career."
Strong leadership style
The leap from broking to underwriting seems like a big one to make at this stage of his professional life, but Leney is confident that the leadership skills and network he built at Marsh will help to ease the transition.

"I'm very grateful to Marsh for my career and for the leadership development opportunities which shaped me not just as a business executive but as a more thoughtful and empathic human being," he says. "I've always tried to treat people as best I could and equally within hierarchies — and I always maintained a healthy degree of respect for competitors, which will be helpful when building on those relationships with Everest."

This approach also served him well when he became CEO in Australia in 2019, shortly after Marsh McLennan had completed its US$5.6 billion acquisition of Jardine Lloyd Thompson Group plc (JLT).

"Naturally, we had some important work to do in combining operations and integrating systems," he says. "But the most challenging piece was taking the best of two distinct cultures and melding them into one. Marsh was seen as a very large, highly professional and well-credentialled company that went deep into its specialties. But it was a large global organisation which could be complex to navigate at times, whereas JLT was the contender in the marketplace: it was lean, agile and innovative."

Throughout the 18-month integration process, Leney kept his focus squarely on his internal talent and clients. Colleague engagement, client retention and business performance were carefully observed through surveys and other monitoring tools to ensure that the integration was a success.

"The two years following the integration were very successful for Marsh in this part of the world," says Leney. "Being able to stand back and admire the strength of the organisation as a result was probably the most satisfying aspect of my time as CEO."
A complex risk landscape
In his most recent role as Marsh's head of risk management for Asia and the Pacific, he was responsible for the company's large and complex client base.

"Clients of that nature require a risk management approach more than they do an insurance-led approach," he explains.

The role was a good fit for Leney, who enjoyed the diversity of cultures and variety of business approaches he encountered as a member of the Marsh Asia executive and Marsh International executive committee.

"I wanted to get closer to the clients and to the people who were serving our clients. I was very interested in helping this part of the business perform at its best, creating more value for clients and broader opportunities for colleagues."

He also relished the challenge of helping clients understand the potential impact of an increasingly complex risk landscape, chairing forums on risk categories ranging from cybercrime to climate action, societal polarisation and the economic ramifications of geopolitics, including the war in Ukraine.

As an enterprise, Marsh McLennan can draw on insights from its four companies: Marsh for insurance broking and risk advisory; Guy Carpenter for reinsurance; Mercer for asset management and workforce consulting; and Oliver Wyman for management consulting, economic consulting through sub-brand NERA, and design and marketing services through its other sub-brand Lippincott. Founded more than 150 years ago, the company has more than 85,000 employees across 130 countries. In 2022, it surpassed US$20 billion in annual revenue for the first time.

"Marsh is the type of company whose most knowledgeable people aren't sitting in back rooms writing papers," says Leney. "They are the experts in their fields — whether it be cyberthreat, climate change, supply chain or geopolitical risks — and they are very actively engaged with clients."
Futureproofing the profession
Leney predicts that brokers will need to make a shift, with the focus of their work becoming less about transaction and more about advisory. Among the biggest changes he envisages for brokers, in the longer term, is the use of artificial intelligence (AI).
"Picture a world where underwriting information about client risks is scraped and assessed in seconds, with coverage universally standardised," says Leney.
He foresees that risks could be submitted to online international market exchanges and AI could be used to structure the optimum insurance program.

"It might seem a little far-fetched, but it's coming, the only question is when" he says, adding: "Underwriters, brokers and advisers will have an important role to play for quite some time yet, due to the complexity of risk, the unique needs of clients and the vast and distinct offerings of insurers. But, ultimately, I believe that insurance will be transacted this way."
Searching for a unicorn
In the shorter term, Leney believes minimum-level qualifications need to be lifted for broking to be recognised as a true profession. To that end, he says, more consideration should be given to increasing the minimum levels of qualification to diploma level as well as a renewed commitment to continuous learning. ANZIIF takes a leading role in promoting professionalism across the industry and, as an ANZIIF board member since September 2021, Leney supports ANZIIF's executive team to deliver on its goals to be the industry's leading educator in the Asia Pacific.

Leney is currently board deputy president and chairs the board's sub-committee that is currently tasked with finding a new CEO, following ANZIIF CEO Prue Willsford's announcement in March that she is stepping down after a decade at the helm.

"Right now, we're out there trying to find our unicorn to replace Prue," says Leney. "She leaves enormous shoes to fill, given the person she is and the extensive contribution she has made to ANZIIF over many years."
Long-time champion
He is confident these values will serve him well when he joins Everest in November for the next chapter of his career.

"Part of what attracted me to the role was great cultural alignment," he says. "I think it's a very well-run organisation, and in APAC we have a chance to build it the way we would like to experience it ourselves; to be in a high-performing, agile environment based on true teamwork. I'd like to help create a sense of belonging, where great things can happen for all stakeholders while staying true to being a good company."
Two-minute bio
Background
Scott Leney was born in Sydney to an Irish mother and an English father. His family moved back to the United Kingdom for five years shortly after he was born. "Luckily for me, my parents saw the light and returned to Australia when I was six," says Leney with a laugh. He has a commerce / economics degree from Deakin University and has also obtained the highest level of insurance qualification through ANZIIF — his fellowship.
Career
Leney joined Marsh more than 30 years ago through a predecessor company, Sedgwick. He has held various leadership positions, including CEO of the Australian operations, head of the Pacific region and, until recently, head of risk management, Asia and Pacific. He will join Everest Insurance International, a division of the global underwriter Everest Group, as the new head of Asia Pacific in November 2023.
Outside the day job
Leney enjoys surfing, playing golf and spending time with his family. "I have three wonderful kids: two grown-up daughters and a 10-year-old son. I'm also a grandfather, 'Poppy', of two gorgeous grandkids — a boy and a girl."
Top tip
"Do something you love. Work hard. Be courageous."
Read this article and all the other articles from the latest issue of the Journal e-magazine