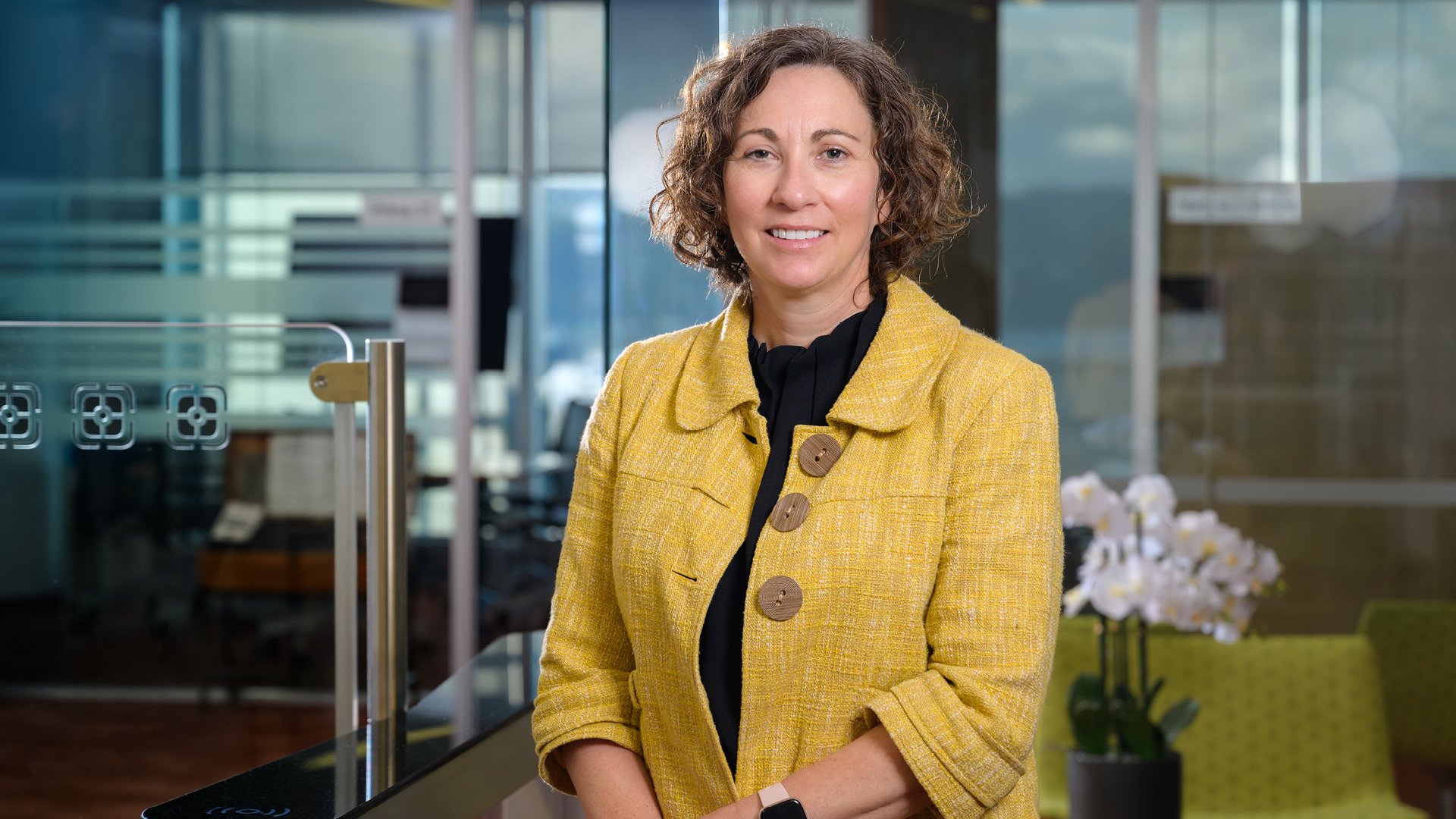 Vol 46: Issue 2 | July 2023
Company: Suncorp New Zealand
Title: Executive General Manager, Consumer

Suncorp New Zealand's Jane Brewer remembers the first call she ever made as a contact centre consultant.

She had returned to New Zealand completely broke from a gap year in Canada and the United Kingdom, having finished her Bachelor of Arts in classical studies and art history at Dunedin's Otago University.

It was the early 1990s and, with a recession setting in, it was hard to find employment. Brewer found herself either overqualified or too inexperienced for corporate roles. Luckily, AMI Insurance was looking for people with potential.

Brewer became one of 15 people hired for the company's first contact centre in Manukau, in south Auckland.

The opportunity to travel to Christchurch for eight weeks of extensive customer service and product training was an exciting prospect as it was her first time travelling for work. But even with all the preparatory build-up, taking that first call was a little nerve-racking.

"The first query I got was about the New Zealand Automobile Association, with whom AMI was in partnership at the time," recalls Brewer. "I didn't know the answer and the customer said to me, 'Well, you're no good, are you?'"

Undeterred but still nervous about what to expect, Brewer was able to help her second customer — and the company turned her initial experience into a learning opportunity.
"New responses such as 'I'm really sorry, but it's actually my first day' and 'that's a different area, but I'll get the answer for you' were built into our scripts and incorporated into ongoing training for handling customers," she says.
New industry experiences
It wasn't too long before Brewer was looking for new challenges. She took up a role with ERGO Financial Services selling home loans and financial products, which quickly led to an opportunity in the operational side of the organisation.

There was, however, an issue that required some serious consideration: the new role would mean a pay cut.
Enter Brewer's father, who had always been her mentor and supporter. He explained that careers can't always be laid out nicely and that sometimes you have to go backwards or sideways to advance.
"He was confident that within six months I'd be earning more than I did at that time," she says. "I'd also have more skills and a wider experience to build on for the future."

Brewer took the role and, sure enough, within two months had moved into leading a specialised team to handle the customer side of a systems migration implementation.

It was her first introduction to leadership — and she discovered she really enjoyed it.

"Throughout my career," she says, "I've moved between leadership and technical specialist roles because I always like to keep a broad view and take opportunities when they come up."
Surrounded by culture
Brewer's father was a university student in Canada and her mother a nurse from New Zealand when they met in Russia.

They ended up back in New Zealand, where Brewer's father had landed a job running operations at a steel mill located in Glenbrook.

The family moved to be near the source of the iron sands in the small Māori community of Tahora, on the west coast of the country's North Island.

"For me, as a very young kid, being surrounded by the amazing Māori culture was very influential," says Brewer. "I have great memories of all my time there, including being part of the formal greetings as my dad and members of NZ Steel were welcomed to the marae."
The end-to-end journey
Brewer has worked at Suncorp New Zealand for 15 years in both claims and technology leadership positions.

Her current role as executive general manager, consumer, was created in 2022 with the aim of fashioning a company structure that more closely reflects the customer's end-to-end journey.
"I've really enjoyed establishing the team," enthuses Brewer, whose responsibilities include product design, service and claims within the consumer insurance portfolio.

Due to the well-known legacy of complexity from the longstanding intermediated Vero businesses, Brewer has been especially inspired by the ability to formulate the consumer team's vision. "We've taken the opportunity to delve into the difference we want to make and what value our team will bring by having everyone accountable for the customer journey in one area," she says.

Given her technology background, Brewer and her team are looking to bring simplicity and automation to the insurance value chain.

"Since we started working together in August 2022, we're clear that the majority of the simple transactions and engagements could be offered digitally, so that our internal staff members can spend their time focusing on the more sophisticated customer requirements," she says.

"That might be complex claims, helping customers to understand their cover or working with the broker on what's the right cover for that customer going through complicated changes in their life or business."
Keeping things simple
Brewer believes automation will be at the heart of the customer proposition of the future, as it will help insurers crystallise what customers need and expect from their insurance products.
"It's still quite hard for people to understand insurance, in terms of what it offers and how it works," she says.
"So our focus is to really drill into how we can simplify the whole process as much as possible, how we can remove technical jargon and how we can pivot so that we operate the way customers do rather than the other way around."

Meanwhile, she observes that data collection and analysis is a never-ending journey. "You can never really say you're there with data," she says. "There's always new data to collect, fresh insights to draw and different areas that you can uncover."
Collaborating to build resilience
From an industry perspective, elevating the customer experience requires working and collaborating closely with government and local councillors on the tougher issues, like climate change, to ensure that insurance remains available to all New Zealanders.

"The real intent of the wider collaboration piece is building community resilience," says Brewer.

"As an industry, we are looking at different customer segments and thinking about different ways to achieve better outcomes for customers."

As a case in point, Brewer cites the powerful way insurers worked with Toka Tū Ake EQC (the Earthquake Commission) and the Insurance Council of New Zealand during Cyclone Gabrielle and the floods that hit New Zealand's North Island in early 2023.

"Our industry's response to those events was a big test of how well we collaborate and improve our services while putting the competitive side of business to one side in a time of need," she says.

For example, faced with an all-consuming volume of claims and feedback suggesting the need to sharpen up the claims process, Suncorp New Zealand mobilised its entire organisation during the disaster to develop a faster response.

"From early on, we were joined by colleagues from Australia who had experienced their own recent flood events," says Brewer. "We also had a group of volunteers from several different departments helping to answer phones and support customers, which in some cases required retraining our people."

In Hawke's Bay, whose community suffered a significant impact, the team created a system they unofficially dubbed 'claims clinics' to resolve claims on the spot.

"Our claims team from Auckland was brought into Hawke's Bay to work side by side with local brokers, administrators and claims teams in their offices," says Brewer.

"Instead of processing claims one by one using email, teams sitting together were able to power through large volumes in a few hours. It also helped our people build relationships with each other and cut through any misconceptions or misunderstandings."

Brewer says claims clinics received such great feedback that the organisation now schedules them regularly in Auckland and three days a week in newly opened offices in Northland and Napier.

As well as the successes, she adds that there were many challenges and learnings that unfolded along the way. "I'm just really proud of how we took on all the feedback and continued to adapt," she says.

Similarly, Brewer points to Suncorp New Zealand's motor product offering Drive as an example of how the team is tailoring insurance to different customer segments.

Originating from an 18-month pilot, Drive is targeted to financially vulnerable customers.
"We want to keep working on understanding different customer segments," she says. "It takes time, because you need to be coming from the right place to establish genuine relationships.
You need to work together to come up with a proposition, then test it, build it out and invest in it. I don't think that can be rushed."
TWO-MINUTE BIO
Background
Jane Brewer grew up in the small regional towns of Waiuku and Pukeoware, on New Zealand's North Island. Her Canadian-born father worked at New Zealand's steel mill near the small Māori community of Tahora all his life.

Education
Bachelor of Arts, majoring in classical studies and art history at Otago University in Dunedin.

Career
Brewer has been a part of the Suncorp New Zealand team for 15 years and has held a variety of leadership roles in the technology and claims teams. Prior to joining Suncorp, she worked in the insurance and banking industries in a mix of technology and business roles.

Outside the day job
Brewer enjoys spending time with her family in Wellington and participating in charity fitness events such as the Firefighter Sky Tower Challenge, which required her to train by carrying 25kg up and down stairs every day. She also loves organising large volunteer charity events; last year, Suncorp New Zealand raised NZ$265,000 for Leukaemia and Blood Cancer New Zealand and for research through New Zealand's Cancer Trust.

Philosophy
"Sarah Harland, one of my previous leaders, used to say 'never waste a crisis'. This saying has always helped me to drive decisions or try new things. From my father, I learned to make a decision quickly and move on without dwelling on it. Even if the decision is a no, it's better than no decision. Just make one decision at a time and take one step at a time but keep pushing forward based on what you know today. And if you get different information tomorrow, you can make changes if you want to."

Top tips for young professionals
"Insurance is such a great industry and kind industry. There's a real sense of purpose in helping customers and making a real difference to their lives. Be open to trying different roles and moving within them. Always go for challenges — the hard projects."
Read this article and all the other articles from the latest issue of the Journal e-magazine