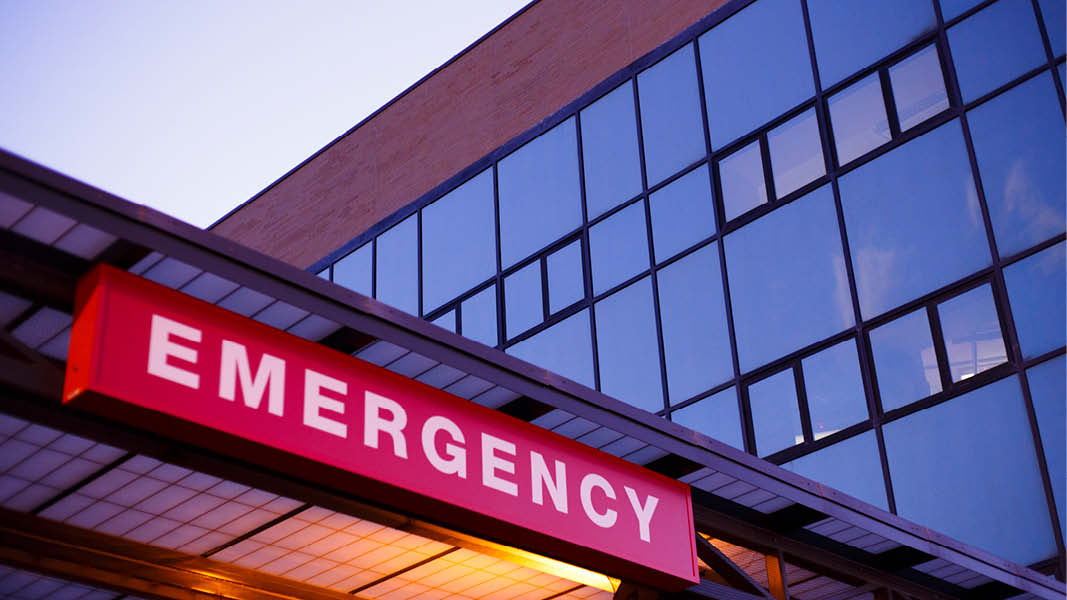 Vol 46: Issue 1 | March 2023
As soon as Matt Endycott collided with an opposition player on the rugby field, he knew he was injured. Perhaps fortunately, he had no idea of how serious that injury was.
"I went to Canada in August last year to play in an amateur rugby tournament," Endycott, national head of sales at nib Travel Insurance, says. "I'd played rugby as a kid and it was one of those post-COVID things, wanting to get out there and try something new."

Earlier in the yar he'd joined the Sydney Convicts rugby union club, with whom he'd travel to Ottawa to compete in the Bingham Cup.

"We were in our third game, 10 minutes into the second half, and the ball came out of the ruck," he recalls. "I jumped on the ball and just then, another player's knee made direct impact with my spine. Running at full force with about 20 kilograms on me, it was a pretty severe impact.

"I don't remember heaps from when it happened but I remember the pain – it was probably 15 out of 10. When I went to stand up, my legs went out from under me. That was a very, very confronting couple of minutes."

And so began a medical journey that would see Endycott transported to Ottawa Hospital and, five days later, flown home to Australia with a broken spine.
Claims team on call
"Having the job that I do, I often talk about emergency assistance while overseas but I never truly understood its value until then," Endycott says.
"When you're badly injured and desperately needing help, the next step isn't always obvious."
He contacted nib Travel Insurance emergency assistance. It was around 3am in Melbourne and the nurse who took the call was Karen Howden, who would see Endycott's case through from start to finish.

"Knowing that I had to go to hospital, Karen recommended the most appropriate facility for me to have my injury looked at," says Endycott. "It turned out I had a transverse process fracture in my L2, a hairline fracture in my L3 and a haematoma between my L2 and L3. My entire back was in severe muscular spasm. I couldn't do anything. So that was that."
The assistance process
The key to a successful emergency response program, says Anna Gladman, chief executive of nib Travel, is flexibility.

"It really depends on the case involved," Gladman says. "We need to be able to adapt to different types of events, issues, incidents and locations."

If an insured person is in a country with a well-resourced health system during a medical or other type of emergency — including a political uprising or natural disaster — then the local systems tend to be well set up to help. In that case, Gladman says, the claims team's job is all about being supportive, ensuring the customer has the best and most relevant care, and smoothing the way to that care.
"Sometimes we really have to think outside the square," she says. "Who's the best person to provide that level of service and how do we procure them quickly?
If that happens in a country where there isn't great medical care, then we need to figure out how we can get them to the right medical care as quickly as possible. That's where we rely on the air ambulance and other providers that go in and help get those customers to the right location."

The value of travel insurance was clearly demonstrated to Gladman and her team not long ago, when a customer was travelling on the back of a moped that was involved in a crash.
"Both riders had very similar injuries," she says. "One of them was covered and one of them didn't have travel insurance. The story they tell about the difference in treatment and care that they received is incredible. For me, that really brings home why we do what we do."
Essential escalation systems
Dr Geoffrey Ramin, chief medical officer APAC at Allianz Partners, is responsible for the medical infrastructure within Allianz Partners in his region. Under his remit is the development of protocols, procedures and guidelines to provide the highest level of medical input to the Allianz medical assistance desk.

"We have nurses and case managers working on the desk," Ramin says. "We also have medical officers who are all specialists in clinical care. So, a case's escalation can go from the nurse to the medical officer and then to the chief medical officer.

"While I'm the chief medical officer for Asia Pacific, we have divided the world up into four quadrants and there's a chief medical officer in Belgium, one in Germany, one in Canada, and myself in Brisbane. Between the four of us, we create and provide a global network of around 1,000 people. That network includes business units in around 70 offices around the world."

If the Canadian office has a case based in the Pacific region, they'll likely contact the APAC office for assistance with that case. Similarly, if an Australian traveller suffers an emergency in North Africa, where fewer Australians tend to travel, the APAC office can reach out to the team in Munich, who see more cases in that area.

When a call comes in, the case is immediately triaged as M1, M2, M3 or M4, with M1 being the least serious and M4 the most critical. All M4 cases require input from a chief medical officer.
"We had a case in the Pacific Islands recently: a child that had drowned in a swimming pool," Ramin says. "They were resuscitated at the scene and transported to a local hospital. That's clearly an M4 case, so it was escalated to me. I am pleased to say the child survived.
"We know some Pacific Island destinations are not well equipped for paediatric critical care, so immediately identified that urgent extraction was required. We were able to liaise with the treating medical officer to make sure the treatment fitted in with what we would expect in Australia, while coordinating an air ambulance. We had that child in a hospital in New Zealand in less than 24 hours of the incident occurring."
Holistic thinking
Endycott's original flight booking for his return home from the rugby tournament involved flying from Ottawa to Toronto, then on to Los Angeles, where he'd have a 10-hour layover.
"It wasn't the best plan for someone who's got a broken spine," he says. "Karen advised, after a functional medical assessment, that it wasn't the most medically appropriate option for me. nib cancelled my original flights and rebooked me on the most direct service in business class, so I could lie flat. They also organised wheelchair and luggage assistance at all airports, and arranged for a driver to pick me up in Ottawa and take me to Ottawa Airport, to help with luggage and getting into and out of cars."

Endycott says once he got home, the welfare checks continued for a week to make sure he was on the mend. "And I was on the mend, until I caught COVID at my niece's third birthday."

His biggest saving grace during the emergency, Endycott says, was having Karen on the other end of the phone.

"She'd say, 'This is what your doctor said. This is what you need to do. This is where you have to go'," he says. "It's incredibly powerful to have someone guiding you through the process, checking how you're feeling and whether you need anything. For me, that was the most important part of it all."
How much does repatriation actually cost?
The cost of returning a customer home after a medical emergency varies greatly depending on their condition and whether they require medical professionals or specialist equipment during the journey. Location is also a major factor. Travel insurer 1Cover shared its estimates for the cost of an air ambulance to Australia or New Zealand from the following countries:
Thailand $210,000
Bali $55,000 – $150,000
Japan $225,000
Fiji $65,000
USA $280,000
Europe $360,000
China $220,000
Nepal $280,000
Samoa $70,000
Source: 1Cover
Read this article and all the other articles from the latest issue of the Journal e-magazine