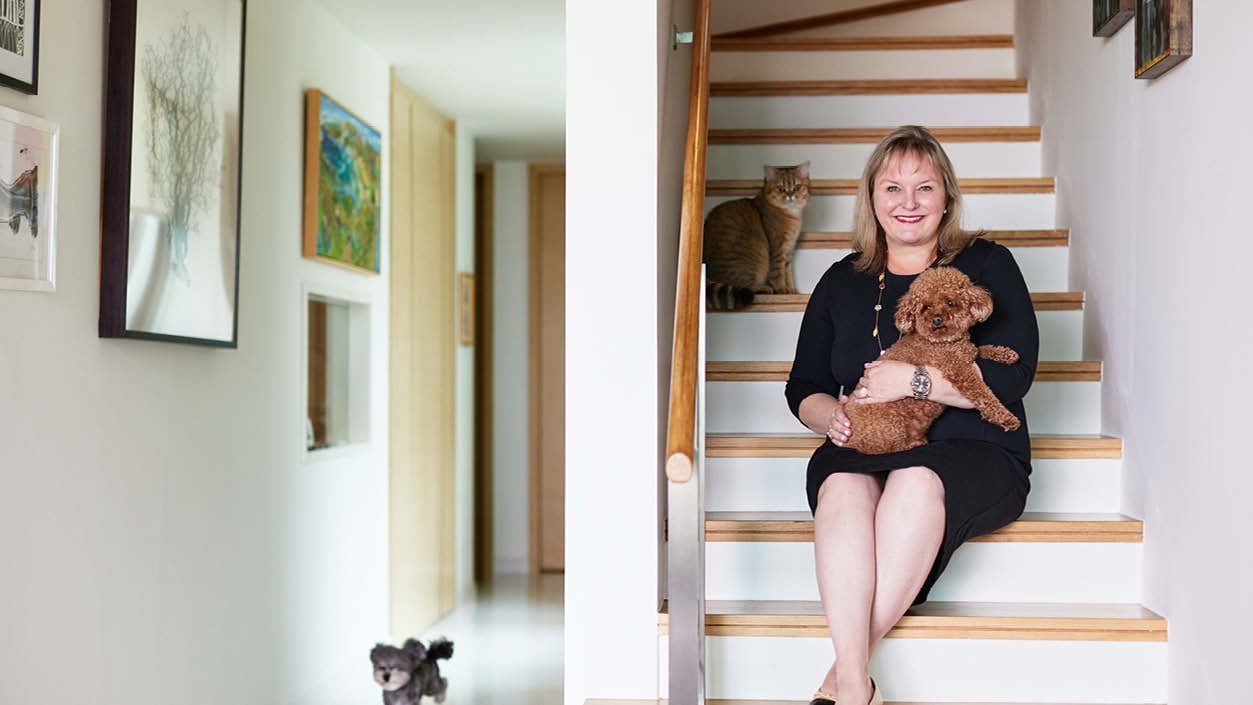 Vol 46: Issue 1 | March 2023
For Veronica Grigg, Crawford Asia president, the primary purpose of insurance claims is to restore and enhance lives, businesses and communities.
"Whether they're carriers or large corporates, there's more than enough opportunity for Crawford to differentiate and provide exceptional service as a representative of the partners we work with," says Grigg.
Most recently, supporting customers through surge catastrophe events in Malaysia and the Philippines, plus those in Australia, was a prime example of how the organisation works to ensure a partner's brand proposition is well represented in the markets across the Asia Pacific.
A wider perspective
Often, this means the utilisation of technology, especially since COVID-19 when loss adjusters were forced to become remote quickly.
"New technology was an important part of the innovation required at the time, but another aspect of it was looking at claims from a wider perspective," says Grigg. "It's about asking what we are learning from events and how can we improve risk management to support our customers."
Grigg says there's still a lot of work to be done using data and analytics, especially given the responsibility that Crawford has and the importance of meaningful insights.
Meanwhile customer expectations are changing all the time and Grigg observes that the ideal experience will never translate into a finite goal.
"We have to continually reinvent ourselves," she says. "We have to be aware of the moving goal posts and be nimble and agile enough to handle that. We also need to be more highly skilled."
The human touch
Grigg also believes claims professionals must never lose sight of the important role of empathy and the human touch. "The best processes in the world can come to nothing in the face of a negative loss experience," she points out. In response, her approach to leadership is to let it "evolve".
"Leaders are no longer expected to have all the answers," she says.
"My team of professionals contribute market knowledge and intelligence, which provides me with a view of our large and diverse region from the ground up. I can translate that to head office in London, while also understanding the direction of the company."
Grigg says building the team is the most important aspect of leadership. "Your job is to empower, provide direction, guidance, resources and help when the team hits roadblocks and to assume everyone is trying to do their absolute best.
"There are two ways to get results," she adds. "One is at all costs and the other is by bringing everyone with you. The best leaders I've worked for set their teams up for success. They bring everyone with them through the tough times."
Fierce independence
Grigg grew up the youngest of three girls on a cattle farm outside the NSW country town of Braidwood. She remembers it as a fabulous traditional childhood that saw her develop a fierce degree of independence and the ability to handle anything.
"In those days, there wasn't the connectivity or the technology we have today, so if you were out on your horse or sent to fix the fence and something went wrong, you had to sort it out yourself."
A can-do approach has played through into Grigg's adulthood and working career. And while it wasn't expected she take over the farm, her father clearly wanted his daughters to have a great education.
Grigg boarded at a school in Sydney and attended Sydney University before moving straight offshore. Her first opportunity was with life insurance company National Mutual (now AXA) in London, where she met some "wonderful people".
From life insurance, Grigg moved into consulting with the aim of having some new experiences after working in a bank. She led engagements in pharmaceutical, FMCG (fast moving consumer goods) and telco and finally transitioned back to financial services with KPMG. "By that stage, I had a lot of international experience in Asia, Australia, Europe and the UK," she recalls, "so it made sense to develop KPMG consulting's financial services practice."
At KPMG, QBE became Grigg's client and later appointed her in a variety of roles including business unit leadership, strategic sales and global distribution: roles that took her all over the world and helped shape her love of the industry.
Her next step was managing niche and specialty underwriting platforms for US-based Lloyds syndicate member Argo Global, with responsibility for Asia, Australia and the Middle East.
The moment of truth
Today, she specialises in claims management with Crawford's Asia business, based in Singapore. "Having moved through everything from investment to consulting, underwriting and distribution it was an exciting proposition for me to focus on what I think is the moment of truth in insurance," she says.
"If you have ever required support for a major claim, be it a natural peril like fire, or a casualty for example, you know the value of it and you learn to appreciate what the industry does."
With the diversity of Asia, Grigg says the biggest challenge is providing a consistent level of service. "Japan versus Indonesia versus Philippines, Thailand, India, Singapore and Malaysia — all these markets have a different personality," she says. "Being able to tap into that essence and find ways to solve our customers' problems is what it's all about."
People are people
Regardless of cultural variables, Grigg says people are still people. "In their time of need, they want to know you're there for them and that you understand their situation. They need you to follow up and communicate, and they need to know what you stand for and that you're going to behave consistently."
Grigg says professionalism is at the heart of the Crawford proposition. "Professionalism is the way we handle and manage everything. It's making sure the customer has the right policy and risk management in place, it's customer surveys and following-up when something happens."
Another critical piece is supporting and elevating Crawford's people through continuous learning and development.
"Topping up our skills is something that we've brought to the forefront at Crawford," explains Grigg. "Our Quality at Crawford program offers training and tools to help our people be more successful in their roles and in the industry, regardless of location or base skills. For me, if you stay at Crawford, you'll have a great career and there will be progression." Equally, if people choose to leave Crawford, the skills and mindset they take away will contribute to the industry. "Professionalism is about understanding the long-term win-win, not just for yourself, but for the company and brand you represent," says Grigg.
The last expatriate
To that end, Grigg is passionate about making sure she is one of the last expatriate leaders at Crawford Asia.
"The growth rates of the markets in which we operate are significant, not just in terms of insurance but also when you consider their economies overall," she says.
"What we're trying to do is create greater opportunities for people who come from grassroots roles within Crawford to progress through a series of accreditations and become our most senior adjusters."
She points out that unlike most Western candidates, locals often speak six or seven languages and this skill set makes a real difference when dealing with linguistically diverse customers.
"Our new executive general adjusters will have ANZIIF qualifications along with others supported by Crawford's award-winning training and accreditation programs."
Future holds growth
Grigg says the future holds expansion and strength for third-party claims administrators. "Many of our customers are under cost pressure," she says. "So, if they can find partners that offer effective service solutions, then it makes sense.
"There is certainly an opportunity for Crawford to continue as a specialist in this space. If we can innovate and add value, why wouldn't we grow?"
TWO-MINUTE BIO
Background
Veronica Grigg grew up the youngest of three girls on a cattle farm outside the NSW country town of Braidwood. She describes it as a "fabulous traditional childhood" that helped her develop a fierce degree of independence.
Career
After completing her studies at Sydney University, Grigg was seconded to work with life insurance company National Mutual (now AXA) in London. She later moved into consulting roles where she led engagements in pharmaceuticals, FMCG and telco and finally transitioned back to financial services with KPMG. She moved to QBE where she was appointed in a variety of senior roles before she took up a niche underwriting opportunity with Lloyds syndicate member Argo Global in the US. Today, she specialises in claims management with Crawford's Asia business, based in Singapore.
Outside the day job
A single mother with a 14-year-old son, Grigg runs at least two households, being the carer for her sister, and previously her mum, who sadly died last year. But at home, as at work, she has always contributed with the philosophy of making sure everyone has a good life. She and her son have five pets if you don't count the fish, three toy poodles and two cats. Apart from the charity and community work they do in Singapore, particularly through her son's school and some of his social networks, the two love to travel.
Mantra or philosophy
Grigg quotes the great philosopher Winnie the Pooh as an example of the mantra she lives by: "If you love what you're doing, you'll be successful". Her view is that life is hard enough, so do things that interest you because then you will have a passion.
"That's the philosophy I get up with, and the day that I don't enjoy a job it's time for a change. It doesn't mean I'm going to leave the industry and it doesn't mean that I'm going to leave the people I love working with because invariably they come with me."
Advice to young professionals
Grigg advises young people to join the industry when and wherever there might be an opportunity. "Let's say you've done an accounting degree, a nursing degree or a teaching degree. In insurance, you can have such a rich career with so many different credentials. And I always say to people: 'consider insurance if you're looking for a fulfilling role'. That's what's kept me within the industry. You can see the world and you can absolutely gain experience without even leaving your desk."
Photography by Matthew Ng
Read this article and all the other articles from the latest issue of the Journal e-magazine