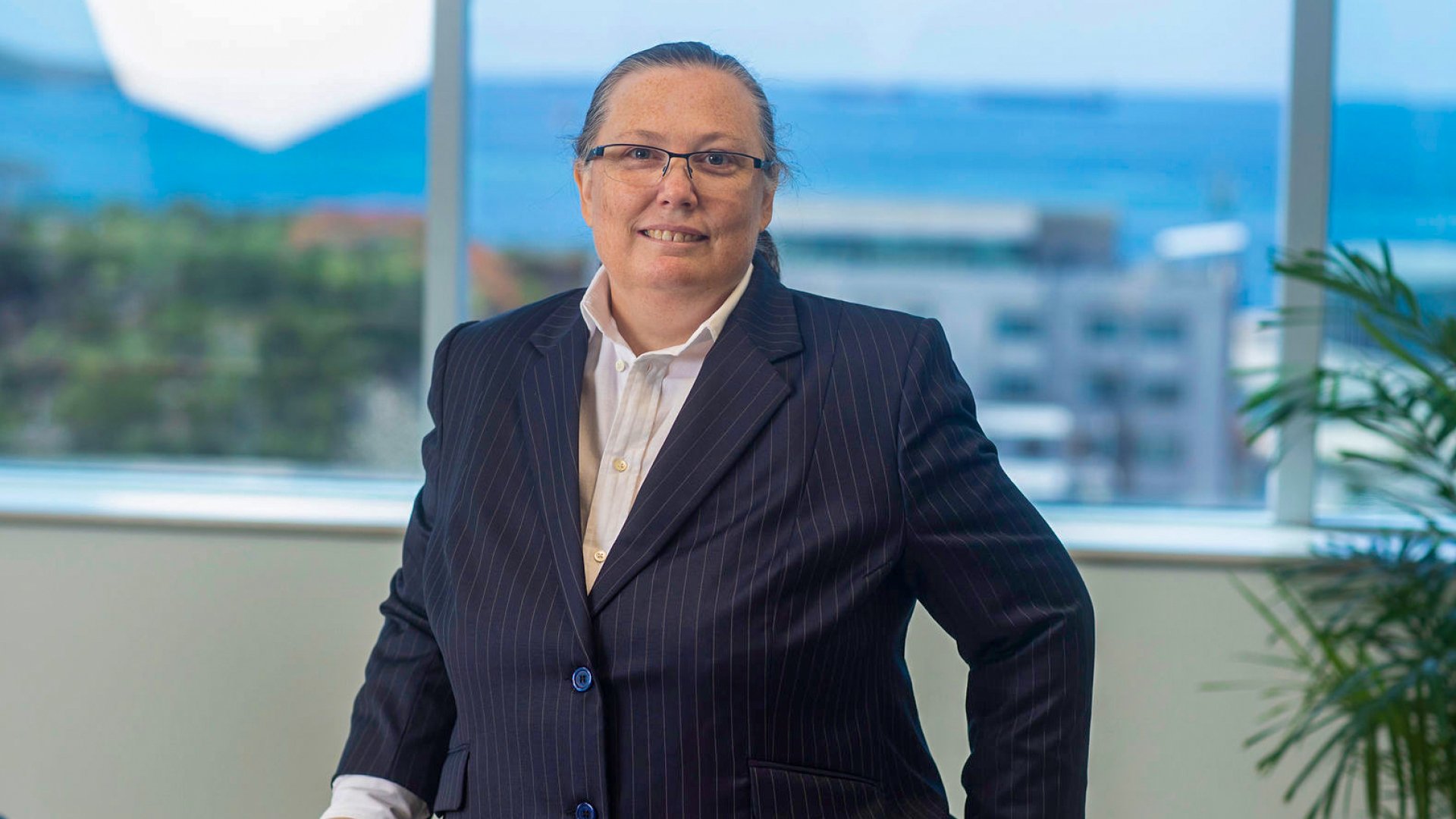 Vol: 45 Issue: 4 | December 2022
It can come as a surprise that a person whose career has been built on assessing risk would choose to live and work in Papua New Guinea, given its reputation for violent crime and natural disasters. But for Victoria Clifford, her appointment earlier this year as chief executive officer of PNG's sole reinsurer, Pacific Re, is but the latest development in a career marked by bold and unexpected moves. As she herself puts it:
'Take chances on opportunities if and when they present. Never in years would I have thought I would be working and living in Papua New Guinea.'
Unconventional pathway
Clifford's path to a career in reinsurance was not altogether conventional. Despite being a Sydney local with no obvious connections to farming, when she finished secondary school Clifford chose to study agricultural economics at the University of Sydney. She confesses that, at the time, she knew little about the field but was attracted by the relatively small size of the faculty and promising job prospects.
The next leap of faith came at the end of her degree when she was looking at what to do next. One of the positions she applied for was the graduate program at reinsurer Munich Re. Before the interview she received some advice from a family friend who worked in finance about what reinsurance was.
'Reinsurance was explained to me as just like a bookmaker offsetting a large bet with other bookmakers at the track [to reduce] his exposure,'
Clifford recalls. 'I think I even used this explanation at one of the interviews. I am not sure if I would do that again today.'
Despite the betting analogy, Clifford impressed her interviewers enough that she was offered a place — an opportunity for which she has been grateful ever since.
She joined Munich Re's graduate program in 1998 and over the next two years spent time in each of the main areas of the business, gaining insights and knowledge from highly experienced underwriters.
Hard yards
Over the next 10 years, Clifford rose steadily through the organisation, drawing on her knowledge of agricultural economics and applying that in the world of reinsurance. By early 2008, she was plying her trade as an underwriter in Munich Re's property, agricultural, marine treaty and facultative (reinsurance purchased for a single risk or a defined package of risks) portfolios.
In late 2009, Clifford moved to Great Lakes Australia, Munich Re's direct insurance arm, and, after a year there, joined Allianz Australia as rural product manager.
In 2013, she took up an opportunity as senior underwriter — Property and Agricultural Treaty for Hannover Re's Australian branch, a role she held for more than six years before establishing her own reinsurance consultancy, VAVC Business Solutions.
Throughout her career, Clifford says she has benefited greatly from the guidance of mentors — "strong, experienced females" who she could look up to.
'Mentors have been an important part of my professional development, particularly in the early years working in a very male-dominated industry and companies,' she says.
Something new
It was while working as a consultant to Pacific Re that Clifford learned about the CEO opportunity and decided to apply.
At the time, Pacific Re had just been acquired by the PNG Government-owned insurer Motor Vehicles Insurance Limited (MVIL) and, Clifford says, was suffering from under-investment. MVIL has since injected capital into the business and is backing Clifford's plans to build up the skills and development of staff. She has begun to run in-house training programs and is in discussions with ANZIIF about adapting some of its courses for use in PNG.
Embracing change
While altering an organisation's culture can be a slow process, Clifford says Pacific Re's staff have demonstrated a strong hunger for knowledge, and there has already been a noticeable change in understanding and attitude.
'It has been really good to see staff buy-in. Everyone is stepping up,' she says. 'I have got underwriters doing things that they would never have thought they would. It is about giving people the opportunity to try something, like spending time with clients to get a better understanding of them and their needs.'
Clifford has found herself drawing on the underwriting skills she developed early on in her career.
'For us, there isn't the emphasis on rating models,' she says. 'It's back to old-school underwriting, where underwriters need to have a good understanding of the risk, compared to inputting everything into a model and pressing a button to get the answer.
'My personal view is that you end up with a better underwriter because of it.'
Challenges and opportunities
Clifford is clear-eyed about the challenges of her new work environment. Electricity is unreliable, internet connectivity can be intermittent, crime is a pervasive threat and advanced health care is offshore. She carefully considered issues such as personal security, medical support and how she might be received by people within the company and the broader business community before committing to the role.
But, after more than six months as Pacific Re CEO, Clifford is very pleased with her decision.
While security is an unavoidable part of living and working in PNG's capital and power blackouts are a hassle, such concerns pale compared with the opportunities to undertake work that is challenging, varied and fulfilling.
'Everyone has a certain perception of Papua New Guinea and some of that may be warranted. But it is not until you travel there that you see the real Papua New Guinea,' she says. 'They are some of the nicest people I have worked with or met. Yes, it can be dangerous at times. But so can it be in Sydney and other countries.'
Clifford draws great satisfaction from the idea that she is helping develop the underwriting skills and knowledge of Papua New Guineans so that it will be locals who lead organisations like Pacific Re.
'What we are doing here is very satisfying,' she says. 'I am using all that knowledge and experience I have got and injecting it into the next generation. Work here is very challenging … but it is very exciting.'
TWO-MINUTE BIO
BACKGROUND
Victoria Clifford grew up in Sydney and studied agricultural economics at the University of Sydney. She currently lives in Papua New Guinea's capital, Port Moresby.
CAREER
After completing her bachelor's degree, Clifford joined Munich Re's graduate program in 1998. She remained at Munich Re for the next 10 years, rising to underwriter before moving to Munich Re subsidiary Great Lakes Australia for a year. In 2010, Clifford joined Allianz Australia as rural product manager, and she moved to Hannover Re in 2013 as a senior underwriter. She stayed there for seven years and, in 2020, set up her own consultancy, VAVC Business Solutions. Clifford became CEO of Pacific Re in April 2022.
OUTSIDE THE DAY JOB
Clifford enjoys catching up with family and friends, especially building Lego with her three nephews. Away from work and family, she enjoys reading and listening to true crime stories. Building on this interest, Clifford recently enrolled in a criminology course and is enjoying being a student again.
TOP TIP
'Consider having mentors for different parts of your career. It is also good to have people you look up to who are not related to your work environment.'
Read this article and all the other articles from the latest issue of the Journal e-magazine here