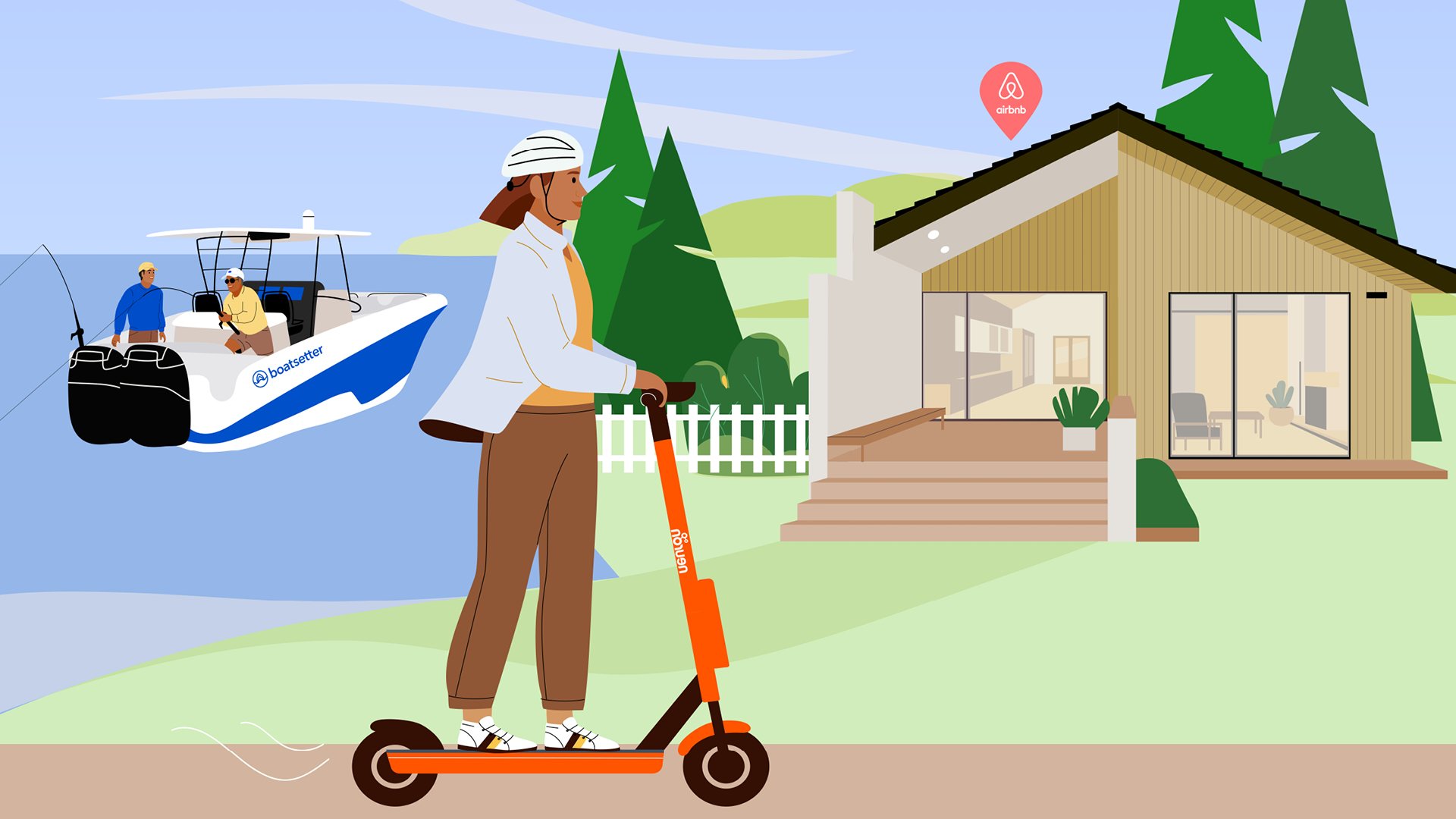 Vol: 45 Issue: 4 | December 2022
In the third decade of the 21st century, it seems that if you own or lease an asset, you can share it — most often on a digital platform. The groundbreaking business models of Airbnb and Uber were only the start of a worldwide phenomenon that has taken different forms in different markets.

In the accommodation market, Vietnam has Luxstay and New Zealand has Bookabach. Anyone wanting to rent a car space in Australia can go to Oscar, or work from a temporary office with Spacely. In Malaysia, Grab provides ride sharing, car share and food, grocery and courier deliveries, and Gojek does the same in Indonesia and other South-East Asian countries. And in micromobility, e-scooter rental business Neuron began in Singapore in 2016 and is now operating in Australia, New Zealand, the United Kingdom and Canada.

In the United States, the hot summer has been a boost for Swimply, a platform where people can rent out their swimming pool by the hour. For those who like a bigger expanse of water, there's boating rental marketplace Boatsetter, which has experienced 47 per cent 12-month growth. There's even a platform called Wardrobe, where people can rent out their clothes.
Multiple participants
What all these platforms have in common is that the owner of the asset temporarily gives up use and control of it for a designated period. What is different to the longstanding hire car industry, for example, is that there are multiple parties involved.

Where a hire car company offers insurance options to customers in a direct relationship, in the sharing economy there are at least three parties: the platform, the asset owner and the hirer. This new model has created significant grey areas for insurance as well as blurred lines of responsibility and apportioning of risk.

If you rent someone's swimming pool through a platform, for example, and one of your children's friends comes along to play and is injured, who should bear the responsibility — you, the owner of the pool or the platform provider?

Swimply's solutions is to offer two programs built into rental costs and platform commissions. One is designed to protect hosts and the other protects guests. Its host liability insurance covers hosts by up to US$1 million if a guest is injured during a reservation and files a claim or lawsuit. This also covers defence costs for disputes in which both Swimply and hosts are legally liable and covers hosts in instances not covered by their home insurance.

There is also property damage protection. If guests inflict damage during a reservation, hosts are eligible for up to US$10,000 if their pool is damaged and the guest is unwilling to pay for repairs.
Filling the gaps
This might not seem too different from traditional insurance models, but one company offering a new model is Australian car insurance start-up KOBA. The company's core product is pay-by-the-kilometre car insurance, calculated through connecting a sensor to the telemetric systems in the vehicle.

KOBA founder Andrew Wong explains that KOBA is moving into the sharing economy through a partnership with fellow start-up Car Next Door, a platform with 360,000 members where people can rent out their vehicles when they are not using them.

'Car Next Door had a problem in that when you rent a car on the platform, the owners are responsible for their own insurance, and they are responsible for telling their insurers they are using their cars for commercial purposes,' says Wong.
'This is a grey area in some product disclosure statements and not others. We called up a couple of major insurers about three or four times and they gave us a different answer each time on whether you were allowed to use car share.

'The world is moving on with mobility and rideshare, and insurance products are just not keeping up with the pace, so we are using our tech and the Car Next Door tech and putting our solution into their booking system.'
The KOBA solution uses the sensor device and works with Car Next Door's Instant Keys GPS device to understand the moment the borrower takes control of the car and when they relinquish control back to the owner.

The hiring cost includes an insurance component that covers the hirer in the event that they damage the car or are involved in an accident with a third party. 'The technology gives us total clarity on who is responsible, so there are no grey areas,' says Wong. 'When the owner gets the car back, coverage reverts to them.'

Wong says many people who make their cars available through Car Next Door do so as a sideline business and rarely, if ever, drive their cars themselves. These are people who also benefit through KOBA's core product, where customers pay a flat fee to cover any damage to the vehicle when it is unused and stationary, and then pay by the month for any kilometres they may drive themselves.
Competitive advantage
Global insurance broker and sharing economy specialist Marsh has also put time into helping clients navigate the complexities of the sharing economy and its risk and insurance implications.

The company published a 2021 white paper, Mobility in a post-pandemic world, where one of the key tenets was that successful businesses in the sharing economy would not 'look at risk and insurance as a "top-three cost" but as an opportunity to build trust and gain competitive advantage'.

Dimitri Hursalas, the national segment leader for the sharing economy at Marsh in Sydney, says that while larger-scale, peer-to-peer (P2P) platforms such as Airbnb have created insurance coverage that protects all parties, smaller P2P sharing 'of household items or things like tools or photography equipment' presents greater challenges and is driving product evolution.

Further, compared with traditional models based on historical data from customers, the sharing economy makes it difficult for insurers to price risk, says Hursalas. The need to understand the sharing economy better, he adds, is yet another driver for the insurance industry's appetite for data as it seeks to understand new sets of metrics.
Learning and improving
Marsh takes a two-pronged approach to helping facilitate the insurance market in this area. 'In micromobility, we work with insurers to develop policies that are rated on a metrics basis, such as minute per trip, delivery per ride, and we try to write a policy that responds to how their business operates and also how the risk apportions out,' says Hursalas. 'Ultimately, in these situations it is a hierarchy and participants are always responsible for their own liability.'

Marsh is largely factoring its sharing model insights into the corporate insurance taken out by the overarching client, such as the platform, which then factors risk and responsibility into its users as it sets charges.

This might not be as headline grabbing as KOBA's connected device, but Hursalas says the approach is still significantly ahead of previous practice.

'Look at the old holiday bike-share model,' he says. 'By and large, you had no coverage as a person riding that bike, but the organisations coming into this micromobility space understand the risk, and they look to address that in a fashion which encourages good behaviours.

'At the same time, it's up to them to make sure that if an incident occurs, then there is no party in the incident who is left worse off.'