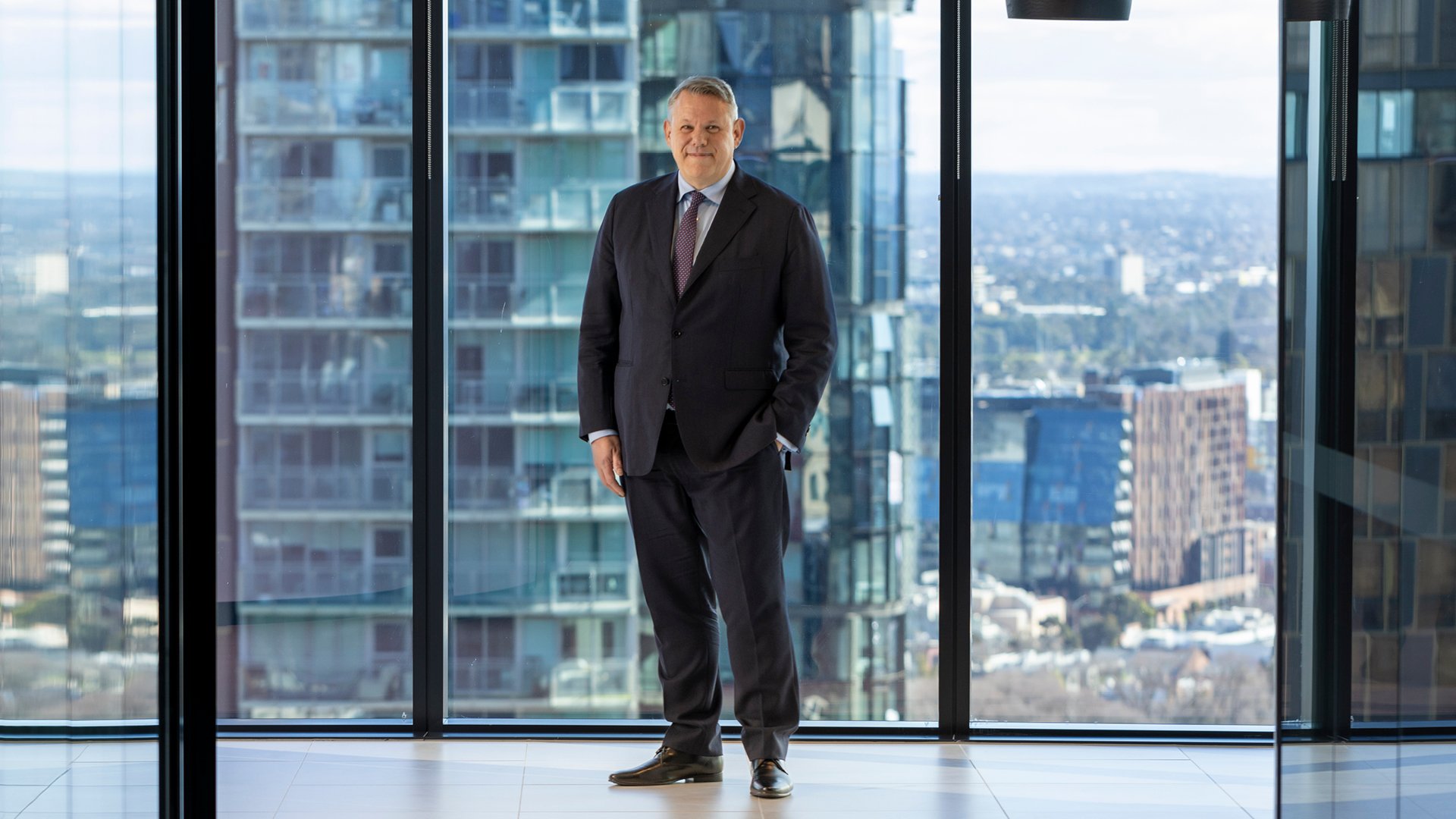 Vol: 45 Issue: 3 | September 2022
The opportunity to establish a new agency in your career is relatively rare, but David Locke, CEO and Chief Ombudsman at the Australian Financial Complaints Authority (AFCA), has done it twice.
In 2011, English-born Locke was seconded by the Charity Commission of England and Wales to help an implementation taskforce establish the Australian Charities and Not-for-profits Commission (ACNC).

He had originally been brought out to Australia from the United Kingdom for a week by the not-for-profit (NFP) legal service Justice Connect to deliver presentations and talk to the then minister about creating a regulator for the not-for-profit sector.

As chief adviser to the taskforce, Locke was involved in consultations with the NFP sector, Commonwealth departments and agencies, states and territories, as well as advising on the legislation for the ACNC.

'Setting up a new Commonwealth regulator in what was a contested political space was a complex task, but it was also very exciting,' Locke recalls.
'The Australian Government's work was supported by the Charity Commission of England and Wales, as well as senior officials from both the Canadian and New Zealand charity regulators.'
Innovation and transformation
Locke stayed, taking the role of assistant commissioner, with responsibility for the ACNC's advice and support functions, investigations, compliance and intelligence work.
'We delivered the first national Register of Charities and in 2016, we won the Institute of Public Administration's National Innovation Award for Best Digital Transformation across government,' he says.

It was on the strength of this work, along with two decades of independent decision-making for regulatory bodies in the UK, that Locke was appointed to another new organisation — AFCA — which opened its doors while the Hayne Royal Commission into Misconduct in the Banking, Superannuation and Financial Services Industry was under way.

'Building a one-stop shop for complaints by combining the operations of the three predecessor schemes was also a challenging process,' says Locke.
'The AFCA board and executive were determined, though, that this needed to be a distinctly new body, building on the good work of the predecessor bodies but more ambitious in its scope — not just to resolve disputes, but also to work with industry and consumer bodies to help address the underlying causes.'
Waking up financial services
Locke adds that the royal commission was a wake-up call and demonstrated a critical need for fairness to be applied to all financial and consumer services.
'As an ombudsman service, it's important we deliver our services effectively and efficiently, because the progress of complaints has a major impact on consumers, small businesses and financial firms,' he says.
'As well as managing complaints that are escalated to us, we want to help financial firms prevent complaints arising, or to manage them quickly through their own internal complaints process, by offering insights gained through our work in complaints.
'Those insights should also allow us to influence reform for the benefit of the financial services sector and financial services consumers.'
Locke says AFCA encourages all financial firms to have a 'resolution mindset'.
'Resolving complaints early, in a way that is fair for both parties, is efficient and cost-effective for firms, good for their ongoing relationships with policyholders, as well as taking away anxiety and uncertainty for complainants,' he says. 'If disputes can be resolved early you are likely to retain customer loyalty, which is good business.'
Working towards good relationships
For Locke, complaints are often about people and relationships. 'We know good relationships based on mutual trust and respect result in issues being communicated and resolved early,' he says. 'However, we also know that when communication breaks down, things can get messy, quickly.'
He says complaints resolution works well when staff consider the human behind the complaint, focus on the customer as a valuable asset and work with them to unpack and understand what has gone wrong.

'We much prefer to see complaints resolved by agreement, with our help through conciliation if necessary, rather than a complaint requiring investigation and determination by an ombudsman.'
Dealing with delays
In the current financial year, AFCA has seen nearly 20 per cent more complaints against the top four insurance companies than the previous year. Locke puts it down to the number of natural disasters during a pandemic and a war in Ukraine that continue to disrupt supply chains and exacerbate labour and skills shortages.

'One of the biggest increases in complaints lodged with AFCA was generated by natural disasters, with 1,586 complaints — more than double the 653 complaints from such disasters the previous year,' Locke confirms. 'These increases have a flow-on effect on our dispute resolution service, too.'
While acknowledging the issues insurers face and that there are genuine reasons for delays in progressing claims, he says consumers are sometimes in urgent need of assistance. 'So we are encouraging everyone to communicate and to work together to find fair and workable solutions.'
At the coalface
On the front line of the complaints process, Locke asserts that the strength of the relationship between staff and consumer has a significant impact on successful resolution.
'Acknowledging an issue and being prepared to say sorry can go a long way,' he says.
'It's important that you do what you say you will, that you explain your approach and that you avoid surprises.

'In a practical sense, we encourage engaging by phone as much as possible, not just via email, so you can listen and understand with empathy.
Assumptions on both sides can be a problem — explore what your customers understand and what they don't. Listen out for what else is going on in people's lives and recognise that people can feel disempowered in these sorts of situations.'

When it comes to financial disputes, specialist training can help to separate emotional behaviours from the facts. 'Ultimately, remember that we're all only one or two life events away from vulnerability,' Locke advises.

'At AFCA, there is nothing we like more than having someone tell us they felt heard and they were treated fairly, even when they may not have got the result they wanted.'
An insurance partner
Looking to the future, Locke says AFCA sees itself partnering with the insurance industry to help protect and enhance customer relationships through the insights generated by its work.

'We want to share our deep and broad experience in complaints management and insights from our data to help insurers and other financial firms resolve disputes and mitigate the underlying causes of complaints,' he says. 'That's good for the consumer, it's good for the insurer, and it's good business.'
AFCA by the numbers
The Australian Financial Complaints Authority (AFCA) registered more than 72,000 complaints in the 2021-22 financial year, taking the total since it opened its doors on 1 November 2018 to more than 270,000.

In general insurance specifically, AFCA registered nearly 16,000 disputes in the last financial year, totalling more than 68,000 since the organisation's inception.

David Locke says AFCA's latest data shows that 44 per cent of insurance complaints were resolved at the earliest stage of the process — registration and referral — when the complaint is sent back to a firm for another look. 'That compares with 58 per cent in banking and finance and 33 per cent in each of investments and advice, and superannuation,' says Locke.

Overall, he adds, 58 per cent of insurance complaints were resolved by agreement at some stage in the process, compared with 74 per cent in banking and finance, 54 per cent for superannuation and 45 per cent for investments and advice.
Two-minute bio
Background
As of 2022, David Locke is a 'proud Australian citizen', but he's originally from a mining town in the West Midlands, England. Like many generations of his family on both sides, Locke's dad left school at 15 to work in the local coal mine. His parents later ran a corner shop for 35 years.
As a young man in the 1980s, Locke experienced the collapse of the coal industry and the loss of thousands of jobs as the UK Government removed its support and rendered many of them unviable.
'You can argue about the rights and wrongs of that decision, but socially it had a huge impact on communities, and witnessing it helped shape me,' he says. Locke became the first member of his family to go to university, completing legal studies at Hull University.
Many of his classmates went into big law firms, but Locke gravitated to legal aid.
Career
Locke started his career as a lawyer working in a disadvantaged area of North London before moving into a leadership role at a central London law centre.
This led to involvement with the boards of a number of charities and a new career in the charities sector. In 2002, Locke left the community law centre to join the legal team at the Charity Commission for England and Wales.
He was appointed head of charity services in 2005 and executive director in 2007, with responsibility for all the commission's direct services to charities and the public.
'At the time I joined, the Charity Commission was taking 92 days to register a charity. By 2010, we'd got that down to 28 days, and under five days for straightforward applications,' says Locke.
'As part of the Charity Commission's international program, I worked in Kenya, Ethiopia and Zambia working with both government and the not-for-profit sector on NGO regulation.'
What was to be a short visit to Australia resulted in Locke being seconded to a taskforce in 2011 to help establish the Australian Charities and Not-for-profits Commission. He stayed on and was appointed inaugural CEO and Chief Ombudsman of the Australian Financial Complaints Authority in June 2018.
Outside the day job
'As a relatively new Australian, I love travelling around the country exploring new places. COVID made that a little more difficult in recent years, but we are back on the road again. At home, my partner and I are entertained and exercised by two labradoodles, Pancake and Banjo.'
Life philosophy
'It's as simple as treating others in the way you would like to be treated. I think that's the fundamental starting point for customer service and people management — having empathy and understanding, no matter how challenging or difficult the situation might be.'
Top tips
'A key to working in dispute resolution is the ability to listen — and listen with empathy. So often disputes over what may be quite a small issue escalate or become entrenched, because people feel they're not being listened to, they feel they're not being respected, and they feel powerless.
Working in dispute resolution is not just about technical skills but also very much about people — understanding what people need, what's driving them, how you can bring people together from divergent positions. The best way to gain that understanding is to really listen.'
Read this article and all the other articles from the latest issue of the Journal e-magazine here