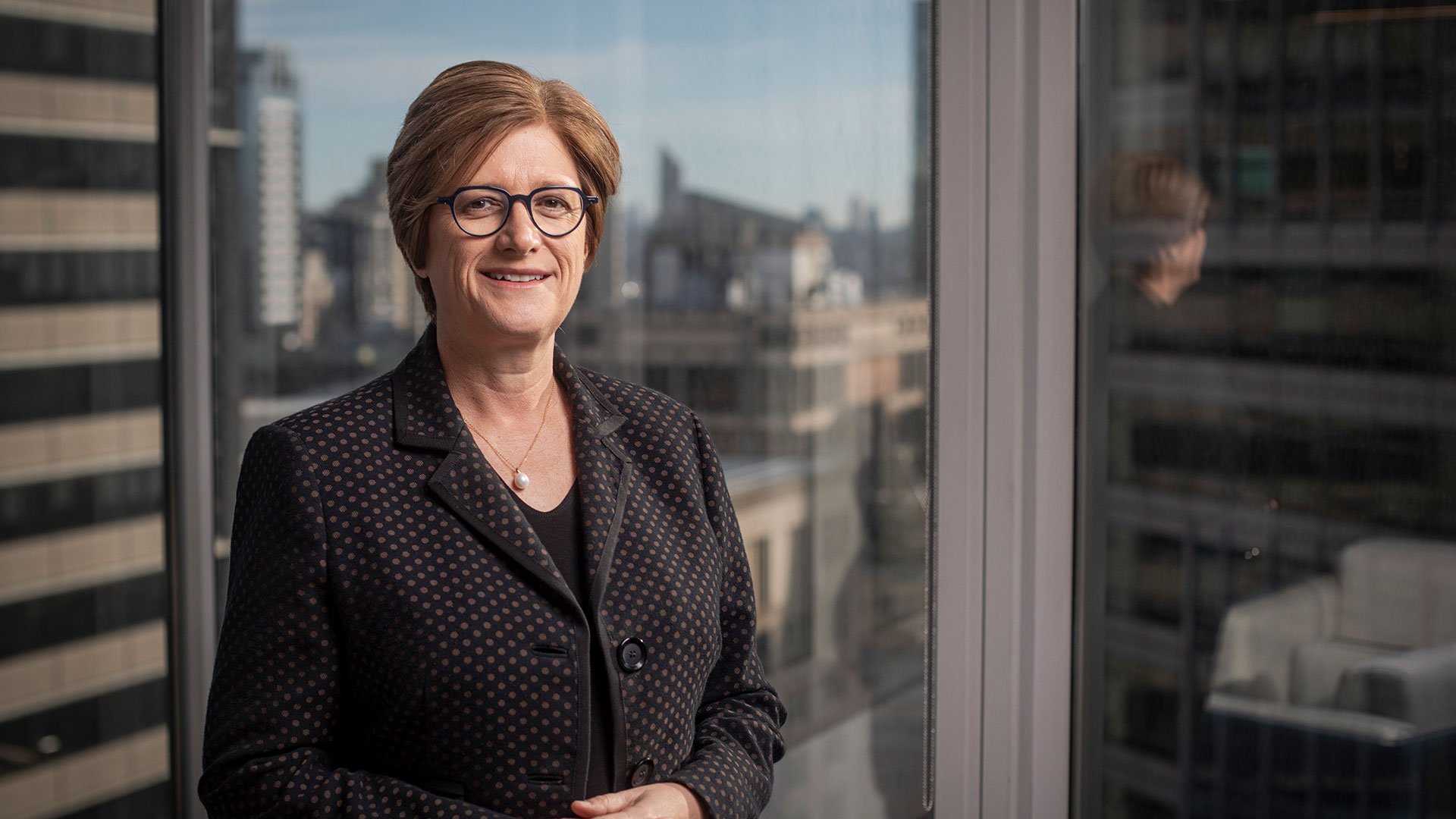 Vol: 44 Issue: 2 | Aug 2021
For Resolution Life Australasia CEO Megan Beer, it's a privilege to work in an industry where 'you can do great work and achieve wonderful things that customers and families can benefit from'.

She says her role has been an exciting opportunity to transform the AMP Life business, which she was leading when it was acquired by Resolution Life last year.

Beer confirms that the business is flourishing under Resolution Life ownership. 'We've got a great team, and the new agile way of working we introduced last year has enabled our people to feel empowered to make a difference,' she says.

'Our purpose at Resolution Life Australasia is "Protect Human Spirit" and to me, that truly encapsulates what we need to do. It's not just about helping people financially but supporting them and their families to thrive whatever their circumstances, rather than just leaving them to hope for the best.'
SIGNIFICANT IMPROVEMENTS
Beer says she's extremely proud of the team's renewed customer focus. 'For example, we knew that we needed to improve the timeliness of our claims assessment and it's been really pleasing to see the progress we've been making,' she says.

To support this, the company has invested in data and digital technologies, as well as a new AMP Life website.

'We have new call centre technology and we're soon to launch our new mobile app. That gives us a base of technology to support our customers better,' she says.

'We're well positioned for growth in both Australia and New Zealand, which means managing existing policies along with other books of business and integrating them into our new business model.'

Beer has spent the best part of her career working in financial services and life insurance. She loved economics and maths at school, but growing up in the country meant exposure to the options was limited.

'I found the job of an actuary in the careers book and I thought that sounded really terrific,' she recalls. 'I was then fortunate enough to receive an actuarial scholarship from Capita, which is now part of MLC Insurance.'

With more than 25 years' experience in the financial services industry, Beer is a recognised leader with a range of executive, finance, actuarial and consulting roles under her belt.

She led NAB's wealth management and insurance offer as general manager, bancassurance and direct, as well as holding both the roles of general manager of group insurance and head of finance for insurance at MLC.

She also worked for Tower (now TAL) for six years as chief actuary, chief risk officer and head of claims, and has been a director with actuarial practice Tillinghast.

She joined AMP in February 2014 as director, insurance and was appointed group executive, insurance three years later, followed by CEO of AMP Life in January 2019.

Beer transferred to Resolution Life in July 2020 as CEO of both Resolution Life Australasia and AMP Life, having led the transition. She is also managing director of Resolution Life NOHC, AMP Life and RLNM Limited.
HANDING OVER THE REINS AT ANZIIF
Having recently concluded her two-year tenure as ANZIIF president, Beer acknowledges the team for its sense of purpose in supporting insurance and financial services member organisations across Australia, New Zealand and Asia — especially during COVID.

'I think we'll all look back and be amazed at what we were able to achieve,' she says.

Beer is also personally proud of helping develop the life sector's first Professionals Standards Framework during her presidency.

'I've always been passionate about developing professional standards within our industry, and that was one of the reasons I was absolutely delighted to join the ANZIIF board,' she says.

'The collaborative work we've done between ANZIIF and several major life insurers covers off on a set of professional standards that are fundamental to enhance industry trustworthiness and confidence, and to enable our people to learn, grow and to have recognition as professionals.'
POSITIVE FEEDBACK
Beer says the significance of the framework was confirmed by the positive feedback it received from stakeholders and industry people on the ground.

The industry's proactive approach to creating both the standards and the Life Insurance Code of Practice was also commended by Senator Jane Hume, Minister for Superannuation, Financial Services and the Digital Economy.

Beer says the next step is for participating companies and other life insurers to incorporate the framework into their learning and development pathways.

'At Resolution Life Australasia, we're focusing in on doing that right now,' she says. 'And I think the life insurance Professional Standards Framework is a strong foundation to help our people understand all the different skills and capabilities they need to thrive in an ever-changing world, such as data and analytics.'

MAKING LIFE INSURANCE WORK
In terms of the viability of life insurance, Beer says the key is standing in the customer's shoes. 'Spending time with claims assessors and actually thinking about how our products interface with customers when something happens to them will provide a range of insights,' she says.

For example, she notes that many current products are designed and priced using outdated risk profiles.

And she believes products need to be integrated with what's happening in the rest of the ecosystem. 'Customer research shows consumers go to their families for support in times of trouble, and we all know some of the challenges that our families are experiencing,' she says.

'In some circumstances, living benefit products provide a financial outcome that far exceeds the impact on the customer's life, and in others there's a shortfall for the insured.

'We assume large financial payments will benefit people, where actually they're looking for some short-term protection to help them get back on track and readjust their lives.'

REIMAGINING THE POSSIBILITIES
Beer believes a better approach would be to co-manage the risk based on a customer's choices rather than having full replacement as the default position, particularly as many customers don't have access to good-quality advice.

'We know our products are quite confusing for people across Australia and New Zealand,' she says. 'I think that's an opportunity for us to think about the principles of insurability and going back to the basics.'

According to Beer, reimagining what might be possible for the industry's future will require a continuous dialogue.

'I don't have the solution,' she says. 'I don't think any of us do and that's why I'm a big believer in diversity of thought and experience. I'm optimistic that as an industry, we'll be able to find the right solutions collaboratively.'
THE COVID EFFECT
Beer is optimistic that COVID has brought a leap in generational change and balance. 'Focusing on agile ways of working where the outcomes delivered are more important than where you're located will provide people the autonomy to grow and develop,' she says.

'In addition, feedback I've had is that some people feel more confident speaking up in a video conference than in a room.'

Beer says regulation and other industry changes have resulted in an internal focus that could now be turned outwards. 'I'd encourage an external perspective and really looking at what we can learn from others,' she says.

'We've all been customers and I think we can reflect on how we could bring those critical moments that make a difference into our industry.'

Another essential piece for Beer is investing in people so they can provide better service for customers.

'It's not just about what we are able to deliver, it's about how we go about doing our work,' she argues. 'What are the expectations our consumers would have about our development?

'Every day we're managing risk and we're doing lots of things. We've had significant change to focus in on. I think our own development is a great opportunity.'
TWO-MINUTE BIO
Megan Beer

COMPANY: Resolution Life Australasia

TITLE: CEO

BACKGROUND
Having grown up in the regional New South Wales town of Lismore, Megan Beer graduated with a Master of Economics from Macquarie University and later received her MBA from the Australian Graduate School of Management. Her extensive experience in financial services and insurance includes senior roles with groups such as NAB, MLC, Tower (now TAL) and Tillinghast. She joined AMP in February 2014, rising to group executive, insurance three years later. In 2019, she was appointed CEO of AMP Life, a year before its acquisition by Resolution Life when she became CEO of its Australasia division. She is also managing director of Resolution Life NOHC, AMP Life and RLNM Limited.

ANZIIF MOMENT
Beer joined the ANZIIF board as a director in 2015 and was appointed vice president in 2018. She was elected president in June 2019 — the first female president for ANZIIF — and handed over the mantle to Tim Plant in May this year.

PHILOSOPHY
She is passionate about developing professional standards within the insurance industry, investing in learning and self-development, and diversity of thought and experience. She is also a strong believer in dialogue and collaborative solutions.
TOP TIP
Beer advocates having a strong personal purpose. 'I'm really clear about the work I've been enriched and challenged by, and the people who supported and helped me grow and develop,' she says. 'Others invested in me, but I also invested in the development of my own career.'
OUTSIDE THE DAY JOB
She enjoys spending time with her family, walking on Sydney's inner-west Bay Run and reading. Beer also loves baking, and her family relishes the treats from a Sunday morning spent in the kitchen.