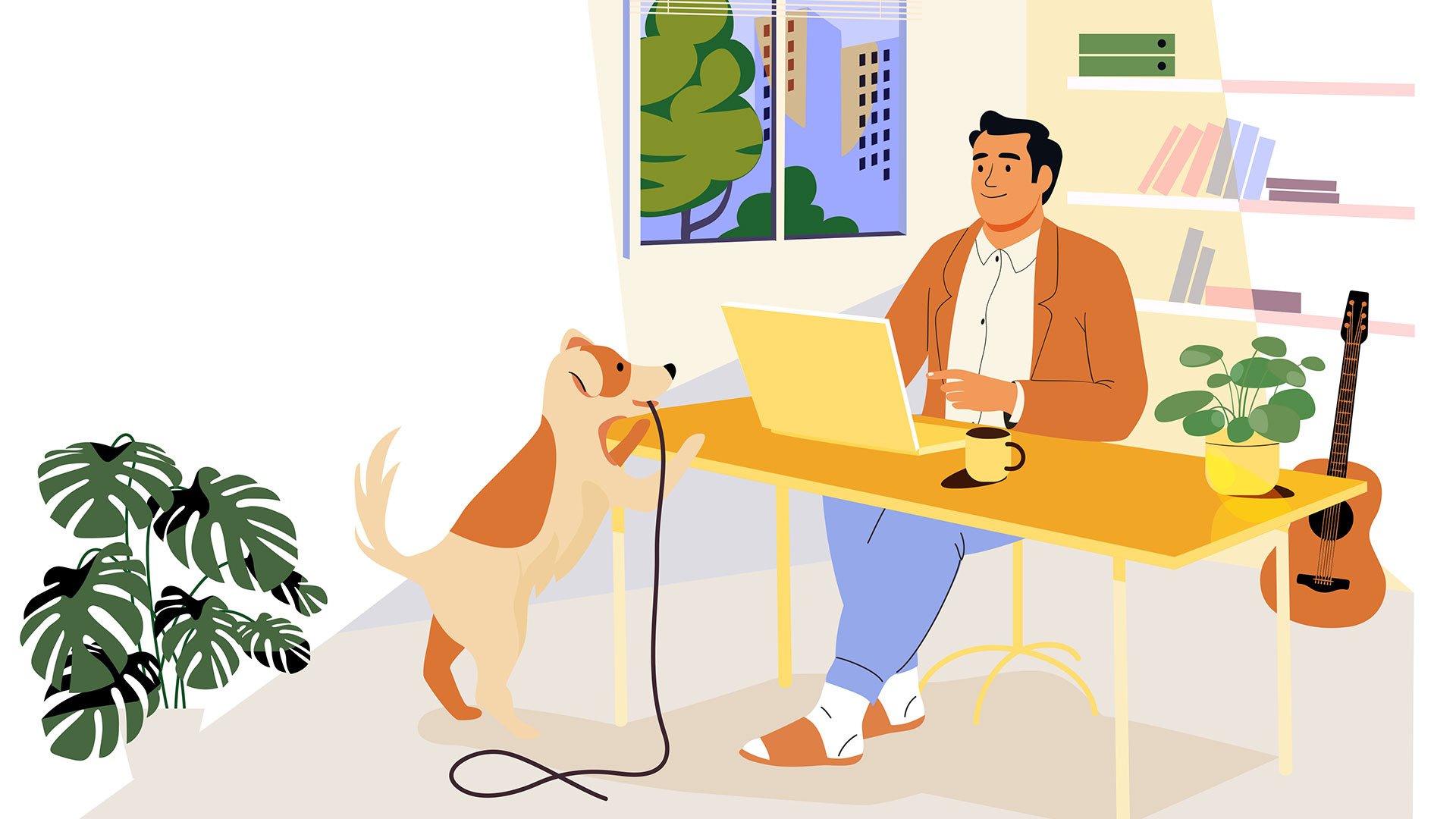 Vol: 44 Issue: 2 | Aug 2021
A 2020 survey of 600 professionals across the insurance and risk industry found that more than 85 per cent were office-based all or most of the time before the COVID-19 outbreak. Since the pandemic, that figure dropped to just over half.
Some loved it; others hated it. The Local Voice, Global Impact: Deep Dive on Inclusion Survey 2020 released by ANZIIF, Liberty Specialty Markets, SURA and Wotton + Kearney revealed that while remote working brought many positive outcomes, 75 per cent of respondents reported a negative psychological impact from changes to their work due to COVID-19.

'Many employees like the flexibility, autonomy and lifestyle that can come with working remotely, but we do need to be mindful of the risks to mental health,' says Glenn Baird, head of mental health at TAL.
As risks go, loneliness is one of the most concerning.
'Being isolated and feeling disconnected from people tend to impact our mental wellbeing,' says Ryan McGrory, head of employee experience and internal communications at Youi. 'It may also remove us from our support network.'

'Some people derive their energy from human interaction and collaboration,' adds Sarah Brown, head of Mercer Marsh Benefits. 'When they don't have others to bounce things off, self-doubt can set in.'

Casual human contact can also strengthen relationships and build a sense of connection.

'Small talk at the start of the day, tea breaks and even banter around a desk are all opportunities to ask quick questions or check in on progress with teammates,' says Baird.

While QBE is reinforcing work as a thing you do rather than a place you go, it also recognises the value of connecting in person.

'It's essential for collaboration, achieving shared outcomes, building social networks and workplace culture and supporting wellbeing,' says Shiona Watson, interim chief HR officer at QBE Australia Pacific.
THE ROLE OF COMMUNICATION
Brown stresses that it's far better for managers to over-communicate rather than under-communicate. 'This will help to compensate for the lack of incidental conversations,' she says.

New Zealand-based Tower Insurance boosted communications to encourage regular connections and maintain relationships between colleagues.

'We shared the latest health and government advice and updates through specific communications channels and encouraged staff to share their working-from-home set-ups, as well their own tips to manage their wellbeing,' says Tower's chief people officer Michelle McBride.

During lockdown in Singapore, an inter-agency team, including the Ministry of Manpower and Institute of Mental Health, encouraged leaders to check in with employees at least once a week.

'Managers could have informal chats with staff, such as via video conferencing or messaging applications, and ask how they were coping,' the team said in a joint release. 'Leaders can also encourage the team to support one another. You can even engage on "after work" chats or activities.'

Youi trialled a number of communication innovations, including 'chat roulette'.

'We paired people at random for informal one-to-one chats on Teams or Zoom,' explains McGrory. 'It was a great way to facilitate discussions and human interaction as well as create new connections. Pairing people up as "buddies" worked well for us, too.'

By chance, QBE launched a 'Learning for All' virtual training platform just before the pandemic hit.

'This is part of our long-term strategy to connect employees across our many Australian and international offices, and it has proved invaluable during the period of remote working,' says Watson.
SETTING BOUNDARIES
When you're at home all day, it can be hard to draw a line under work.

'I've heard it described as living at work rather than working at home, but switching off is vital,' says Brown. 'I believe leaders should recommend and model some kind of ritual or routine to mark the end of the working day. I use what I called the commute — walking around the block.'

Ideally, the home office will be in a separate room, though not everyone has this luxury.

'If you've no choice but to work at the kitchen table, on the couch or in the bedroom, it's very difficult to establish boundaries, and poor boundaries can lead to burnout,' says Baird.

Working remotely can be particularly challenging for people with dependants and extended family
at home.

'We were very mindful of this and did our best to give people in this situation the support they needed to balance their home lives with their work requirements,' says McBride.
LESSONS LEARNED
ANZIIF recently conducted its 2020 Learning in the New World study to understand the implications of the mass transition to a remote workforce.

It found that many insurance professionals recognised the need to update their digital and time management skills, but barely a third (34 per cent) rated personal health and wellbeing as significant in adjusting to the new world of work.

It will be interesting to see from this year's study how much that percentage has changed.

Allianz has already incorporated the new ways of working and positive learnings from 2020 and is maintaining its hybrid, flexible working model.

'We have learned from the pandemic, and we will adopt the supports we put in place as part of our new normal,' says Vicky Drakousis, chief human resources officer at Allianz Australia.

'This will ensure we stay adaptable and responsive to the evolving needs of our employees and customers, agile in our ways of working and resilient to challenges as we recognise future opportunities.

'We will also continue to promote our people's emotional, social and physical wellbeing to foster the key skills that support remote work. These include establishing and maintaining structure and routine, open communication and practising self-care.'

QBE has also made great inroads into employee health, wellbeing and culture.

'We recognise that a culture of care for our people is central to our collective success,' says Watson.

'What remains a constant is ensuring support is practical, promoted clearly and accessible and that employees are proactively encouraged to access these resources and services.'

Meanwhile, Kristine Dery, a Sydney-based research scientist at the MIT Sloan School of Management Center for Information Systems Research, is seeing high-performing companies shifting their conversations away from where work will be done and focusing instead on what it will take to build a futureproof workforce.

'Our latest research shows these firms are doing two things particularly well to empower their people to solve more complex problems,' she says.

'They're creating work in a digital format that makes it easier for people to deliver better customer experiences, and they're providing training and opportunities that enable them to reimagine and reinvent their own work.

'Our study of over 1,300 large companies found that, where people are both equipped and empowered to work in ways that are relevant in a digital world, companies generate an average of 20 per cent more revenue than their competitors.

'A workforce that can work more confidently in a rapidly changing business environment will deliver more value.'
SETTING UP FOR SUCCESS
These are the skills insurance professionals would most like to develop to help them adapt to the new world of work:
58% – digital and technology skills

42% – time management & remote working

34% – personal health and wellbeing

32% ­– technical, product, ethics & compliance training

29% – interpersonal skills

29% – enterprise skills

20% – leadership skills
Source: ANZIIF 2020 Learning in the New World study
THE THREAT OF HARASSMENT
Disappointing as it is, working from home doesn't necessarily end harassment and abuse.

'In [the remote working] context, it's likely to be unsolicited messages or inappropriate images,' says Prue Gilbert, CEO of workplace gender equality specialist Grace Papers.

'This can be harder for managers to detect, but following recent publicity and evidence of more widespread support, more women are reporting these kinds of issues.'

Managers must make it clear that workplace policies apply wherever the work is being done.

'They also have a responsibility to engage with remote workers, checking in regularly, building rapport and ensuring that there is psychological safety within the team,' says Gilbert.

'A shift in expectations by staff on employers, combined with the potential for negative impact on workplace and leadership reputation, make a strong case for prevention.'