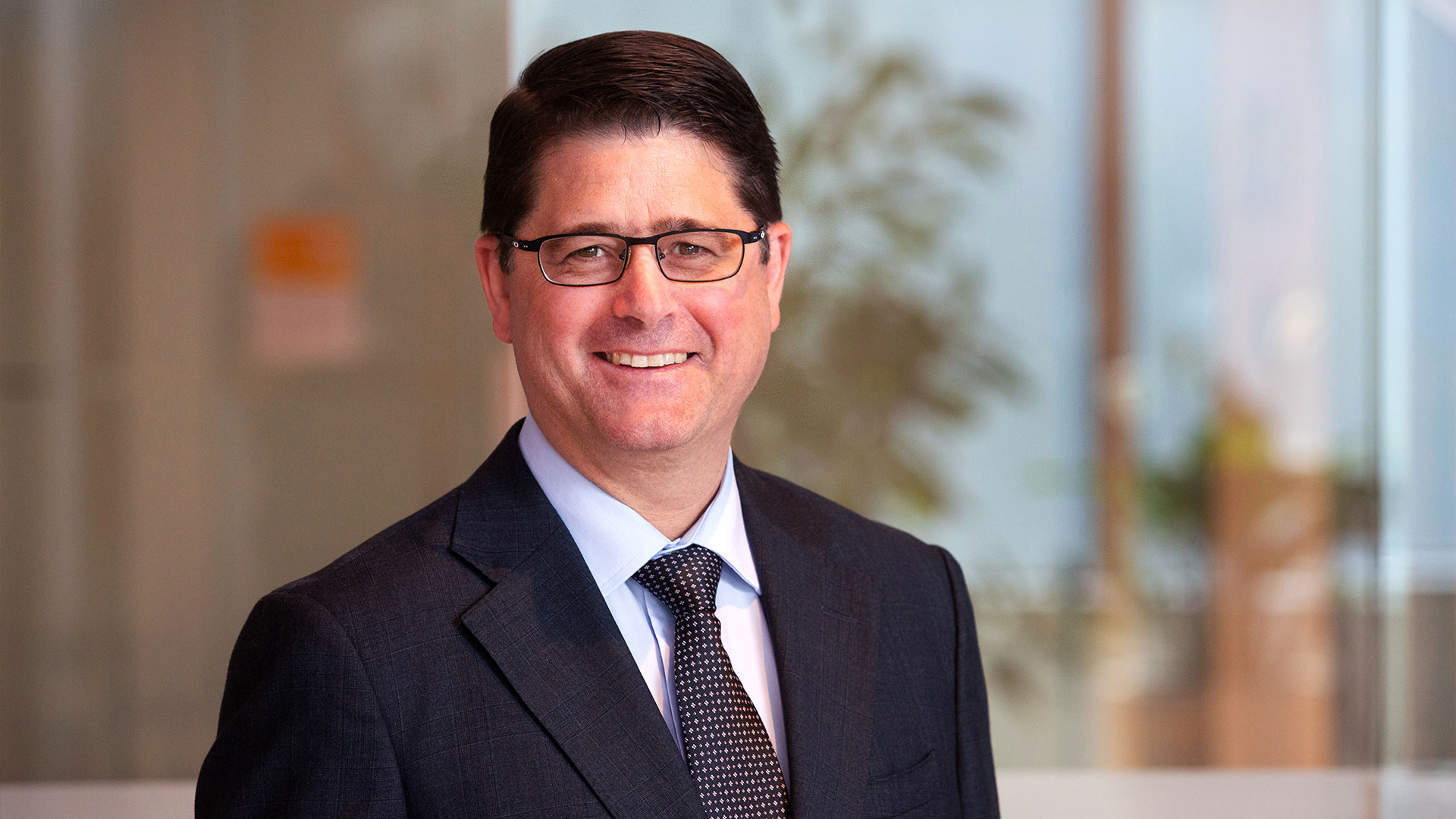 Vol: 44 Issue: 1 | May 2021
In Australia, Jimmy Higgins led Suncorp's recovery programs for Cyclone Yasi and the Queensland floods. After the Canterbury earthquake, he moved to New Zealand to set up and manage a similar response.
'I saw firsthand the devastation they caused,' he says. 'But it was also very rewarding to see the way we supported our customers and helped them to get back on their feet.

'Being there in those moments, helping our customers in times of need — that's what insurance is all about.'

Before joining Suncorp in 2008, Higgins worked as a chartered accountant with KPMG and McGrathNicol. He found the transition to insurance surprisingly smooth.

'My background was in crisis and financial risk management, so the fundamentals of my previous experience — confirm safety, assess, respond, rebuild and recover — were key to supporting communities trying to recover from major weather events.'

At Suncorp New Zealand, Higgins managed claims and customer outcomes for the general and life insurance businesses before taking on the role of chief financial officer. He was appointed CEO in October 2020.

'Suncorp's New Zealand business is in great shape,' he says. 'I've been lucky to come into the CEO role with a really strong leadership team and fantastic employees to deliver our strategy.'
THE WINDS OF CHANGE
For businesses around the world, the pandemic had a profound and immediate impact on the way people worked.

'We already had an active flexible working culture, but when the government announced the level 4 lockdown, we had just 48 hours to equip all of our employees for working from home,' says Higgins.

Now his focus is on making it as easy as possible for brokers and customers to do business.

'COVID-19 accelerated the need for digital interactions with our customers and intermediaries,' he says.

'As a result, we're continuing to simplify straight-through processing, automate where it makes sense and ensure that our interactions with brokers, customers and other stakeholders are not disrupted by inefficient processes and systems. How well we do this will define our success in the future.'

2020 also saw higher regulator and community expectations, an increase in the frequency and severity of climate change-related weather events and a number of disruptive cyber events, all of which put pressure on the cost of doing business.

Severe weather events and the pandemic have also affected global reinsurance markets, which is the biggest input cost to insurance premiums.

'We rely on global markets for reinsurance, so, as a business, we need to consider how we respond to this very carefully,' says Higgins.
ENCOURAGING PROFESSIONALISM
Higgins welcomes recent steps to improve professionalism in New Zealand's insurance industry.
'To me, professionalism is about trust, reputation and authenticity,'
he says. 'Our customers should feel confident that we are experts in our field, that we are here to help improve their financial wellbeing and that we will be ethical in how we conduct ourselves.

'This trust flows from a sound corporate culture, with clear expectations around what we do and how we do it and includes recruiting high-calibre, customer-focused people who are driven to do the right thing.'

As a member of the Insurance Council of New Zealand, Vero (part of the Suncorp Group) has been working to the Fair Insurance Code guidelines since 2006.

'The review of the Code initiated in 2017 was very timely given what has been happening in the Australian and New Zealand insurance industries.'

One of the key Code requirements is for insurers to process claims in a timely and responsive manner.

'Claim time is when the value of our products comes to life,' says Higgins. 'We understand how stressful making claims can be for some customers and the importance of giving all of them accurate and timely information.

'We take our Code obligations seriously, and I believe it's incumbent upon all insurers to make the claim process and experience as easy and seamless as possible.'

Higgins is keeping a close eye on the progress of the new Financial Markets (Conduct of Institutions) licensing legislation. This will create new obligations for insurers around fair conduct, though Higgins is confident Suncorp New Zealand is well placed to meet the new standards once they come into effect.

'Suncorp was also the first insurer in New Zealand to reach an agreement with the Earthquake Commission to settle cost allocations for claims from the Canterbury earthquakes,' he says.

'That was one of the last really big milestones remaining for us on our disaster recovery journey. I have also been advocating for a new natural disaster response model for a long time, and the one introduced in November last year will fundamentally change the way we support customers in a disaster for the better.'

While the Hayne royal commission had no direct impact on New Zealand, Higgins believes it highlighted the importance of ensuring products and services meet each customer's needs.

'Getting different perspectives from regulators in Australia and New Zealand has helped us look at our business in a different way,' he says. 'It has also unlocked more opportunities to improve customer outcomes and experiences.'
CARING FOR VULNERABLE CUSTOMERS
Meanwhile, Suncorp is taking practical steps to support vulnerable customers in challenging times.

'Early last year, almost all of our employees completed training in how to recognise and support customers experiencing difficulties,' says Higgins.

'When COVID-19 hit, we created a NZ$10 million fund to help customers retain key insurance cover, and, over the last few years, we have also developed partnerships with organisations such as Good Shepherd, Shine and Lifeline so we can guide customers who are experiencing specific vulnerabilities towards a level of help we're not equipped to provide.'

In the workplace, Suncorp's commitment to creating a diverse, talented and passionate environment was recognised in 2019 with the inaugural ANZIIF Excellence in Workplace Diversity and Inclusion Award.

'Our diversity journey is a long-term plan with four key areas of focus — gender equality, age diversity, cultural diversity and inclusion,' Higgins explains.

'Through programmes such as TupuToa, which aims to grow the next generation of Māori and Pacific business leaders, we're building an employee base representative of the communities we support.

'If we come back to the idea that professionalism starts with our people's passion and commitment to both their work and their customers, the role of this diversity is clear.
FIVE-YEAR GOALS
Over the next five years, Higgins aims to create a highly adaptable and responsive business able to navigate environmental, economic and digital disruption and support customers and intermediary partners.

'I'd like our professionals to be highly engaged, innovative and seen by intermediated partners as the natural experts in understanding and pricing risk, as well as leaders in claims services across the New Zealand landscape,' he says. 'That's how I define success.'
TWO MINUTE BIO: JIMMY HIGGINS, SUNCORP NEW ZEALAND, CEO
Education

The University of Queensland, Bachelor of Arts in Psychology; Queensland University of Technology, Bachelor of Business in Accountancy; Institute of Chartered Accountants Australia, Graduate Diploma; Charles Sturt University, Diploma in Government Fraud Investigations & Fraud Prevention.

Experience

Higgins' first job was as a detective in the Queensland police force for nine years. He then worked as a chartered accountant for more than 12 years, in Brisbane, Sydney and Toronto, specialising in audit, assurance and forensic accounting. In 2008, Higgins joined the Suncorp Group in Australia as executive manager of claims, based in Queensland, and has since held a number of senior executive roles across the business. In 2012, he relocated to New Zealand to become executive general manager, claims, for Vero and then for Suncorp New Zealand from 2016. He was appointed CEO of Suncorp New Zealand in October 2020.

Career turning points

'I've made two big career decisions in my life — leaving law enforcement to start a career in professional services, and then leaving professional services for the insurance sector.'

Beyond the day job

'The most important thing for me is supporting my family to grow and flourish.'

Top tip

'Always reflect but never look back.'
Read the full Journal e-magazine here.