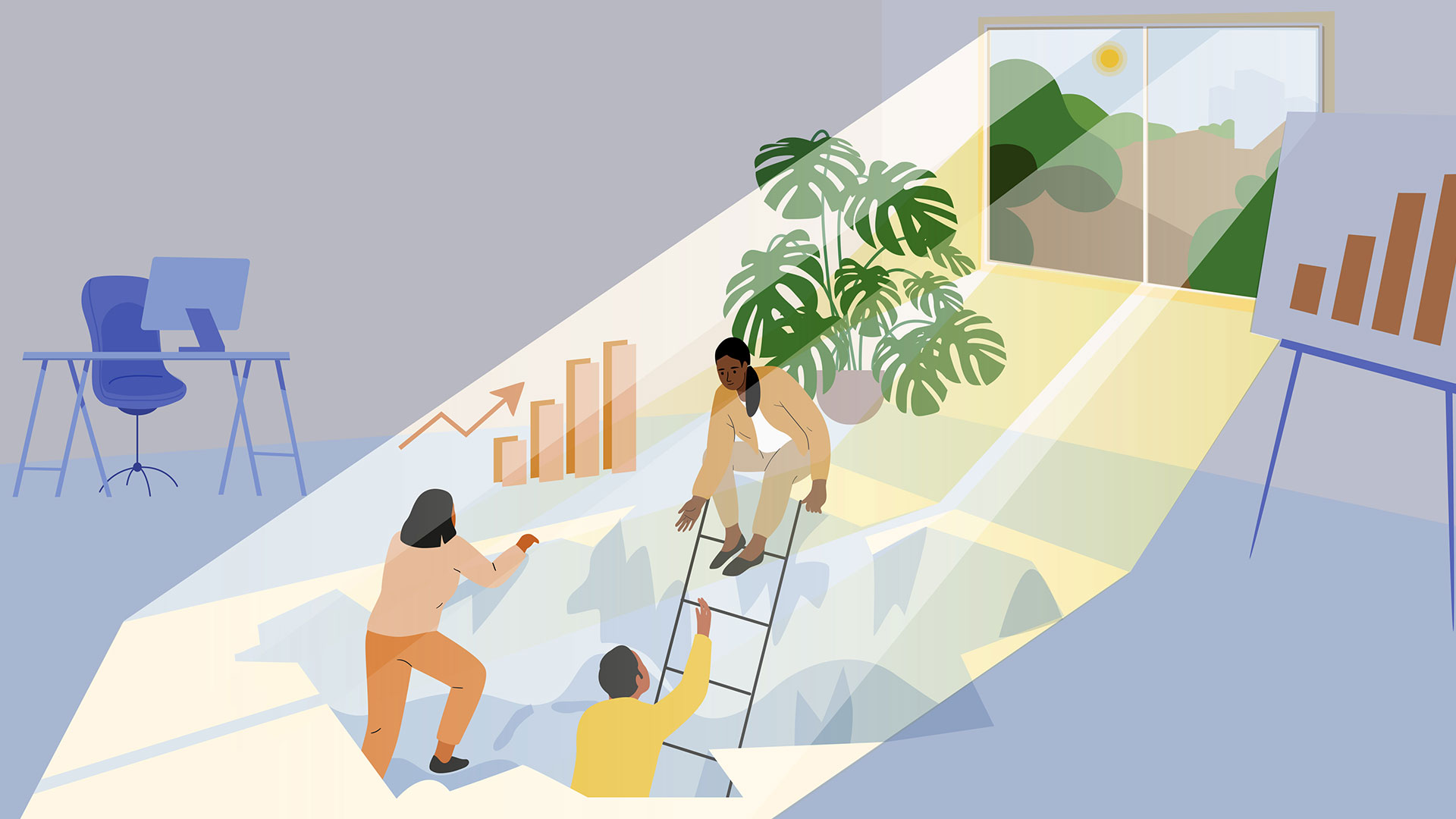 Vol: 44 Issue: 1 | May 2021
Compared with many other industries, insurance is surviving the pandemic remarkably well. After an inevitable hiccup when COVID-19 first hit, the jobs market outlook has been generally positive across the Asia-Pacific region.
'Employment prospects are looking good for experienced professionals in Australia,' says Carl Piesse, regional director of Hays Recruitment. 'We're seeing many organisations returning to growth and investing in the staff required for success, with a good balance of both temporary and permanent roles.

'The closure of offshore call centres also exponentially increased local demand. Call centre professionals were some of the most sought-after people through the height of the pandemic and are still in high demand — particularly claims consultants with experience in responding to catastrophic events, as well as compulsory third party insurance.'

After a tough first lockdown in March 2020, the outlook is improving in Malaysia.

'Back then, most businesses froze hiring, except for crucial roles,' says Ooi Er Hann, team manager, accountancy and finance at Hays Malaysia. 'Now they can see that approach isn't sustainable and they're looking to operate around COVID-19 instead of away from it. Most small to medium-sized insurance companies are more cost conscious, but it's still business as usual. The larger insurance firms who invested in their digital capacity are still expanding.'

Deepika Devarajan, team manager, banking and financial services at Hays Singapore, reports an increase in hiring, particularly within reinsurance companies and insurtechs, with no significant changes in pay.

In Australia, salaries across the insurance sector are also, for the most part, holding steady.

'Instead of looking at salary increases, employers are keeping employees on their current level of pay and using benefits to reward and recognise top performance,' says Piesse.

Karen Wong, section manager, insurance, at Hays Hong Kong, anticipates modest salary increments and conservative bonus payouts in the aftermath of COVID-19.

'While insurance is a relatively stable sector, the industry did experience a general decrease in premiums in 2020,' she says. 'With event cancellations and the closure of small businesses, commercial lines such as property and casualty insurance may face challenges in earning profits in the year ahead.'

Most Malaysian insurance firms have been holding back on bonuses and Ooi expects those that are paid to be lower than usual — though, again, pay prospects have improved since the country's first lockdown.

'I think salaries will continue to rise at an average of 20 per cent for candidates who move to a new job,' she says.
RISING DEMAND FOR DIGITAL SKILLS
One of the biggest impacts of the pandemic has been a surge in demand for digital skills.
'The need for social distancing has meant that online insurers and virtual distribution channels are both safer and more attractive for customers,' says Wong in Hong Kong.
'There's also pressure for greater digitisation of operational functions such as claims, especially personal claims, as these tend to be less complex than those associated with commercial products.

'As more policymakers invest in e-underwriting and e-claims platforms, experience in automation and digital transformation will become more of an asset, while demand for traditional operational functions requiring manual work will continue to decrease.'

In Malaysia, more than one-fifth of the population now uses digital banking, and Ooi expects this take-up to continue increasing.

'The rise of other mobile banking products such as virtual wallets and investment applications are compelling finance and insurance companies to become more digitally focused,' she says. 'As a result, employers seeking an edge need an influx of financial, analytical and technical talent to deliver these innovations.

'Insurance companies are looking for candidates who can create dashboards and Excel macros and digitalise functions that will bridge the gap between IT and finance. Cloud and programming skills have also been increasingly sought after since COVID-19 made working from home essential across a wide range of industries. Customers' expectations are also changing. They want to access more information digitally.'

Devarajan recommends that those working in the insurance industry build their digital skills by signing up for online courses and industry seminars.

'Any course in data, coding, machine learning or artificial intelligence will add value to your profile and make your skills more relevant,' she says.

Julie Catanach, head of leadership, talent and learning at Suncorp Group, has been impressed by the immersive approach to technology adopted by some Asian financial institutions.

'To meet the growing need for digital and data skills, we have established what we are calling the Future Ready Program,' she says. 'This provides Suncorp staff with the opportunity to gain formal qualifications in these and other areas where we see a growing demand. While the program is fairly new for Suncorp, in Asia there are cases of the whole organisation doing these kinds of courses, including the CEO.'
OTHER SOUGHT-AFTER SKILLS
Beyond digital skills, Piesse is seeing strong demand for brokers with a Tier 1 qualification and at least five years' experience.

'Clients are also looking for assistant account executives with solid experience who want to remain in this role rather than advance to an account executive position,' he adds.

Other in-demand roles include specialist liability and professional indemnity claims handlers at the consultant and manager level, and dispute resolution officers with experience in areas such as travel and life claims.

'This kind of niche expertise is in short supply yet increasingly needed as insurance companies move this function in house,' says Piesse.

In addition, the rollout of new accounting standard IFRS 17 has created a spike in demand for skills in areas such as project management, finance and actuarial.

'Actuarial skills are constantly in short supply as local employers across the region compete for talent,' says Ooi.

So are policy-writing skills (see pg. 26). And soft skills — such as the ability to collaborate — are valued across the spectrum of insurance roles.

'Resilience, a willingness to learn and a desire to stay on top of current trends and changes relevant to your profession are also highly valued, as are good organisational skills that will see you maximise productivity at a time when budgets are tight,' says Piesse.

'However, if one soft skill tops all others in 2021, it will be adaptability. This is critical, given how much change is occurring both within organisations and the wider world of work. Sharing examples of your own adaptability in your CV and during interviews will make you a stronger candidate.'
MY BRILLIANT CAREER (IN POLICY WRITING)
Despite offering a rewarding career path, there's a short supply of people with policy-writing skills. But a customer-centric mindset is just as important as technical ability.

IAG New Zealand's executive general manager for claims, Dean MacGregor, provides an example to demonstrate the benefits of the role.

Last year, he says IAG New Zealand reviewed its child car restraints claims processes and, as a result, expanded coverage for those in vehicles that are stolen or involved in accidents.

'Certain types of vehicle impacts can compromise a restraint's integrity,' he says. 'In some cases, there may not be any obvious signs of damage, but the restraint is, in fact, unsafe for use.'

Now child restraints can be replaced after being compromised in any way. And policy writers have once again helped to improve customers' lives.

'We encourage people with a strong understanding of insurance to consider this role,' says Darren Maher, chief underwriting officer at IAG in Australia. 'A background in legal and policy interpretation is also hugely valuable, including a solid understanding of how policies are structured.

'People who have worked in customer-facing teams know the importance of policy wordings. And we also look for a level of critical thinking, considering questions such as "what could a customer reasonably expect from their insurer?".'

IAG uses human-centred design principles to support the development of its products. This makes a customer-centric mindset as important as more technical skills.

'Our policy writers create solutions around a customer need,' says Maher. 'To do this, they need to take research, customer feedback and data into account and collaborate with a range of business stakeholders to get the right outcomes.'
LIGHTING A FUSE FOR GRADUATE CAREERS
Recruiting and training graduates is an effective way for insurers to build the skills they'll need to succeed in the future.

'We need to attract smart people into the industry if we're going to keep insurance affordable for everyone in Australia and New Zealand,' says Suncorp Group's Julie Catanach. 'Over the past few years, we've increased the number of graduates brought on board through our own program, and they've proved to be a very strong cohort.'

Suncorp's two-year program includes rotations through all areas of the business, including product development and pricing, capital and reinsurance, claims management and operational delivery for insurance services.

'The graduates also come together for a number of information events, to participate in various development experiences and to hear different executives talking on a range of topics,' says Catanach. 'At Suncorp, we see a career path as a lattice rather than a ladder, so we help our recruits to develop breadth and a really strong understanding of the different aspects of the business and how they work together. This provides a very solid foundation from which they can continue to grow their careers.'

Fuse Recruitment, which has headquarters in Melbourne, also recognised the opportunity to help support more graduates starting their careers in insurance. After seeing the success of graduate programs provided by many major insurers, it developed one for businesses that sit outside the top tier.

'We could see that there was a significant gap in the market in terms of the capacity or capability of a large number of insurance businesses to run their own separate programs,' says Cameron Watson, manager of insurance and wealth management at Fuse. 'We decided to support them, and the broader industry, by managing the whole process on their behalf through the Future Insure Graduate Program.'

Over the past three years, Fuse Recruitment has placed more than 50 graduates into insurance roles. Its goal is to ramp that up to between 50 and 70 graduates per year.

'We source graduates who are actively looking for a career in insurance,' says Watson. 'Most have degrees in commerce, finance, legal, engineering and, of course, actuarial science, but we also take people from other disciplines. One of the great things about insurance is that the depth and breadth of available roles create openings for such a wide range of skills and backgrounds.'

Watson still sees a lack of awareness about the potential for building a fulfilling and rewarding career within insurance. However, he's also confident this will change.

'I think that now, as an industry, we're doing a fantastic job of addressing this issue through initiatives like ANZIIF's Careers in Insurance,' he says. 'This is funded by the ANZIIF Corporate Supporter program, and we're very happy to be part of that because this is a perfect fit for us. We're all working towards the same goal.'

At the moment, 18 insurance partners are participating in the Future Insure Graduate Program.

'Each one takes on at least one graduate a year and some take as many as five,' explains Watson. 'It's about creating opportunities for graduates to learn, develop and grow. And another crucial aspect of these kinds of programs is that they provide the support graduates need to feel comfortable and thrive in their first exposure to corporate life.'
BUILDING SKILLS FOR THE FUTURE
The Accenture survey Digital Transformation is Remaking Insurance found that insurers are benefiting from cloud technology now, but executives expect artificial intelligence (AI) and blockchain to play a larger role within the next few years.

McKinsey's Insurance 2030 report suggests that insurance executives need to understand now how AI will reshape claims, distribution, underwriting and pricing in order to build the skills and talent they need for future success.
Read the full Journal e-magazine here.