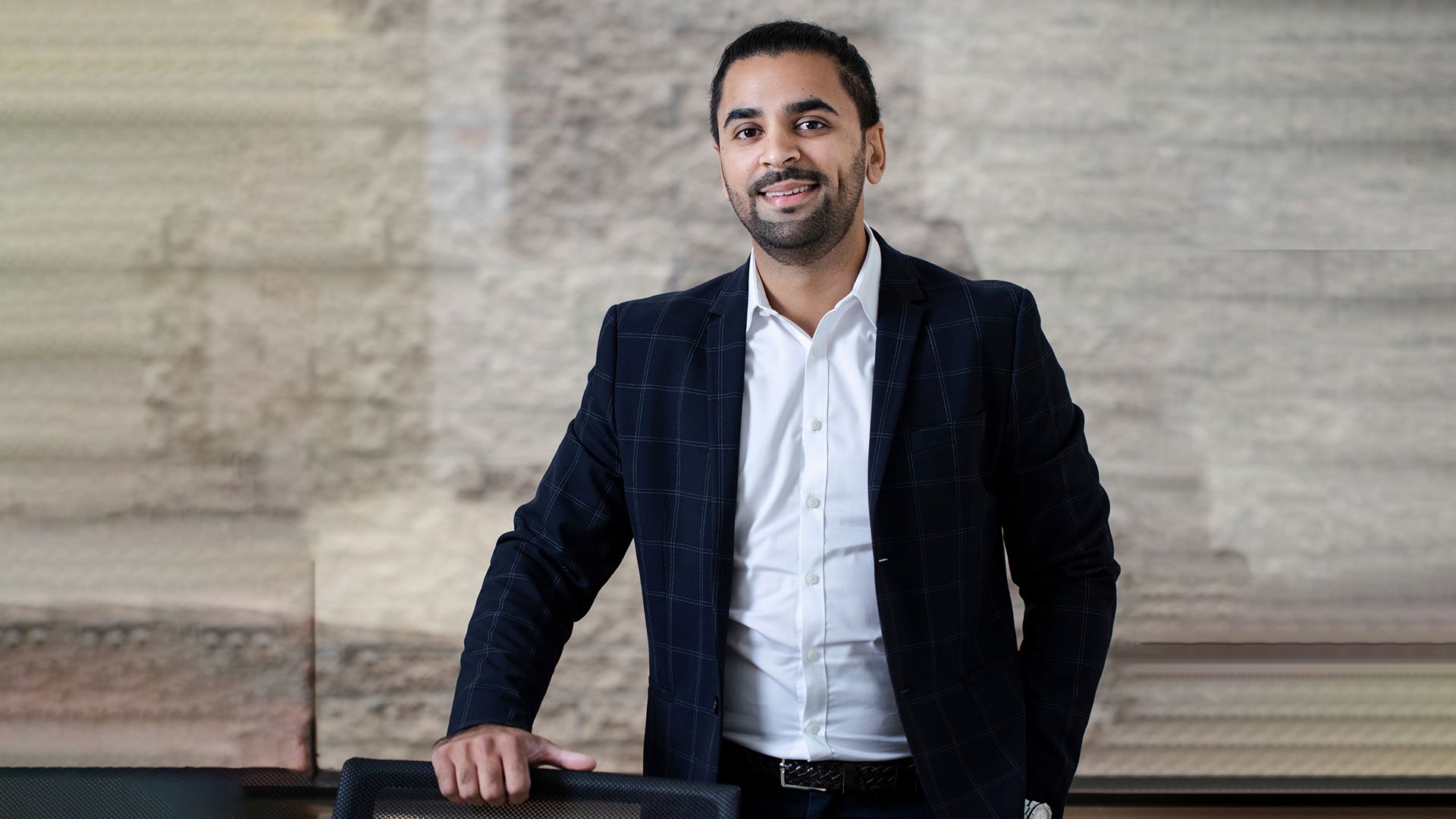 Vol: 44 Issue: 1 | May 2021
Sonny Saini had an enviable career path laid out before he had even started his business degree. While still a secondary school student, he was accepted to take part in a cadetship with Ernst & Young.
This provided invaluable experience while he was completing his university studies.

A major turning point in his career was his decision to walk away from a Big Four firm and join the company that his father had founded in 1993, Excel Group — a Sydney-based specialist in rapid response property restoration and loss mitigation services.

'In hindsight, it was a risky decision at the time to join what was then an early-stage small business — we've all heard the eyewatering statistics about the failure rates of start-ups,' he says. 'I was in my early twenties and I didn't truly know what I was getting myself into. But it just felt like the right decision.'

Saini had spent time with a company in Chicago and Vancouver that had the same focus as Excel Group and he saw how successfully that company had been scaled up.

'The US and Australian markets aren't identical, but the experience helped me see into the future in terms of where Australia may end up,' he says. 'It was clear to me that there was an opportunity in the insurance space, and that it was a growing industry.'
FATHER AND SON
Saini joined Excel Group as a general manager in 2010 and set about recruiting the right mix of people to the growing company, which today has a headcount of almost 30.

He also developed new systems and processes, and in 2019 he became managing director. His father recently took a step back from day-to-day duties.

'It's a really interesting dynamic between us, because my father is very much the big-picture visionary, whereas I am more of an integrator focusing on the day-to-day alignment of the divisions within our organisation,' says Saini.

'Learning how to complement each other with our different skill sets has been a really interesting journey. I learned a lot about work ethic from watching and working with him while I was growing up.'
A NEW MODEL FOR CLIENTS
Excel Group leverages new technologies to improve the claims experience.

In 2019, it began deploying 3D project models to its insurance clients, who are able to experience an immersive and detailed walk-through of a loss without leaving their desks, as opposed to piecing together various photos, PDFs and information gleaned from phone calls.

'Our hardware performs an onsite scan, which is then pieced together into a 3D model — it is as though you are physically walking through the property,' Saini explains, adding that it is possible to provide a quote and validate scope based entirely on the 3D model.

When asked what professionalism means at Excel Group, Saini does not hesitate: 'It means sustaining an optimal company culture through values-based decision-making and being a purpose-driven organisation. Now more than ever, I think it is vital for an organisation to have a mission that isn't solely centred around profit.'

Excel Group is on target to achieve its '30 by 2030' vision. This will involve scaling its operation to 30 locations across Australia by 2030, as well as positively impacting 30 local communities through the Excel Foundation. The foundation provides financial assistance to solve or reduce the burden of specific and localised community issues.
RECORDING SESSIONS
As the host of the Insurance Matters podcast, Saini is able to exchange ideas with some of the industry's brightest minds. He says that he and his podcast team aim to contribute to the evolution of the insurance space by disseminating new ideas and concepts.

'The podcast is a lot of fun,' he says. 'I love to geek out on the production side of things. I also get the chance to learn firsthand from a range of industry experts. It's proven to be an invaluable ROI on my time.'

Saini says that one of the highlights was interviewing the CEO of Insurtech Australia, Rita Yates, in 2020 and learning about what the organisation does.

'Insurtech Australia supports, advocates and connects start-ups,' he says. 'It was thrilling to see that the insurance industry has a forward-thinking ecosystem that will fuel innovation in this space.'
TWO-MINUTE BIO
Sonny Saini

Company: Excel Group

Title: Managing director
BACKGROUND
Saini was born in London to parents of East African and Indian heritage. His family moved to Malawi in Africa when he was two, as his father worked as a civil engineer on construction projects in Zambia and elsewhere. Saini's family moved to Australia when he was five, and he currently lives in Sydney with his wife and two-year-old daughter.
EDUCATION
Saini has a bachelor's degree in Business from the University of Technology Sydney.
INDUSTRY CONTRIBUTION
The Insurance Matters podcast helps Saini to disseminate ideas relating to insurance, and to highlight the work of a diverse range of professionals and innovators.
PHILOSOPHY
Saini aims to make the complex simple, and being able to prioritise is critical – especially as he tends to take on a number of concurrent initiatives. 'My team and I live in a 90-day world where we prese tur goals and execute on them with clear accountability. We reset our goals every quarter.'
OUTSIDE THE DAY JOB
Saini starts his day early with a weights or yoga session, as well as regular breathing exercises and meditation. He enjoys golf and single malt whisky and is currently completing a level 2 qualification in wine education with the Wine and Spirit Education Trust (WSET). His cooking goal for 2021 is to improve his barbecue technique. Family time is important to Saini, so he aims to wrap up his workday by 5.00pm.

ANZIIF's Year of the Insurance Professional is all about celebrating the achievements of insurance professionals and raising awareness about the good stories that happen every day in our industry.

Keep an eye out for success stories and profiles in ANZIIF's Journal and on the Members' Centre and visit anziif.com/about/year-of-the-professional and find out more about upcoming initiatives and events.