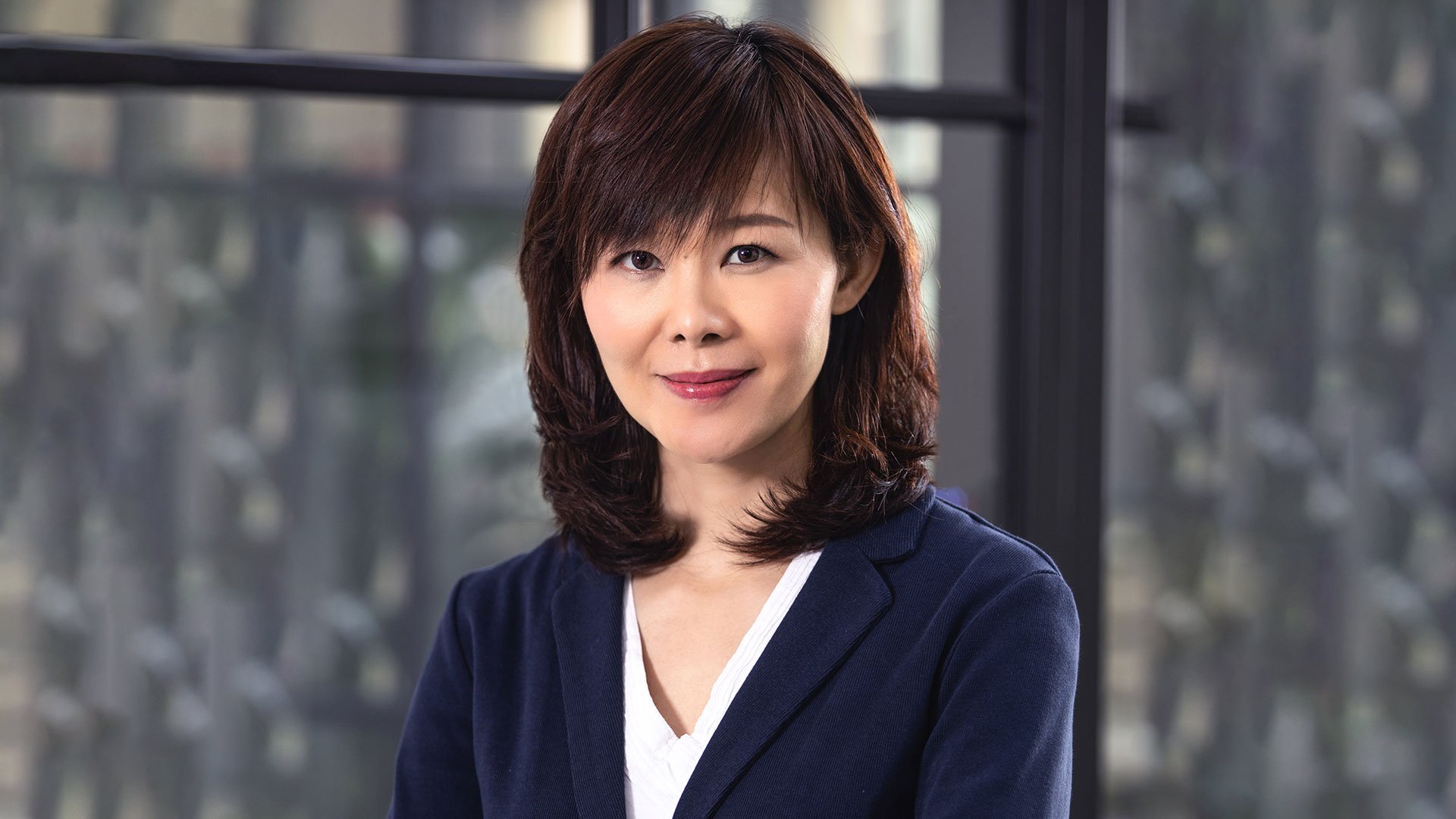 Vol: 43 Issue: 4 | Dec 2021
When Winnie Wong joined Asia Insurance as CEO four years ago, she had no idea that she would soon be launching one of the most innovative insurance concepts in Hong Kong.
In October 2019, two years after the Hong Kong Insurance Authority announced it would be granting virtual insurance licences, Avo was the first recipient of a general insurance licence.

This independent entity is headed by Wong in a joint venture between Asia Insurance, investment fund Two Sigma and Hillhouse Capital founder Zhang Lei, an early investor in tech juggernauts Baidu and Tencent.

Juggling the operations of a traditional insurance company alongside a digital start-up is a challenging undertaking. But Wong is cheerful, relaxed and unfazed by the efforts to bring Avo to fruition while running one of Hong Kong's largest general insurers.

'Insurance used to be more formal and now I'm running between the two offices every day. I have to get "younger" and closer to the team,' she acknowledges.

Avo's first birthday was in October 2020. 'It's a very important milestone for us, and there have definitely been both challenges and opportunities,' says Wong.

On the opportunity side of the equation, Avo presented a clean slate. 'I don't have any legacy system issues that face traditional insurance companies,' she says.

'I was able to shape a new culture that has drive, energy and passion with a young and energetic team, most of whom are in their 20s and half of whom have technology backgrounds. And, I don't have to worry about the business channels, because it's totally virtual enterprise.'
TWO DIFFERENT WORLDS
Thankfully, neither of the two businesses Wong oversees cannibalise each other. While Asia Insurance is primarily a B2B operation, Avo focuses on selling lifestyle, health and financial protection plans directly to consumers, with the intent of 'integrating insurance into people's everyday lives'.
Avo even ventured into people's wardrobes, coming up with a 'shoe policy' late last year. The clever marketing ploy was a joint venture with Hong Kong footwear chain Mirabell, aimed at highlighting that the brand can provide 'instant protection to all walks of life'.
Customers who purchased a pair of shoes from the chain during the campaign period were entitled to 'shoe protection' by registering on Avo's website. If the insured shoes were lost or damaged during the coverage period, policyholders would be compensated with a voucher to purchase a new pair.
Avo, which has been launching a new policy or solution every month, uses big data and deep machine learning to provide risk profiling and pricing more accurately.
'A lot of the products we've introduced to the market are totally new,' explains Wong. 'For example, e-wallets are becoming popular in Hong Kong, but their unauthorised use can result in financial loss.
We acknowledged this and were the first to launch e-wallet insurance.'
Digital smarts and a new approach to customer protection also helped Avo develop a cancer plan covering the eight most prevalent cancers in Hong Kong.
'This was a breakthrough, because historically cancer protection covers all different types of cancers, which made the product very expensive and very difficult to understand,' says Wong, noting that Avo has accepted customer suggestions for separate male and female cancer protection plans.
FIGHTING BACK FROM COVID-19
In February 2020, Avo rapidly developed and deployed a COVID-19 protection plan. In the first instance, it offered the plan free to frontline health workers in Hong Kong's public and private hospitals.
'We knew we had to be quick to address the protection needs of our healthcare staff,' says Wong. 'These are the frontline people helping to save lives every day. They are risking their lives and we wanted to do something for them. Our strength is insurance protection, so instead of donating masks, we donate protection.'
COVID-19 protection is also now available to the general public after strong interest was shown from other at-risk workers, including delivery drivers and journalists.
While health protection is thriving for the company, one of Avo's earliest products — travel insurance — has understandably suffered during the pandemic, with borders closed and airlines grounded.
'It was a very popular product,' laments Wong, acknowledging that the lockdown also slowed Avo's partnership development, in a region where face-to-face interaction seals deals.
Wong says Avo is keen to expand operations into the surrounding Greater Bay Area and into other countries in the region. 'With COVID-19, people are now used to meeting online as well as buying online, which has helped our virtual business model as well.'
ON THE TRADITIONAL SIDE
So, how is Asia Insurance faring alongside the brash new start-up? Wong says the 60-year-old company is rapidly embracing a digital future.
'The learning for Asia Insurance is the importance of a quick turnaround time to address the needs of our customers,' she says.
'That's why we've kickstarted our digital transformation process. We've developed a huge digital transformation roadmap, with quite a few projects to be launched.'
Wong believes both companies benefit from their differences. 'My learning at Asia Insurance helped me to start Avo, and then what I learned with Avo, I fed back into Asia Insurance to further modernise it and make it more sustainable going forward to meet the expectations of our customers.'
WHY INSURANCE?
Wong's first job was as a group management trainee at the Swire Pacific Group, a diversified conglomerate headquartered in both Hong Kong and London. Different managing directors throughout the group came to talk to the trainees.
'The managing director of the insurance division was very inspiring,' she says. 'He made insurance very attractive to us fresh graduates. He told us that with insurance, everyone is a client because whenever there is a risk, there is a need.
'I was also attracted to the fact that technical expertise was needed and we had to pass exams to qualify. As a fresh graduate, I aspired to a profession.
'Quite a lot of people wanted to work in the insurance division, but I was lucky to be chosen, without a business major or background.'
Wong was CEO of Aon Risk Solutions Hong Kong / Macau prior to joining Asia Insurance and has more than 20 years' experience in insurance and risk management consulting.
'When I started my career, almost all of the senior people were male. It's still very male dominated, but it's gradually changing, because we have a huge talent pipeline of women at mid-level,' she says.
ADVICE TO OTHERS
Wong is hesitant to offer others advice on how to pivot during times of great change.
'Different insurance companies have different business focuses and different models,' she says.
'They will also have different challenges and opportunities. So, I think it's important to understand where they are and what lessons they have learned in terms of the gaps during the pandemic.'
Even though COVID-19 is a rare event, Wong says that businesses need to be prepared. 'Perhaps some companies discovered that they needed a better business continuity plan or work-from-home policy, and that they need to support their customers and support their people better,' she says.
'I believe companies are all changing based on what they have learned during the pandemic.'
TWO-MINUTE BIO: WINNIE WONG, CEO, ASIA INSURANCE AND AVO
Career
An insurance veteran, Winnie Wong's careers includes roles as CEO of Aon Risk Solutions Hong Kong / Macau and assistant general manager of Royal & Sun Alliance Insurance Hong Kong. In addition to her current position as CEO of Asia Insurance and Avo, Wong sits on various boards in Hong Kong, including the Financial Services Development Council and the Human Resources Planning Commission.
Education
She has a Bachelor of Arts in English and Translation from the Chinese University of Hong Kong. 'An arts degree is a good foundation to build on. It gives you the flexibility and capacity to develop other sills. It's one with transferrable skills,' she says. After several years of working, she completed an MBA from The Hong Kong University of Science and Technology.
Outside the day job
Wong used to be a keen swimmer, but with the advent of COVID-19, she picked up hiking – as did a lot of other people in Hong Kong. She also runs. 'A couple of years ago, I started a running group for our Asia Insurance colleagues, because we wanted to encourage exercise,' she says. 'I actually hated running at the time, but of course I had to go because I started the group. Luckily, the coach was excellent. Now I really enjoy it.'