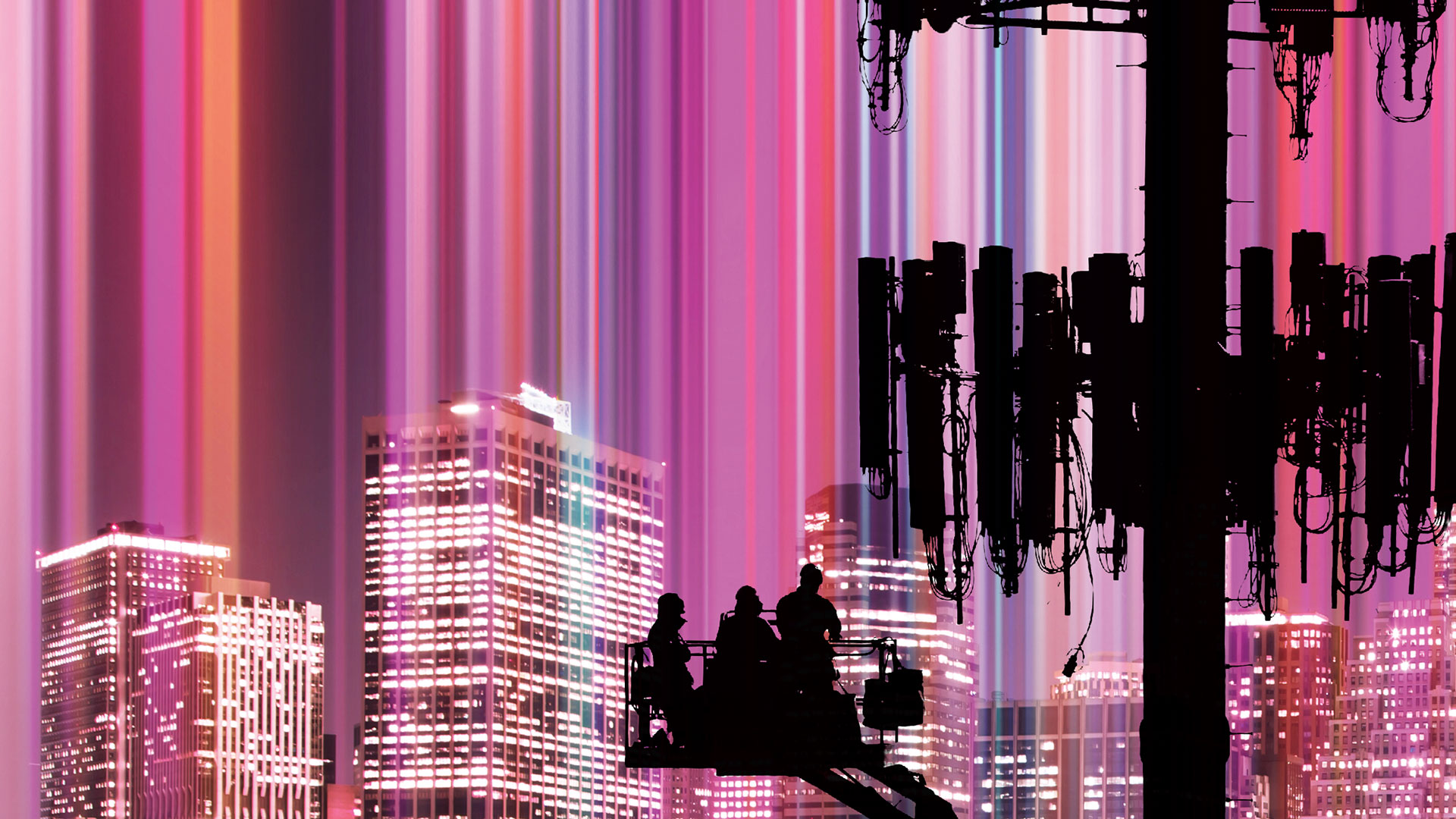 Vol: 43 Issue: 4 | Dec 2021
From video conferences, telehealth appointments and Zoom parties, to file sharing and online school sessions, 2020 has demonstrated the power of wi-fi and mobile tech — and how frustrating it can be when networks aren't capable of handling the needs of millions of people online.
All that could be set to change if 5G networks live up to the hype.

According to the Global System for Mobile Communications (GSMA), the body that represents mobile operators worldwide, the Asia-Pacific region is leading the world in 5G implementation and is expected to spend around US$331 billion between 2020 and 2025 on deployments of this latest communications technology.

'To date, the most advanced 5G rollouts in the region are in China, Japan, South Korea and Australia,' says Stuart Johnston, Asia Pacific telecommunications sector leader, partner, consulting at Deloitte.

Julian Gorman, the GSMA's head of Asia Pacific, notes there are several characteristics that set 5G pioneers apart from others. '5G requires significant investment and a commitment from society, government and industry to work together. We've seen that in South Korea, Japan, Singapore and Malaysia,' he says.

In Australia, he says, Telstra has already invested A$8 billion in its network and has more than 2,000 5G sites, compared with Optus (900 sites) and Vodafone (650 sites). None of the telecommunications providers can currently use the high-frequency mmWave spectrum — the fastest form of 5G — but they will be able to bid for access in 2021.

In New Zealand, three telecommunications companies — Dense Air, 2degrees and Spark — were allocated 3.5GHz 5G frequencies in May 2020. Vodafone New Zealand already had access to mid-band spectrum frequencies and intends to have more than 400 5G sites by the end of 2020, after refitting existing 4G towers with 5G infrastructure.

Another key feature in 5G pioneer countries is the level of digital literacy. Gorman says in some places, there's 70–80 per cent broadband penetration and people have grown up with it. They don't need an instruction manual to figure out, for example, how to use a new app.

'This impacts whether a country is really ready for 5G and what it can do to transform society,' he says.

5G implementation is far from a flick-of-the-switch change; it's set to be a multi-year process, piggybacking off existing infrastructure.

The networks require many more cell sites to ensure stable coverage, so 5G has to be deployed city by city. At the outset, countries and telecommunications providers are faced with selecting one or more 5G technology providers — a task that has become a political minefield.

While there are nine possible suppliers of 5G infrastructure, Huawei, Ericsson, Nokia and Samsung account for between 88 per cent and 94.75 per cent of market share, depending on which sources you use (and Samsung is only used in South Korea).

Another challenge for 5G rollout is the capital commitment required from the telcos, says Johnston.

'There is a strong business case for 5G and it's cheaper to run, but most telcos will have to run dual networks for a period,' he says. 'That's particularly an issue in countries where margins are lower.'
WIDESPREAD BENEFITS
Despite the challenges, if 5G delivers what it promises, it will be worth every cent.

'Smartphones have only really come into their own with 3G and 4G,' says Gorman. 'Mobile phone companies have talked about having the internet on your phone, but it's been a poorer version of what you can do on your laptop at home.

'5G goes far beyond what your laptop and even your smartphone are currently capable of doing. As it is rolled out over the next four or five years, we're going to be interacting and communicating in a different way — perhaps via Google Glasses or a wrist device.'

While 5G will deliver benefits for consumers, Johnston says these will be even greater for businesses. Asia is the manufacturing hub of the world, so there will be lots of innovation in how 5G is used commercially as it's rolled out. This is similar to what happened with 3G and 4G: innovation came with scale.

'One of the first places we're going to see a noticeable transformation effect is at airports and ports in 5G pioneer countries,' says Gorman.

'For example, Hong Kong is going to have its own 5G network for Hong Kong International Airport, while Singapore is developing 5G use cases for advanced ports.'

In China, Johnston says the authorities were able to set up temporary hospitals in Wuhan during the COVID-19 outbreak and give them access to 5G networks. 'That enabled a really rapid response.'

Reliability and speed are two of the big advantages of 5G. Where 4G has limitations on how many devices a tower can handle, 5G technology enables far more devices to connect with a network at any one time.

And the latency or lag time will be much lower with 5G, which means the time between a command and a response will be almost undetectable.

'Gamers will have an amazing experience, but it's commercially where latency really matters. As we move to autonomous vehicles, high latency can have some very important consequences,' says Johnston.

He notes that there are already mature proven use cases for 5G in Australia. 'Mining companies are taking advantage of the benefits of 5G and next-gen wi-fi and using driverless vehicles and other driverless machinery to do work and access areas that are dangerous to humans. This has increased human safety significantly.'
DATA EVERYWHERE
For insurers, 5G will have the biggest impact with commercial clients. For example, 5G will allow improvements in supply chains and logistics. Real-time monitoring of traffic can help reduce risk in terms of avoiding congestion and high-traffic routes that could contribute to driver error.

Power companies and telcos that currently rely on human monitoring of lines across a wide geographic expanse will be able to monitor these assets remotely, for example, with drones. This will lead to better-maintained networks and fewer business interruption claims.

With the combination of 5G and satellites, there will also be advances in the detection of natural disasters such as fires, and improved ability to respond quicker to these emergencies.

From a life and health insurance perspective, Johnston says we can expect to see more innovation in wearable devices that monitor your health and help you manage existing health conditions.

'In some way, the COVID-19 pandemic helped overcome some traditional resistance to telehealth and other innovations in remote health management,' he adds.
IOT ON STEROIDS
There has already been an improvement in home monitoring and security with 4G, but it will get even better with 5G, especially with home automation.

There will be fewer home insurance claims from equipment failure — for example, from fires and flooding — because owners will be able to do proactive monitoring and maintenance with connected devices.

The GSMA estimates there will be 11.6 billion Internet of Things (IoT) devices in APAC connected to mobile networks by 2025: almost half of the world total. Consequently, cyber risk is the key risk insurers and reinsurers face with 5G. With many more devices attaching to networks, the security flaws in each one — and the possibility of user error or exposure — present an increased opportunity for hackers.

'Companies need to up their own standards around cybersecurity, and insurers will have to look more closely at their clients' cybersecurity standards operating with 5G,' says Johnston.

This includes keeping on top of staff cyber education and training. 'The greatest risk is still human,' he says.
LOOK TO THE FUTURE
Insurers will also need to work with technology providers and customers to decide how they will operate in the 5G ecosystem. How will insurers access data, and who owns the data? Who captures and stores it?

'Typically, when you sign up for an insurance policy, the applicant supplies the information,' says Gorman.

'5G could let insurers gather or verify that information themselves and assess and manage risk better, perhaps via a digital identity. For example, a UK bank found that 20 per cent of bank accounts set up online were at risk of fraud. With access to a digital ID, that fraud risk was reduced to 4 to 5 per cent.'

Johnston's advice is to ensure a group within the company is monitoring advances and innovations in technology — not just 5G.

'5G will lead to an acceleration in digital trends and developments,' he says.'Insurers need to consider how to bring that back into insurance products and processes.'

Gorman agrees. 'I would say to insurers: take the opportunity to get involved and collaborate in developing the 5G ecosystem and working to solve not just one problem, but thousands of problems. We just have to be committed to a 5G future.'
THE HEALTH IMPACTS OF 5G
Since the late 1990s, scientists have investigated the impact of electromagnetic fields (EMFs) and wireless technology on humans. Most studies have focused on the 0–300GHz radiofrequency range, which includes the frequencies currently used by 3G and 4G, as well as the high-spectrum frequencies that 5G networks can use.

The World Health Organization (WHO) established the Electromagnetic Fields Project in 1996, which researches potential health impacts of EMF exposure and advises international authorities on EMF radiation protection. According to WHO, no causal links have been found between any negative health effects and exposure to wireless technology.

The main risk of EMF exposure is related to tissue heating, and at current exposure levels, body temperature increases are negligible. As radiofrequencies increase, our skin and eyes actually prevent energy from being absorbed deeper into body tissues.
WHAT'S THE DIFFERENCE?
There are four main differences between 4G and 5G:
5G will allow much faster data downloads and uploads. 5G is expected to be up to 100 times faster than 4G. For instance, it will allow you to download a two-hour feature film in 10 seconds, compared with seven minutes with 4G.
5G will reduce the time between command and response significantly. With 4G, latency is around 50 milliseconds; it will be around one millisecond with 5G. Low latency is especially critical for technology such as driverless cars and drones, as well as telehealth innovations such as tech-enabled surgery.
5G networks can support thousands of devices in the same geographic space, which is essential for the adoption of Internet of Things technology.
5G can be built on high-band spectrum networks that transfer more data faster. These frequencies are more easily intersected by hard surfaces like walls, so telcos need to install lots of tiny cell sites in order for 5G networks to work effectively.
5G TO THE RESCUE DURING PANDEMIC
As the first country to be affected by COVID-19, China has shown how 5G technologies can assist the world's response to the pandemic.

In the epidemic centre of Wuhan, three large carriers — China Mobile, China Unicom and China Telecom — set up 5G base stations that broadcast the construction of two field hospitals to more than 150 million online viewers.

As lockdowns and outdoor restrictions became the norm throughout China, 5G devices took over services that would normally require personnel.

For example, agricultural drone manufacturer XAG and telco Huawei converted 5G smart robots and drones into disinfectant sprayers. Covering a much wider area from the air with variable flying speed, XAG says one drone can disinfect the same area it would normally take 100 workers to complete in one day.

5G robots also staffed a coronavirus hospital ward in Wuhan, taking patients' temperatures, delivering meals, disinfecting the facility and enabling doctors to check patients' vitals remotely, reducing their exposure to the virus.

Elsewhere, engineers from Xi'an Jiaotong University collaborated with robotics manufacturer Youibot and local police to deploy 5G-powered temperature-screening robots in shopping malls and other areas with large volumes of people.

Similarly, China Mobile deployed 5G thermal imaging robots in major Chinese cities. These could perform rapid, non-contact body temperature measurements within one to 10 metres and sound an alarm when abnormal temperatures were detected. Later, they were also able to use high-resolution cameras to identify people not wearing face masks in public places.
WHEN IS 6G COMING?
The global race for 6G has already begun.

Three Chinese tech giants have reportedly set their sights on 6G. Huawei says it's working simultaneously on 5G and 6G, while Chinese kit vendor ZTE and China Unicom have signed an agreement to cooperate on 6G.

The Chinese Government is also getting involved. China's Ministry of Science and Technology says it will set up two working groups to carry out research on 6G. The first will be made up of government departments responsible for promoting 6G research and development. The second, consisting of 37 universities, research institutes and enterprises, will lay out the technical aspects of 6G.

Similarly, Samsung and LG research centres in South Korea are conducting research on terahertz band technology for 6G. And, in Finland, a 6G flagship research program is being backed by Nokia, the University of Oulu and other business bodies.

Although there's still no universally accepted definition of 6G technology, Nigel Jefferies, chairman of the Wireless World Research Forum, believes its potential will have a profound impact on scientific research and everyday life.

He told the 2019 World 5G Convention in Beijing that the speed of 6G will be faster than 125 gigabytes per second, enabling virtual reality of ultra-high fidelity, zero latency for machine-to-machine communication and global high-speed internet coverage using extensive satellite networks.

'6G will incorporate technologies that are left out of 5G, such as terahertz signals, satellites and visible light communication,' he said.