IBF Singapore Accreditation
ANZIIF Executive Certificate in General Insurance Broking is an internationally recognised certificate, designed for insurance broking professionals with four or more years experience.
Attain Senior Associate Membership Level
80 Credit Points
ANZIIF Executive Certificate in General Insurance Broking is comprised of eight compulsory Skills Units. Seven Skills Units have been accredited by the Institute of Banking and Finance Singapore's Standards Training Scheme ("IBF-STS") as of February 2021. Check the COMPULSORY SKILLS UNITS section for more details.
Register your interest and be the first to hear when more ANZIIF Skills Units have been accredited.
With the Skills Units being accredited by the IBF-STS, they qualify for the Enhanced Funding Support* for company-sponsored and self-sponsored participants who are Singaporeans or PRs, subject to all eligibility criteria being met.
Eligible company-sponsored training participants who commence the course on or after 8 April 2020 up to 30 June 2022, and successfully complete the course no later than 30 September 2022 will also receive an amount of Training Allowance Grant** in accordance with the actual learning duration.
Click for more details about the fund and eligibility
Subsidy Timeline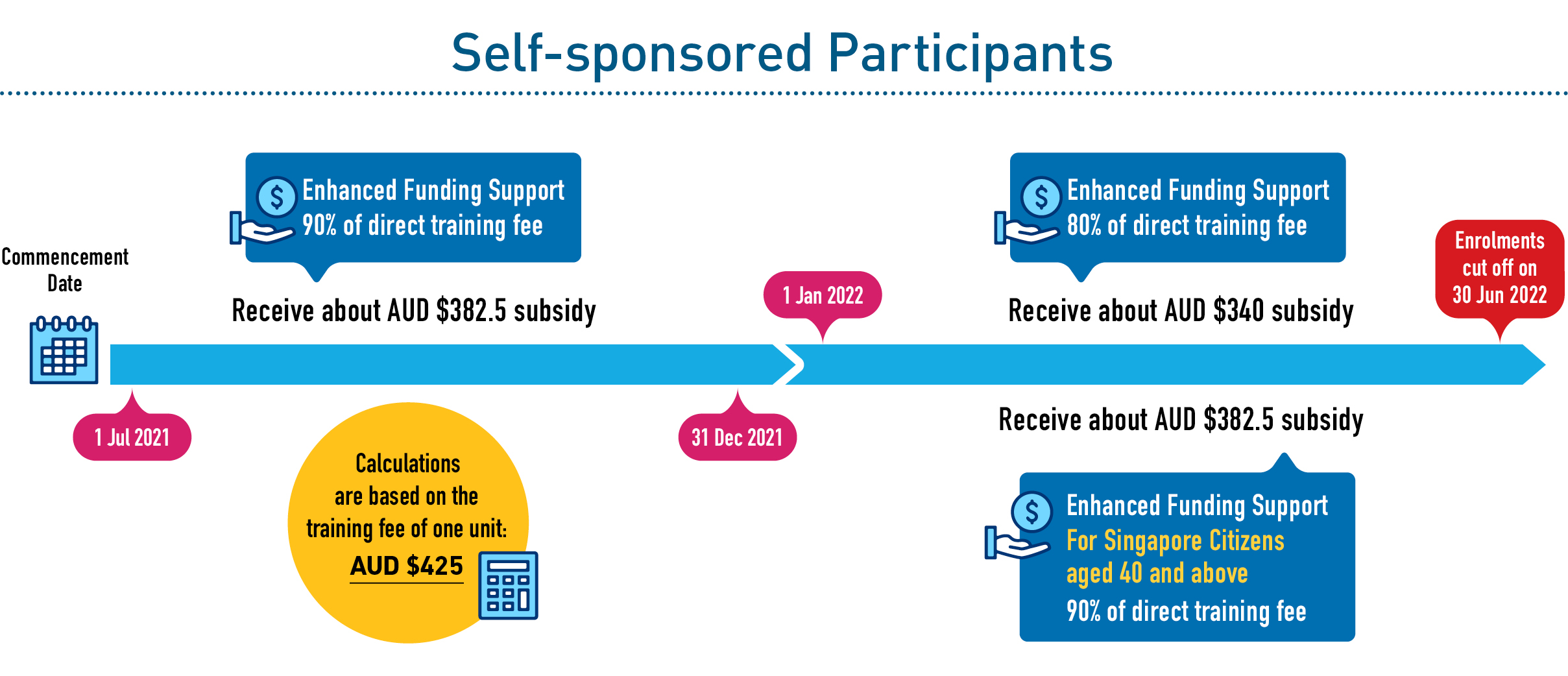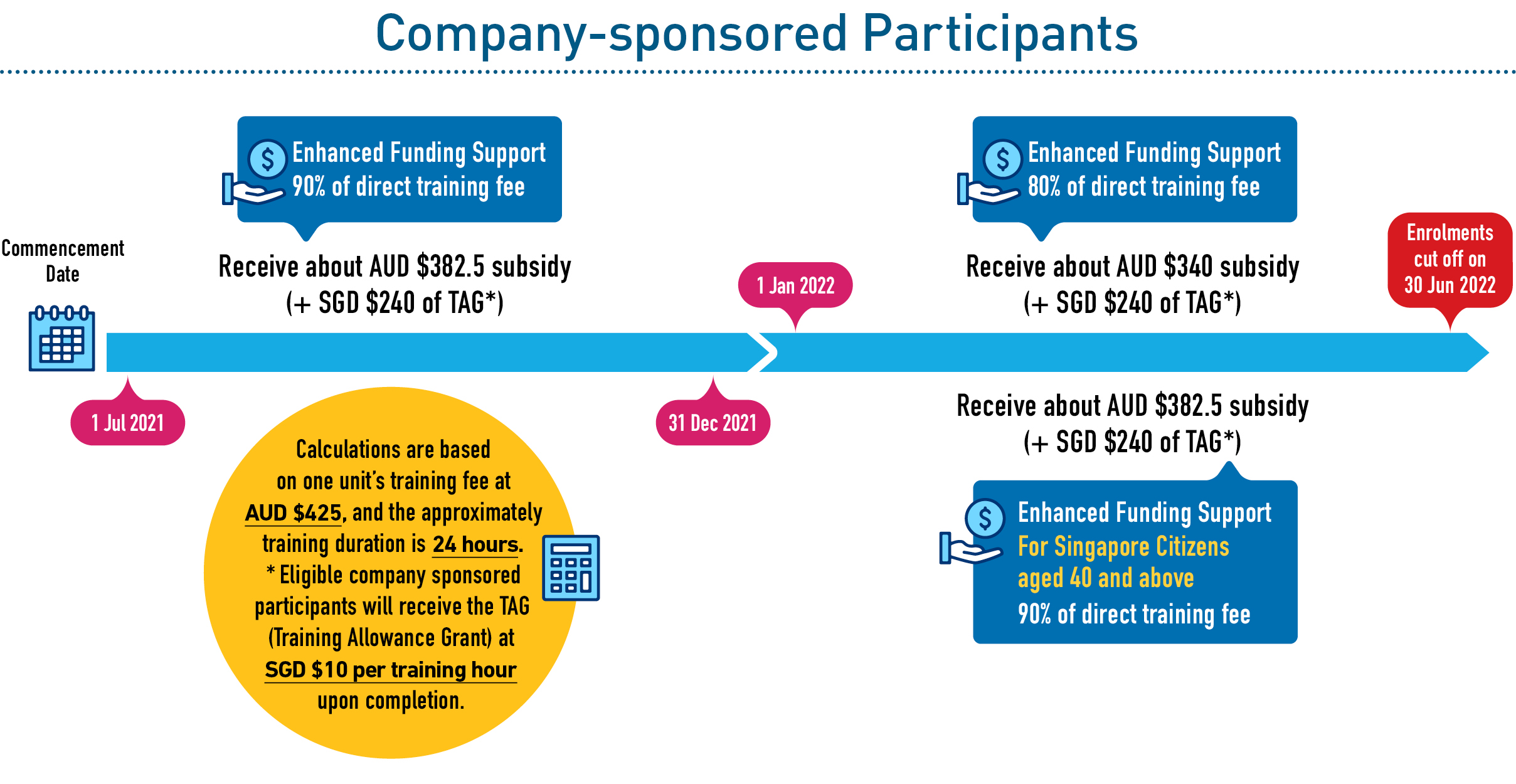 Check if your employer is eligible for the TAG
*The Enhanced Funding Support for IBF-STS and FTS courses continue to be available until 30 June 2022, with different percentages before and after 2022.
**The Training Allowance Grant will be accorded to eligible company-sponsored participants who successfully complete the IBF-STS accredited course. Course duration (training and assessment) will be based on actual time completed by the eligible participants and rounded down to the nearest 0.5 hours, and not more than the total approved programme duration of 24.5 hours. ANZIIF will track and tabulate the total time taken for each participant to complete the e-learning and assessment, and hence TAG to be accorded would differ amongst eligible participants. Eligible corporate-sonsored participants will receive the TAG at $10 per training hour upon completion, when commencing study between 1 July 2021 and 30 Jun 2022.
Enrolment
Find accredited Skills Units in the COMPULSORY SKILLS UNITS section of this page and follow the Enrol Now button to complete the enrolment.
To apply for the IBF-STS subsidy, enrol and commence the course by 30 June 2022, and email a scanned copy of your Singapore National Recognition Identity Card (must be in full colour and both sides) to [email protected] with the subject line "IBF-STS Subsidy Application - [your full name]", within one month of the completion of each Skills Unit.
Contact [email protected] for more information. For company bulk enrolment assistance, contact Bryce Yeo at [email protected]
Course Structure
The certificate is comprised of eight compulsory Skills Units. ANZIIF Skills Units are online and enable students to learn anytime, anywhere.
Each unit aims to develop specific technical, analytical and interpersonal knowledge and skills required to:
lead an insurance broking team
analyse and determine a customer's needs and risk profile to make recommendations for insurance solutions
negotiate the terms and conditions of a policy with the insurer on the customer's behalf
effectively manage and settle insurance claims on behalf of a customer
provide quality ongoing insurance broking services to customers.
No pre-requisite.