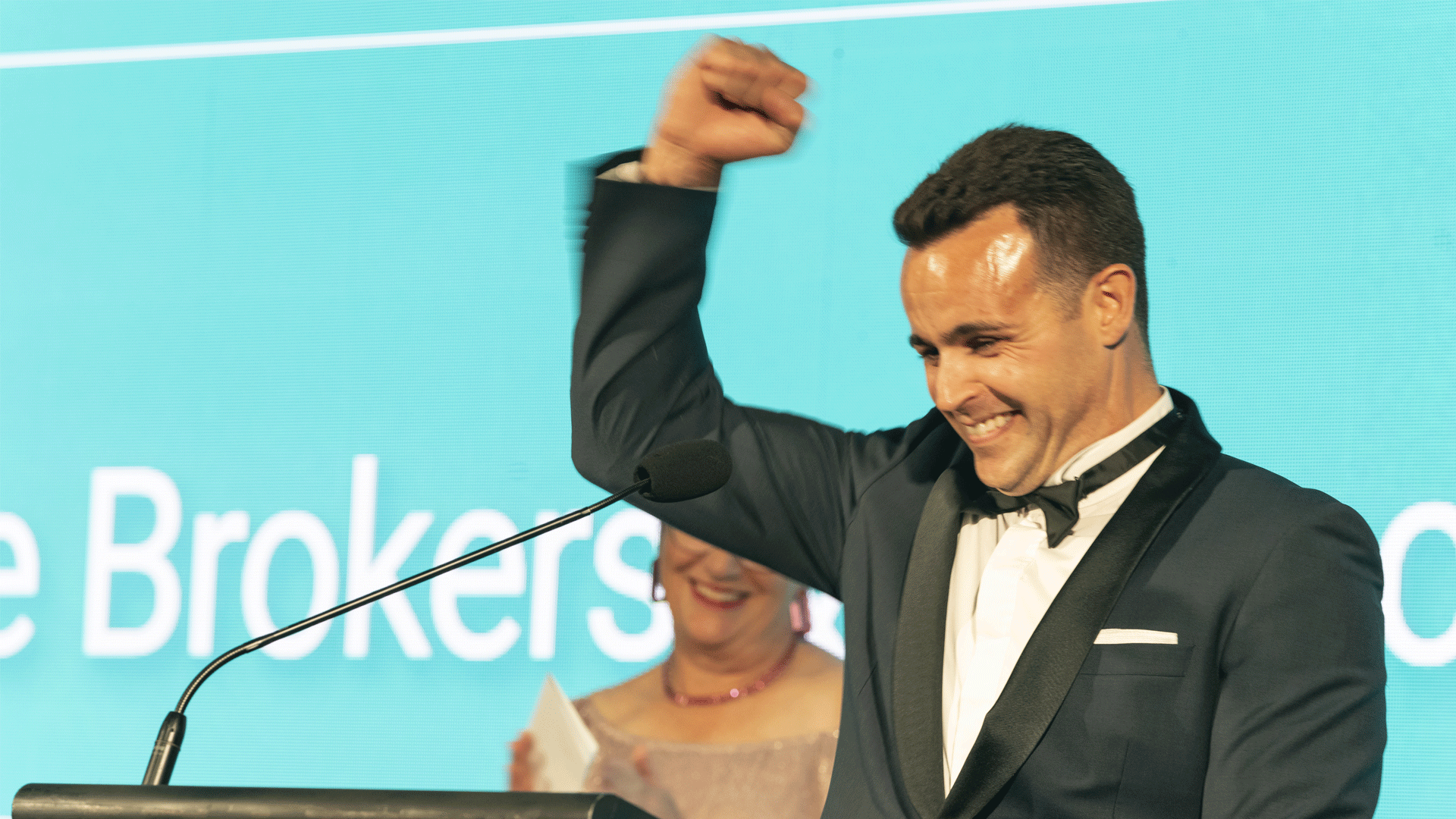 Daniel Mathieson started Sherpa Insurance Brokers & Advocates in 2018 with the aim of doing things differently.
He was committed to raising the standards of customer-led service, treating every client as an individual and ensuring that their unique needs were understood.
That commitment was recognised last year with an ANZIIF New Zealand Insurance Industry Award. Sherpa received the Small-Medium Broking Company of the Year award for its accomplishments in broking.
"It's very rewarding to have this sort of recognition of the hard work that the team has put into growing the business," says Mathieson.
"There's a great sense of achievement, not just for me, but for the team, because of all the work they put in every day for our clients."
Starting from scratch
Mathieson had worked in the industry for more than 16 years before starting Sherpa from the fourth bedroom of his Christchurch home.
His wife, Josie, worked with him to develop Sherpa's branding, marketing and website, while Mathieson focused on business development.
"It was a pretty busy time and I look back on it really fondly, because I knew what I wanted to achieve," says Mathieson.
"I decided to start Sherpa because I could see a gap in the market in Christchurch for a business that was driven by advice and client relationships in the SME space," says Mathieson.
"I also knew there was an opportunity for an extra broker in the market that was independently owned."
Growth via word of mouth
Today, Sherpa employs 10 people and its client base of small-medium businesses spans industries such as manufacturing, property development and construction and associated trades. Growth has happened organically, by referrals and word of mouth.
"When you have a good broker who you trust and who understands your business, you tend to tell your friends who also have businesses, and that's how we've gained a lot of our clients," says Mathieson. "I take that as an endorsement of the positive experience that our customers have from working with us."
Mathieson adds that because Sherpa has "a similar DNA" to its clients, it understands the competing demands they're dealing with.
"We're also a small business, so we know that insurance has an important role in what [our clients] do, but we also understand that there is so much more to their businesses," he says.
"We don't just focus on 'sell, sell, sell', and our approach is not only about insurance— we've got a more holistic approach," he adds.
"Our clients can relax with us and talk about other elements of their business besides insurance, because they know that we listen and that we really do care.
"We talk to our clients about what's happened in their business in the past 12 months, any staff turnover, business turnover, all kinds of things and we make sure that our service is personalised."
Experience counts
Sherpa has a high client retention rate and much of this loyalty comes down to the solid and varied insurance industry experience that Sherpa's employees have to offer.
"Our staff have either worked in claims or underwriting before they got into broking, so that gives them a strong understanding of how insurance products are sold, as well as what actually happens when it comes to claims time. I think this makes a real difference."
Mathieson has structured the business to ensure that brokers' time is "never spread too thin".
"I don't believe in overloading brokers with too many clients, because the service will suffer," he says.
"Our brokers actually go out and see our clients, understand what they do and get a real sense of what their business looks like before we give them advice as to how to insure their risks. And each broker has a dedicated support person who works with them.
"The better that a broker knows their client's business, the more freely the information flows, and that's when you can make sure that you are covering all their insurance needs."
Proud to be part of the team
Employee attraction and retention is an ongoing challenge across the insurance industry, but Sherpa has kept the vast majority of its people over the five years the company has been in operation.
Mathieson attributes this to its team-based, client-first culture. "I don't look over people's shoulders," he says.
"Our team is empowered to work in the way that's best for them and their clients. We have a mutual understanding that we're all working towards a common goal, which is to put our clients first.
"As well as formal meetings, I have regular, informal catch ups with every single person in our team and I share what's happening in the business.
"But we also talk about what's happening in their life; their wellbeing. A lot of our team have young families, and so do I, so we have a lot of shared experience in that regard."
A recent employee survey shows that 100 per cent of staff feel proud to work for Sherpa.
"I think that's because everyone knows what we stand for and what our values are and they know that they have such an important role to play in providing a service to SMEs that makes a difference to their business," says Mathieson.
Supporting strategic goals
To help maintain its client-first culture — and to support its growth— Sherpa recently employed an office manager to help run its day-to-day operations.
"I've been working on the business and in the business, but we reached a point where there was just too much to juggle," he says.
"Now that we have someone taking care of systems and processes, it frees me up to look at the more strategic side of the business and ensure that the team is equipped with what they need to focus on delivering the best for our clients."
Mathieson says his plan for Sherpa is to continue its growth while maintaining its client-based values.
"The business will also be driven by quality advice and doing the right thing by our clients," he says. "Off the back of that, we'll continue to grow."
Mathieson adds the ANZIIF Small-Medium Broker of the Year Award is also a positive endorsement for Sherpa's clients. He says that's a good reason for others to enter this year, despite a busy schedule.
"Even if you don't win, I think entering the awards shows your clients that they are with a business that is achieving excellence," says Mathieson.
"Our clients are all working hard themselves and they're busy growing their business, and this win for Sherpa reiterates that they made a great decision to work with us, because we're recognised for what we do and we're delivering on our promise."
Image: Sherpa Insurance founder Daniel Mathieson celebrates winning Small-Medium Broker of the Year at the Cordis in Auckland last year.
Submissions for the New Zealand Insurance Awards open in June