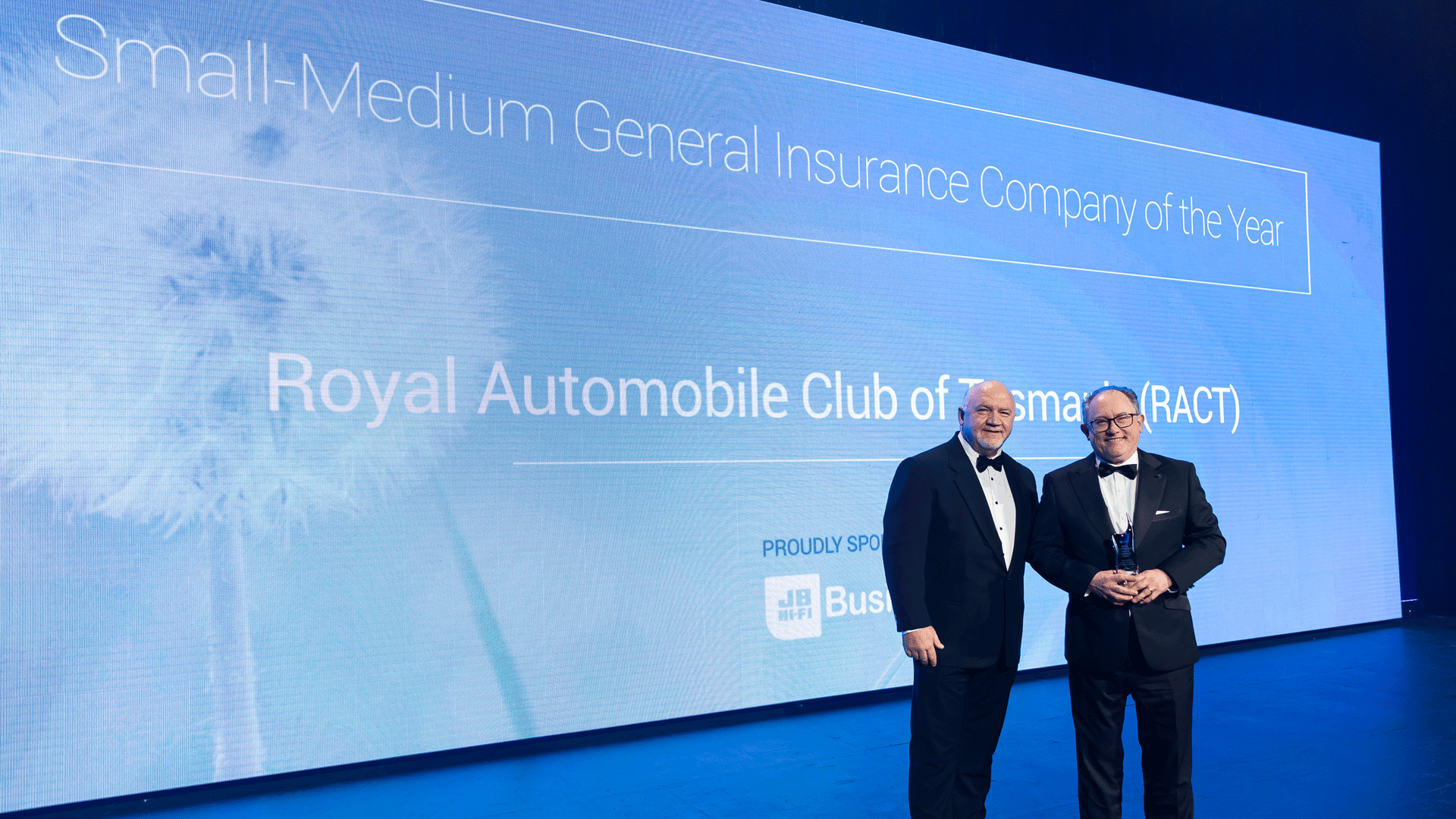 2022 ANZIIF Small-Medium General Insurance Company of the Year, RACT, Tasmania's leading motor and home insurer is tremendously proud of the award and urges other smaller companies to enter.
"Entering the awards is an excellent way to showcase your company's achievements and receive well-deserved recognition for your efforts,' says RACT Group CEO, Mark Mugnaioni.
With a premium income of nearly $115 million and over 300 staff across Tasmania, Mugnaioni says RACT is proud to be the only Tasmanian-owned insurer.
Brand reputation excellence
The company has worked hard to build its exceptional brand reputation, achieving a 99 per cent recognition among Tasmanians, one of many factors that led to its award-winning-edge.
Another was its business strategy, which clearly articulates its purpose of "positioning RACT as Tasmania's shoulder to lean on and a voice when it matters".
"The strategy includes 20 initiatives designed to create strong foundations across people, processes and systems, and to lift the products, services and channel experiences," Mugnaioni explains.
"Alongside these, and underpinning RACT's purpose, are community and education programs aimed at helping Tasmanians live safer and better lives."
Fighting the road toll
Given Tasmania has the worst road death rate of any state in Australia, with 8.8 people for every 100,000 population dying annually on Tasmanian roads (which is nearly double the Australian average of 4.6 per 100,000 population), RACT is committed to reducing road trauma through safety initiatives.
These include driver training programs and community education with primary and high school aged students, and the elderly through seniors programs. RACT is also part of a dedicated $1 million research fund for road safety.
"We're very proud that ANZIIF commended our initiatives and noted that our organisation has a direct impact on reducing road trauma and keeping the Tasmanian community safe," Mugnaioni says.
Making data inform processes
In addition, he says RACT has a history of utilising data to inform the development of simple, easily-navigated underwriting guidelines and processes, while ensuring its members clearly understand their risk.
"Utilising a data-led approach has given RACT a deep understanding of its members, their customer journey, and the needs of their local communities," says Mugnaioni. "This has enabled the company to design and implement initiatives that reduce customer pain points and streamline processes, to increase member engagement and satisfaction.
"For example, RACT's data utilisation has improved processes for claims and underwriting each of our product classes."
However, for Mugnaioni, RACT's greatest asset is its people. "We encourage our team to find ways to solve problems for our customers, rather than simply sticking to a documented process," he says.
"We also prioritise a supportive approach towards employees, incorporating initiatives that focus on flexible working arrangements, mental health, professional development and leadership.
He adds that RACT constantly strives to improve the workplace culture, to ensure the retention of talented, experienced team members.
"Our purpose as a mutual organisation, as well as our workplace culture and community focus, attract jobseekers and employees to a career with us."
Mugnaioni advises that a flexible work environment enables employees to balance their personal and professional commitments, which is critical to engagement and well being.
"We provide exceptional career development opportunities, including reward and recognition programs, regular team activities, incentives, and a volunteer day program," he says.
"These incentives include paid parental leave, extra leave entitlements, and even dog-friendly Fridays."
Diversity and inclusion
Mugnaioni says RACT is also highly committed to fostering a culture of inclusion and belonging where everyone is welcomed, and difference is embraced.
"Our values-driven organisation actively supports diversity of perspectives and experiences and encourages our people to keep growing and learning," he says.
"These factors contributed to RACT being recognised as a Tasmanian Employer of Choice in 2014. We were the only insurance provider and one of just three organisations in the communications, insurance and travel category to win the accolade."
Mugnaioni credits RACT's people for the ANZIIF award and says it's a testament to their dedication to excellence.
"It's a privilege for a Tasmanian organisation to be recognised among such a strong field of Australia's top insurers," he says.
"We pride ourselves on being Tasmania's only local insurer. We're honoured and grateful that so many Tasmanians trust us to protect what matters most to them and to support them at their worst times."
Moreover, winning the award has showcased RACT's understanding of its market segments, investment in improving insurance systems, and its advocacy efforts to improve road safety and land use planning.
"The award has also highlighted our dedication to our staff, the people behind what makes us so special, to more than 210,000 Tasmanians."
Inspired to strive
Mugnaioni also shares that winning the ANZIIF award has inspired RACT to strive harder.
"RACT is committed to ongoing innovation and improvement of services, and to strengthening its bond with the community it serves. Since receiving the award, we've had a remarkable year."
Particularly noteworthy is the community support RACT provided during the northern Tasmania floods in October 2022.
"Our efforts went beyond mere business transactions,' Mugnaioni tells. "We had boots on the ground almost immediately, providing information that our customers and community needed at this difficult time, supporting customers as quickly and efficiently as possible.
"Our commitment to delivering excellent service and our dedication to our customers at difficult times such as these makes a real difference."
Mugnaioni points to significant benefits of receiving the ANZIIF award. "The award has reinforced our members' confidence that they can rely on us to be there when they need us," he says.
"This recognition has further strengthened our brand reputation in the industry, cementing our position as a reliable and trustworthy partner for insurance in Tasmania."
"I encourage companies and individuals to enter the awards, not just to have outstanding achievements and initiatives recognised, but also to provide a benchmark for progress and the inspiration to aim higher."
Make a submission now!
Submissions have opened for the 19th annual Australian Insurance Industry Awards. The ANZIIF Awards recognise extraordinary achievements, nurture talent, celebrate the insurance industry and acknowledge the industry's ongoing support of customers, the community and its people.
With 17 categories to choose from, there is ample opportunity for a wide range of industry sectors to be represented and recognised. Applications close at 11.59 pm AEST on Friday 5 May.
Pictured (from left) Award sponsor John Shipman, JB Hi Fi Business poses with RACT Chief Insurance Officer Paul Sofronoff.