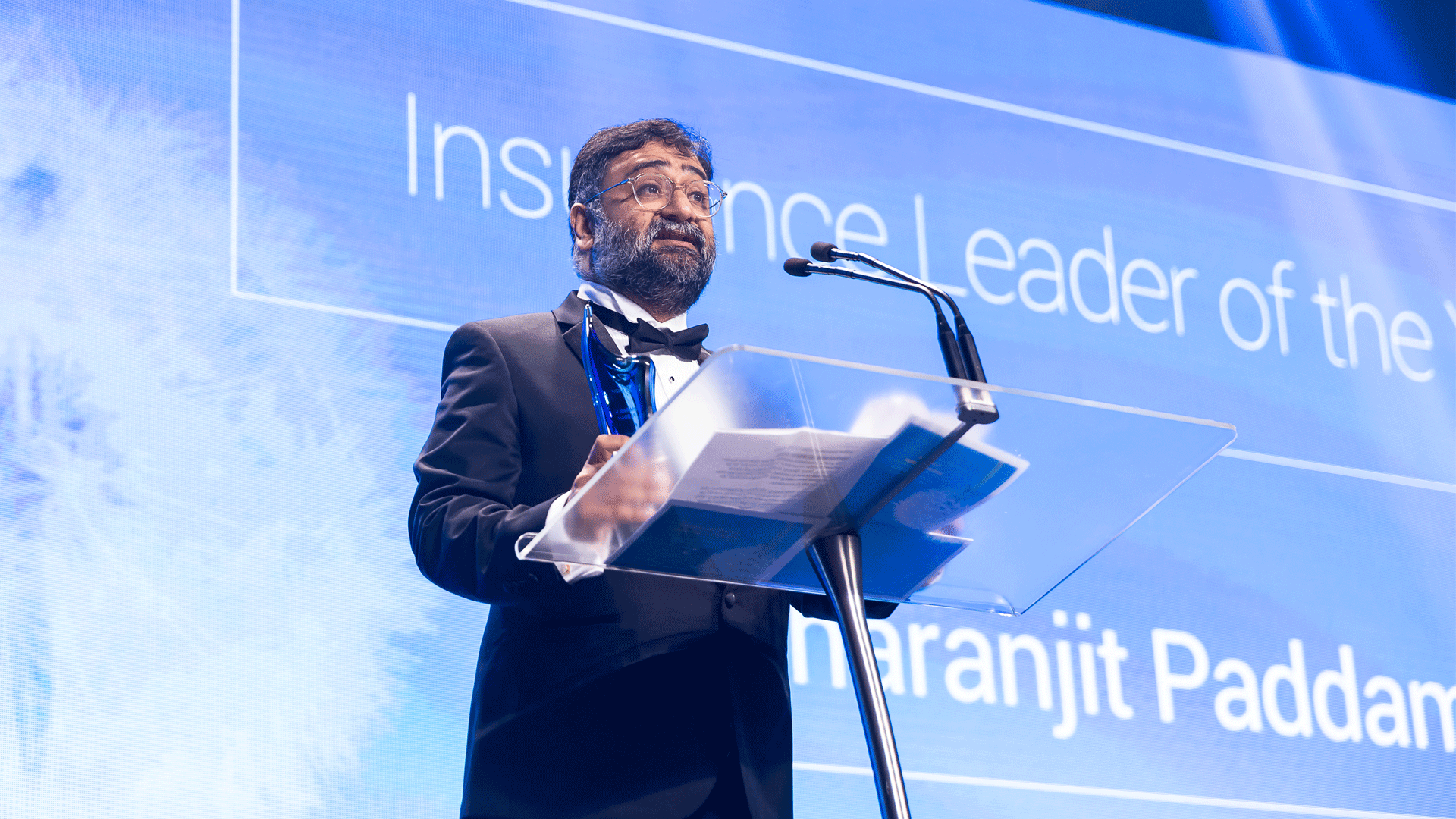 When Sharanjit first came to Australia from the UK in 2002, he pinned a newspaper clipping of a young and promising rugby star next to his desk.
'Early in his career, this young rugby star was severely injured, but due to the folding of HIH, he was left without insurance cover,' Paddam shares.
Tragically, the young man decided to take his own life rather be a burden to his family. For Paddam, then a reserving actuary, the picture remained a salient reminder that insurance is not just about numbers and policies. 'It's actually about people and their lives,' he says.
Climate change expert
Named the 2022 ANZIIF Insurance Leader of the Year, Paddam is a distinguished climate change expert. Having spent the last 10 years raising awareness about the importance of climate change considerations in insurance, he admits it's been quite a challenging conversation.
'These days, I'm much more optimistic about talking with insurance companies about climate change,' Paddam says. 'Things have changed very rapidly over the last few years, especially in Australia.'
Paddam is a consulting actuary with nearly 30 years of experience in general insurance, actuarial and analytics consulting in the UK and Australia.
He's an advocate for the use of risk management, financial modelling and communication to help banks and insurers understand what climate change means for them, how they can prepare for an uncertain future and the many opportunities to meet the changing needs of customers.
To that end, he features in the media regularly to advocate for and promote climate change action within insurance and other sectors.
In August 2022, he made a TEDxSydney 2022 presentation on climate change, insurance and banking and appeared on ABC News24 to address the issue of extreme insurance affordability stress.
Bringing action to purpose
At the 2022 gala insurance industry night of nights on 26 August, Paddam was recognised for living his philosophy of bringing action to purpose.
'Leadership is about shining a light on connections or points of common purpose and enabling people to act on that,' he confirms.
'That's very much my style and approach. Leadership is also about bringing people together with diverse backgrounds and viewpoints.'
Most recently, Paddam authored a green paper for the Actuaries Institute on home insurance affordability and socioeconomic equity in a changing climate — a topic he is extremely passionate about.
Paddam and his team at Finity Consulting put heart and soul into this project, which is one of his proudest achievements.
'What's very clear from our analysis is that climate change will affect vulnerable groups of people far more than everyone else,' he says.
'The people who already have it tough are going to have it even tougher. We are putting our most vulnerable people in our most vulnerable housing.'
Paddam says the green paper highlights the social function of insurance. 'Insurance is about keeping us together and enabling economic opportunity. It's the glue that holds a nation or a community together.'
Boy from Africa
Paddam, whose great grandparents were among the many people who migrated from India to Africa following the violence and unrest caused by the partition in 1947, is a third generation African. ,
Although his parents eventually migrated to Australia, Paddam says the place he identifies with most is still Zambia, where he was born.
'Zambia has significant reserves of copper, which is sorely needed for the world to transition to net zero, as well as lots of hydropower,' he enthuses.
'It has the potential to be a leader in the provision of green copper to the world and action on climate change could lead to great prosperity for Zambia.'
At the age of 10 Paddam went to school in the UK and later studied mathematics at Cambridge University — all of which was a great stretch for his mum, a cook and dad, a mechanic and diesel fitter.
'I was the first in my family to go to university so unsurprisingly, my parents were very proud of my achievements,' he recalls.
'It was very much the support and the encouragement that they gave me and the value that they placed on education that influenced me.'
With the help of a good career counsellor, Paddam chose an actuarial career, which saw him managing long tail asbestos and pollution claims at Lloyds of London for many years before moving to Australia to reunite with his family.
'Sometimes I think, how did the boy from Africa get here? It's a bit mind boggling,' he says.
Making the numbers work
Appointed Group Head of Environment Social Governance Risk at QBE Insurance Group in 2018, Paddam led the Group ESG Risk team to deliver climate disclosures in line with the full recommendations of the Taskforce on Climate-Related Financial Disclosures in 2021, as well as leading the development of the group's ESG strategy.
During this time, he initiated and led the Climate Measurement Standards Initiative, an ongoing collaboration between Australia's largest banks, insurers and asset owners with regulators and leading climate scientists to develop guidance on climate risk scenario analysis.
The initiative published its first set of guidance in 2020 and is currently working on its second set.
In 2020, Paddam was awarded Risk Manager of the Year by the Climate Alliance and was also presented with the Distinguished Service Award from the Actuaries Institute for his efforts as the organisation's Climate Change Working Group Convener.
As a strong believer in investments in infrastructure, improved building standards and land use and planning, he also provided expert evidence on natural disasters and climate change to the Royal Commission on National Natural Disaster Arrangements and in 2022, advised the Insurance Council of Australia on adaptation and resilience measures for Australia.
Opportunities to move ahead
In addition, over the last three years, Paddam was a contributing author to the Sixth Assessment Report of Working Group II of the Intergovernmental Panel on Climate Change (IPCC) released in 2021.
The IPCC is the United Nations body for assessing climate change, with more than 234 scientists from 65 countries participating in five-year cycles. Paddam assisted with efforts to assess climate change impacts on the Australasian financial sector, bringing an industry perspective to support the scientists.
'I was pleased to write a practitioner-led chapter showing that not all climate change news is bad,' he says. 'Despite the government hiatus on the subject at the time, insurers, banks and the whole financial services sector was taking action.'
Paddam hopes the ANZIIF award will further elevate and invigorate action on climate change by insurers.
'We need to think of insurance as having the much wider purpose of enabling success and economic activity,' he says.
'There are big opportunities for insurers to assist their clients to solve the problems and face the risks associated with a changing climate.
'It's a chance to renew their social license and connection to community, as well as presenting them with many openings for assisting their customers and making commercial investments in Australia's future.'
Meet all the 2022 ANZIIF award winners