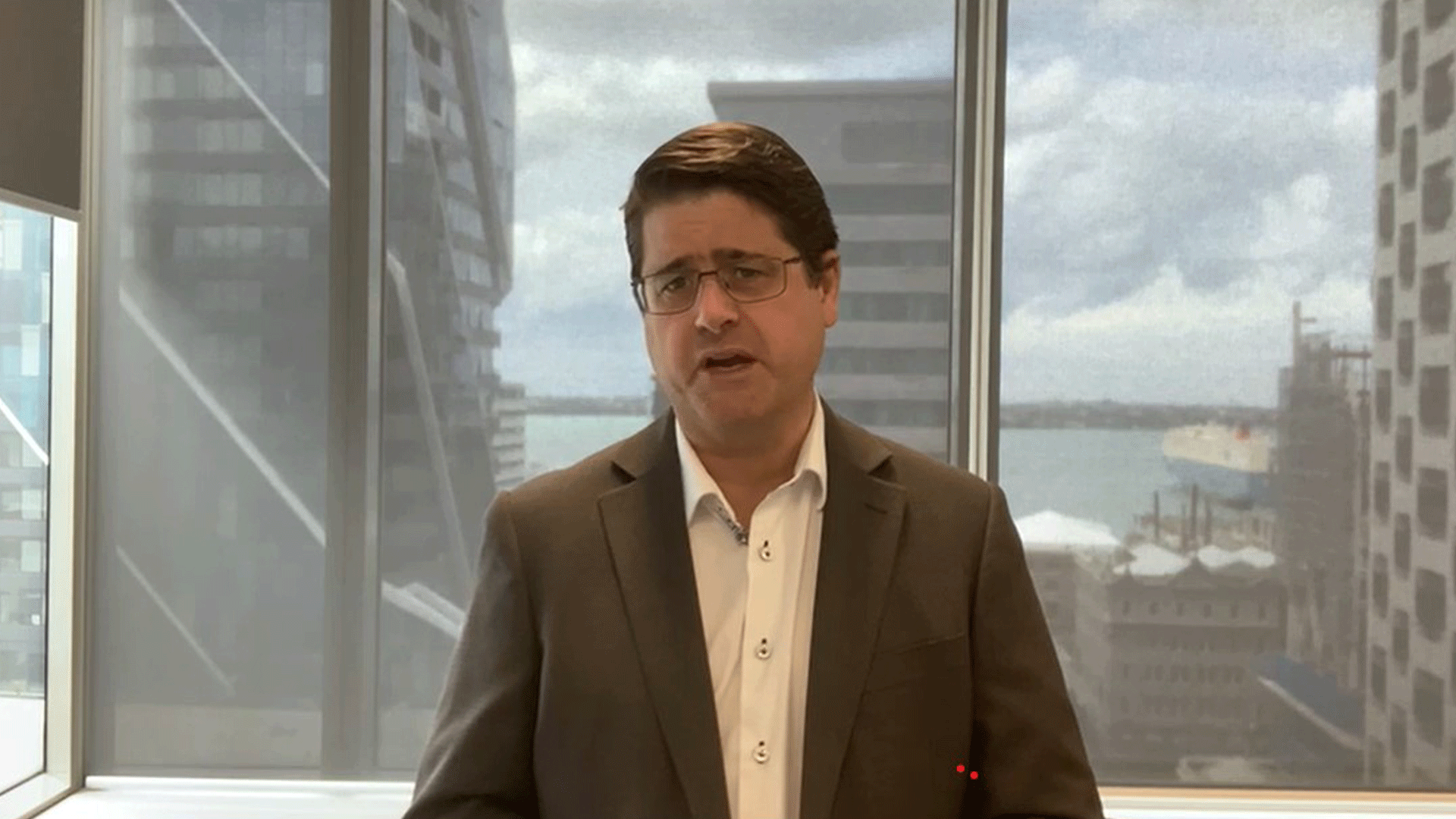 ANZIIF's New Zealand Insurance Leader of the Year award recognises insurance professionals whose outstanding leadership has had a long-term, positive impact on the insurance industry as a whole.
This year's winners were acknowledged for the role they played in the development and implementation of a world first — New Zealand's new Natural Disaster Response Model (NDRM).
They are Jimmy Higgins, CEO of Suncorp New Zealand (pictured); Sid Miller, CEO of the Earthquake Commission (EQC); Campbell Mitchell, executive general manager — claims and operations at Suncorp New Zealand; and Blair Williams, general counsel and executive general manager — external relations at IAG New Zealand.
The award was sponsored by DLA Piper and presented by partner Misha Henaghan who described the NDRM as an initiative that has fundamentally changed the experience of clients who suffer the devasting effects of earthquakes and other natural disasters.
'Sometimes a leader can make a lasting contribution to our industry through sheer force of will,' she said at the presentation.
'More often, it takes a collaborative mindset to bring truly significant change to life.'
Calls for change
The NDRM has its roots in the period between 2010 and 2012, during which there were 15 EQC-declared earthquake events in the Canterbury region — the most significant natural disaster to affect New Zealand in 80 years.
According to the Reserve Bank of New Zealand, the combined insurance claims costs associated with the event were among the five highest recorded in the world.
'I've never dealt with anything more complex than this Canterbury earthquake sequence,' says Jimmy Higgins.
'There was the dual insurance model, land issues including drilling and liquefaction, apportionment, multi units, rock fall, building resources, red zones, orange and green zones, Section 124 restrictions – the list goes on.
'The disaster tested everyone in insurance but, more importantly, it tested our customers and the broader Christchurch communities.'
A collaborative approach
Christchurch was hit by another smaller earthquake on Valentine's Day in 2016.
'This was when we suggested to the EQC that we pilot a different, more collaborative approach,' says Higgins.
'Then, nine months later, the much more powerful Kaikoura earthquake demanded a coordinated insurance response.
'Again, with EQC and the Insurance Council of New Zealand, we quickly put together agreements on how we would respond using the learnings from the Valentine's Day event.
'Since then, the insurance industry and the EQC have formally agreed a way forward to manage future disasters in New Zealand.'
Simpler, more streamlined
The ECQ, a New Zealand Crown entity, invests in natural disaster research and education as well as providing insurance to residential property owners who have a private home insurance policy.
During the formation of the NDRM, the ECQ formed partnerships with eight of New Zealand's largest private insurers to manage claims for natural disasters.
Together, AA Insurance, Ando (Hollard), Chubb, FMG, IAG, MAS, Vero and Tower represent more than 20 insurance brands.
Since 30 June 2021, every customer who holds a current insurance policy that includes cover for fire has had just one claims touchpoint if their home or land is damaged in a natural disaster.
Their private insurer will manage all claims to completion, including any part covered by the EQC.
Sid Miller acknowledges that EQC was ill-equipped to manage the scale of the Christchurch disaster alone.
'We accept that we should have done better for the people of Canterbury,' he says.
'Their trauma has been the inspiration for our team to work hard to learn from those experiences.'
Unique partnership
Under his leadership, the EQC has grown into an agile, data-driven and collaborative organisation.
'As well as providing a single point of contact for settling customers' claims between the first loss cover provided by EQC and the top-up cover provided by the private insurers, the NDRM allows the secure sharing of insurance data to improve our risk analysis, loss modelling and event response planning capabilities,' he says.
'The unique partnership we've formed with private insurers is central to this transformation as it not only puts our customer right at the heart of the claims process but also ensures we're better equipped to help build New Zealand's resilience and readiness for future natural hazard events.'
Single point of contact
After the 2010-12 earthquake sequence, Blair Williams also recognised the need for a single point of contact for settling claims.
'We immediately went about engaging with government and EQC to make that happen,' he says.
'IAG has been helping Kiwis recover from natural disasters for many decades. We know all too well that when disaster strikes, our customers simply want the information and support they need to put their lives back together as quickly as possible.
'Our team has worked closely with EQC, Insurance Council of New Zealand and the broader insurance industry to drive these changes because our people and customers have told us, time and again, that dealing with multiple agencies to settle insurance claims adds complexity and pain points to the total recovery process.
'While we hope most New Zealanders will never need to experience the new model firsthand, we know that, if they do, this successful industry-wide effort has delivered a system that will help make their recovery experience as seamless as possible.'
He adds that he very much enjoyed being part of this project and delivering this outcome to customers.
'After all, that's what we're all passionate about, and I think that's why we all come to work,' he says.
Developed for customers
Campbell Mitchell is most proud of the fact that the NDRM was developed for customers.
'I believe this is a watershed moment for the insurance industry,' he says. 'It provides alignment and consistency when disaster strikes — the times New Zealand needs us most.
'This was a project where the customer was our focus and I think that helped galvanise the thinking across the eight insurers and EQC in reaching a single agreement.'
On receiving the award, all four winners congratulated their fellow recipients and acknowledged the contribution of a broad spectrum of stakeholders.
'The award is recognition of many people across a number of organisations, as well as my colleagues at IAG,' Williams says.
'The NDRM was the culmination of their hard work and dedication, as well as the unwavering desire of all involved to improve the experience for our customers. It would not have been possible without their involvement and commitment.'
A significant achievement
Higgins adds his thanks to the ANZIIF judging panel for recognising the significance of what the industry has achieved through the NDRM and the benefits it will provide for all New Zealanders in the future. He also received a special call-out from Mitchell.
'He's my colleague and boss, and he has pretty much lived this for the past 10 years,' Michell says.
'We're now five months in and it's fair to say that the NDRM has already been tested with multiple weather events in July, August and September. The good news is that it's working for our customers.'
Rising to future challenges
The award was particularly poignant for Miller, who will be leaving the EQC next year.
'I took on the chief executive role five years ago with the intent that we would learn a lesson from the Canterbury earthquakes and ensure that, as an industry, we would be better prepared to deal with future events,' he says.
'Having made the decision to step down, it's a huge honour and incredibly humbling to receive this award in recognition of what has been achieved.
'I'm proud to share it with these fine leaders, and I thank them for their collaboration, conversations that were tough at times, and commitment to working through this for the benefit of our customers and for New Zealand.
'I know the partnership will continue to grow and through collaboration will rise to future challenges faced by the industry.'
Image caption: One of the four award-winners, Suncorp CEO Jimmy Higgins expresses his pride in the pre-recorded ANZIIF New Zealand Insurance Industry Awards movie event.