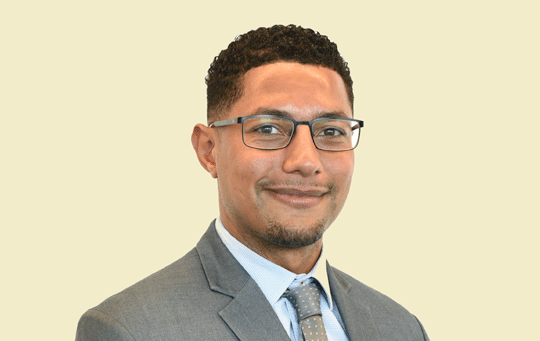 David Ford, a property underwriter at Chubb is 'very honoured, if not slightly overwhelmed' to be the winner of the 2021 John Allison Award for excellence at ANZIIF's Reinsurance International Study Course (RISC).
A strong piece of work
'I certainly wasn't expecting to win the award,' Ford says. 'My syndicate group alone included some very talented individuals, and to be seen to stand out among them is very humbling.
'I am glad that I was able to contribute and help the group put together what felt like a very strong piece of work.'
Ford adds that completing RISC will be of benefit to his career.
'The learning and networking opportunities alone were very powerful,' he says.
'But winning the award is something I am very proud of, especially considering the great reputation that RISC has within the industry.'
Team player
While Ford feels he wasn't the most technically experienced person doing the course, he hopes it was his instinct for learning and seeking answers that gave him the winning edge.
'I tried to be a good team member, to learn from those around me and to lend a hand or a listening ear where required,' he says.
Ford says his RISC experience was very positive.
'I found it a well-structured and comprehensive course,' he says.
'I enjoyed its collaborative nature — I worked alongside a team with different strengths and backgrounds, which definitely enhanced the learning experience.
'The course facilitators were fantastic and being able to network with and learn from them is an opportunity that I will always be grateful for.'
Highly recommended
Given that reinsurance plays an integral part of Ford's role, he was very keen to gain a deeper understanding of its different types and the theoretical concepts that lie behind each.
'RISC came highly recommended by a number of colleagues,' he says.
'I would like to say a big thanks to my Syndicate Advisers, Carl Longmore, Sally Nickerson and Michael Crouch, who provided invaluable input throughout the course and were very patient and willing educators.'
Driven to achieve
Originally from Suffolk in the UK, Ford finished high school in Ipswich and studied Sociology and Business at Sheffield Hallam University.
'Suffolk is probably best known for crop farming, tractor driving and being home to Ed Sheeran,' Ford shares.
'Both of my parent's families moved to the area in search of new pastures in the 1970s, with Mum originally from the North East of England and dad emigrating from Jamaica as a teenager.'
As much as he is proud and fond of it, Ford says growing up in Ipswich wasn't exactly a glamourous upbringing.
'From a young age, I felt the urge to achieve and experience more and this has been a driving force in continuing to seek upward mobility and career development opportunities,' he says.
'I would also say that seeing my parents, in particular my dad, working extremely long hours to provide for me and my four siblings has taught me a lot about not shying away from a good honest day's work.'
The learning journey
After leaving university, Ford decided to take a job with WNS Assistance, a third-party claims management administrator for some of the largest motor fleet providers in the UK.
'The aspects of the role that most interested me were the opportunity to build strong, commercial relationships with internal and external stakeholders, the need to be an effective and reliable team member and the chance to begin my learning journey in the insurance world,' he tells.
'These are the skills and mindset I continue to strive for.'
The appeal of a challenge
Ford came to Australia in 2017 after an extended holiday travelling through South East Asia.
'The initial plan was not to emigrate permanently, however after landing a role in Chubb's Commercial Property team, meeting my now fiancé and starting a family, I am well and truly settled here,' he says.
Having worked with Chubb for around three years, Ford says his role is as challenging today as it was on day one — which is a large part of its appeal.
'Working in property allows me to explore a vast range of industries,' he says.
'I'm discovering how and why things operate as they do, and the challenges different businesses face.
'As a large, dynamic company, Chubb allows me to draw from a deep pool of knowledge and there aren't many days that go by without learning something new.'
Future vision
Ford's hope for the future of insurance is that the use of technology and data analytics not only continues to improve the understanding and application of knowledge about risk, but also helps to achieve a more fulfilling experience for the end consumer.
'I think we are going to see technology continue to play a deeper role in all aspects of the insurance cycle and indeed, we can already see this happening in a big way.'