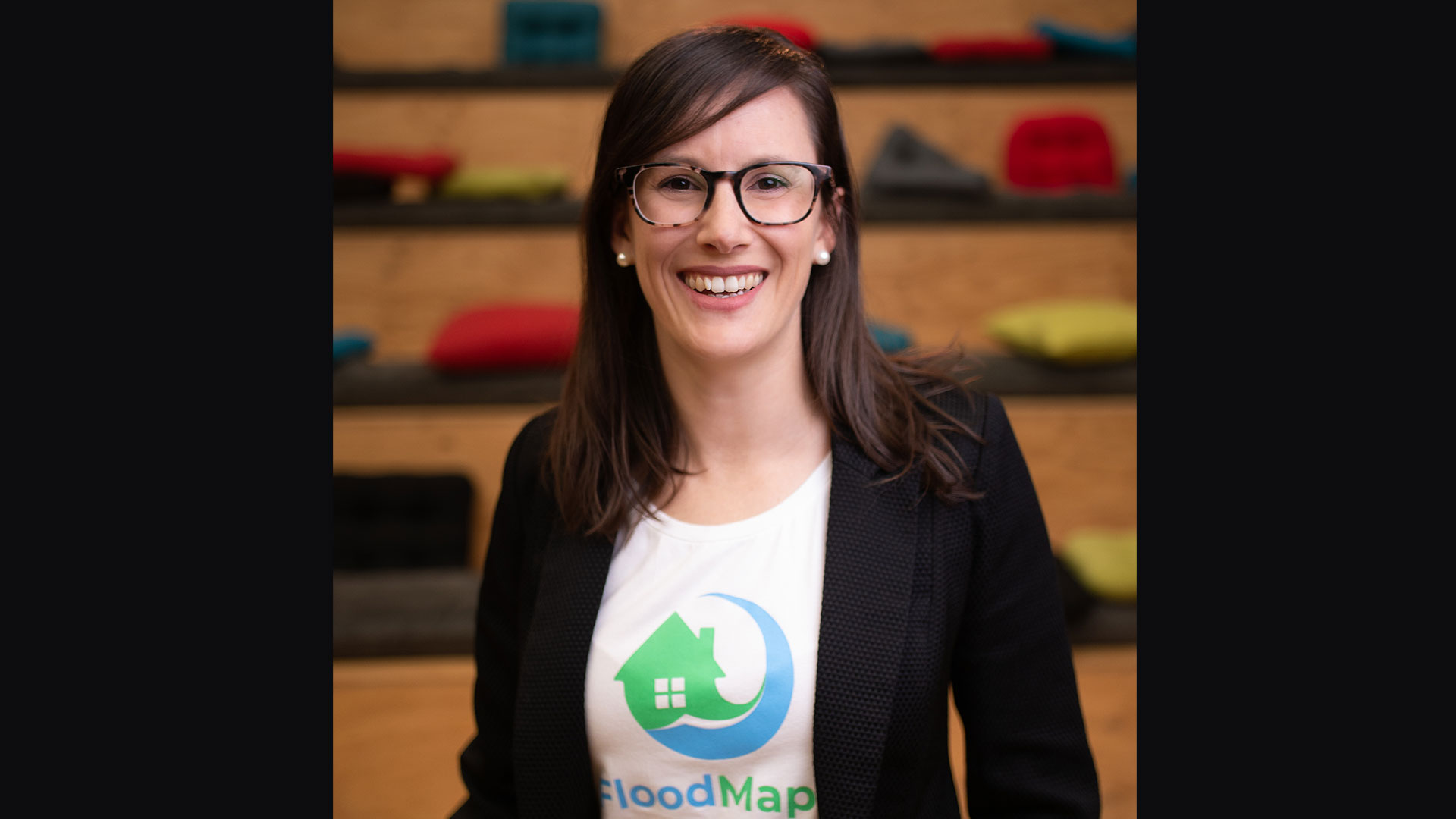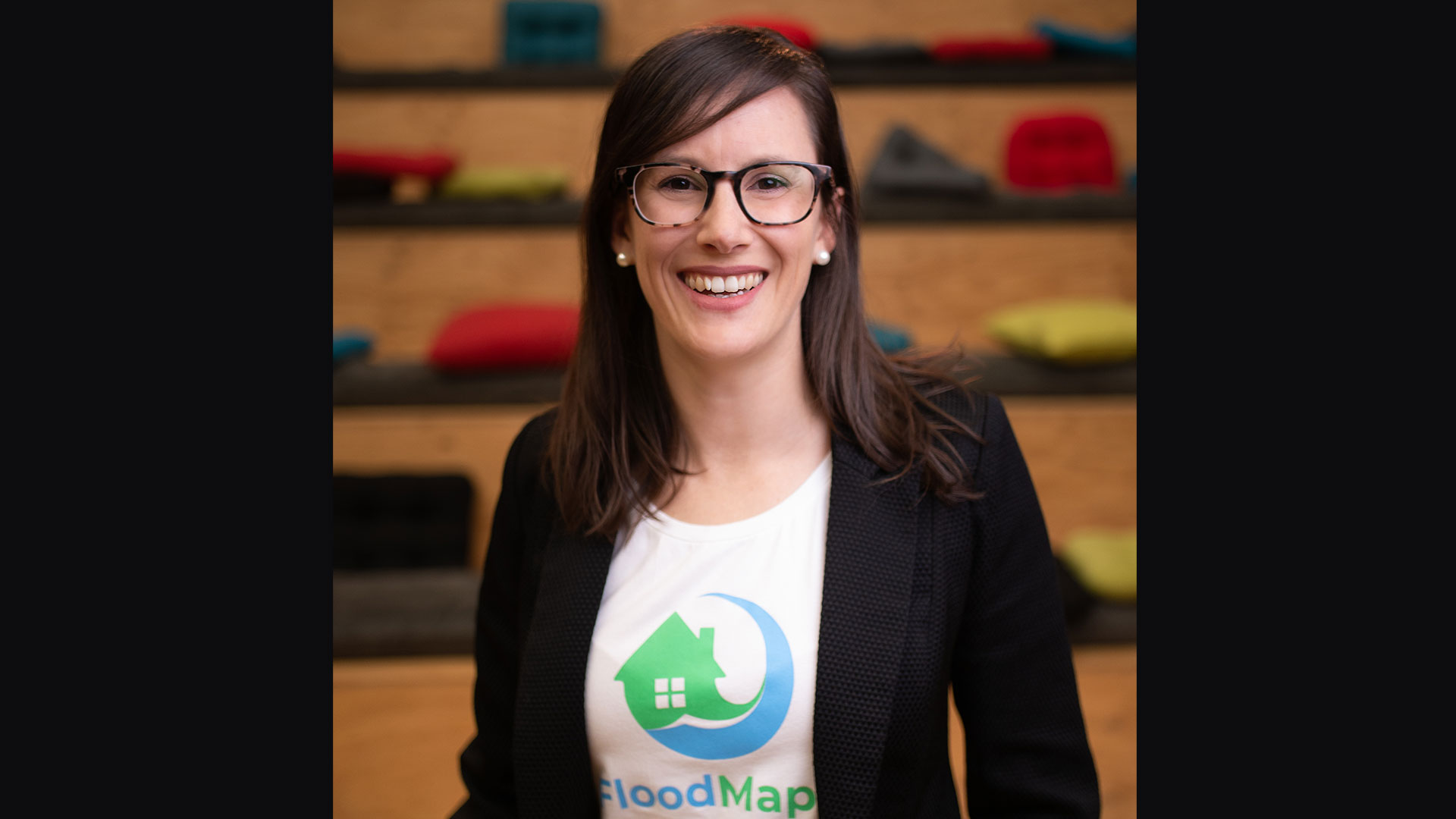 The devastating Queensland floods of early 2011 were the worst in the state's recorded history.
Close to 100 communities were flooded or isolated, 33 people lost their lives and thousands lost their homes.
Brisbane resident and water resource engineer Juliette Murphy describes the floods as 'one of the most horrific things I've ever seen'.
'My friend's house was flooded so badly that water was above its peak,' she says.
'It was literally swallowed by the flood and it didn't end up being covered by insurance. She had broad warnings that it would flood in Brisbane but, in a natural disaster of this scale, broad warnings still leave you in the dark.'
FLOOD DANGER WARNING
The experience prompted Murphy to question: what if insurers and their customers could get specific information about flooding danger?
The answer was found FloodMapp, the Brisbane-based startup that Murphy co-founded in 2018 that helps improve safety and prevent damage during every stage of a flooding event.
In Australia, flooding causes $9 billion in damage a year and this is projected to double by 2050. In the US, this figure is closer to $50 billion.
'The World Bank released a report that says that at least 35 per cent of flood damage is preventable with the right early warning systems,' says Murphy, who will be speaking at the upcoming ANZIIF Insurtech Conference about the increasing frequency and severity of flooding and the opportunities presented by technology.
RISING RIVERS
Murphy grew up in the flood-prone town of Boonah in South East Queensland. She recalls days when the road to her school was cut off due to flooding and she became fascinated in watching the local rivers rise.
A love of maths and science led her to a career in engineering and she spent a decade working as a water resources engineer, which involved hydrology and flood modelling.
Along with the personal toll of the Brisbane floods, Murphy had first-hand experience of how such natural disasters can impact business.
'During my time working for large engineering firms I consulted to big mining companies that would sometimes lose whole sites or projects to flooding,' she says.
'There would be hundreds of millions, if not billions, in losses because the location-specific information wasn't there for them to adequately plan and prepare.
'I thought that if you had enough warning, resource companies could prepare pumping infrastructure and move expensive equipment or assets; individuals could move cars and farmers could move livestock,' adds Murphy.
'That was a real driver for why I started FloodMapp.'
PASSION PROJECT
Murphy says she started FloodMapp as 'passion project'. She taught herself to code and began building a mobile app to communicate flood risk.
'I spoke to government agencies who told me there was a real market for what I was doing and it sort of grew from there.'
Murphy teamed up with co-founder Ryan Prosser, who was experienced in software development, to prototype the technology.
They joined the H2 Ventures accelerator program in 2018, left their full-time jobs and in 2019 raised A$1.3 million in seed funding from venture capitalist firms and individual investors.
'It was important for us to partner with the right investors that really understood our business, the market, and our vision, ' says Murphy. 'We're really lucky that we've been able to do that.
CUSTOMER EXPERIENCE
'We got a lot of support to validate the problem, the solution and the market,' she adds.
'We found there was a lot of interest in the insurance industry, which made sense. Cyclone Debbie a couple of years ago cost insurers $A1.6 billion and the Townsville floods cost insurers $1.2 billion in claims for residential losses, houses, cars, but also commercial losses.'
Murphy says FloodMapp information is valuable not only in helping to prevent losses, but also in improving the customer experience during the moments that matter most.
'No one wants to make a claim and end up with a cheque but have lost all their equipment,' she says. 'People want to try and limit the loss and some of the business interruption that goes along with a devastating flood.'
HOW FLOODMAPP WORKS
FloodMapp combines big data analytics and machine learning techniques with traditional hydrology and hydraulic modelling approaches to predict flooding in real-time.
Hydrology and machine learning are used to predict river heights based on rainfall.
Underlying elevation and topography are used in a rapid hydraulic model to predict how and where water will flow over the land to produce a flood inundation extent (or flood map) which shows the areas likely to be affected.
FloodMapp is therefore able to provide location-specific flood-warning information, which insurers can pass on to their policyholders to inform them of eminent flooding.
RETURN ON INVESTMENT
This has a direct return on investment for insurers by helping them prevent claims and losses.
'The information is also valuable for insurers to improve the customer experience in the moments that matter, be proactive in their event response and claims process, and quickly estimate damages,' Murphy says..
Feedback from insurers and reinsurers has been extremely positive.
'We're seeing an interesting trend in insurance where insurers want to move from a traditional, transactional interaction of selling a policy to the customer. They now want to provide more service and more value and to really be there for their customers.
'Part of that is helping them prevent damage, helping them evacuate safely with their family to alternate accommodation that they may have already booked because they knew in advance the impact of a flood.
'Insurers are seeing this approach to customer service as a way of setting themselves apart as an insurer.'
WHAT'S NEXT?
FloodMapp has grown to a team of 10 and the company is planning an expansion to the US.
'We're also looking to add value in other industries, such as utilities and mining and energy, who have assets across large geographical areas which may be exposed to flooding,' says Murphy.
'When they have big-loss events, it can be more challenging for them to get insurance again and their premiums can become more expensive.
'They're looking improve the relationship with their insurer and show them that they're able to proactively prevent loss and mitigate their risk for a better outcome.
'We think FloodMapp can add value for multiple people along the value chain.'
BUSHFIRE APPLICATION
Almost a decade has passed since much of Queensland was underwater. Today, townships in NSW, Victoria, South Australia and ACT continue to deal with devastating bushfires.
Murphy says FloodMapp was contacted when the fires were at their most severe.
'People were asking if they could use our app to predict bushfires and it made us so emotional, because they were facing the same problem with broad warnings.
'Without that very location-specific map, people may not evacuate when they maybe should, or choose to stay and protect their house when they don't understand the risk. It's just heartbreaking that lives are lost in this scenario.'
Murphy sees a place for similar location-specific technology for bushfire disasters.
'Due to some of the modelling and science that goes behind predicting each of these natural disasters, they're inherently very niche and require their own set of skills,' she says.
'While we're not looking into expand to offer bushfire in our suite of products, we are looking to partner with companies tackling other natural disasters, so that we can approach insurers together and say, "How can we build a holistic solution to this problem?"'
Catch up with Juliette Murphy at the 2020 Insurtech Conference next week.