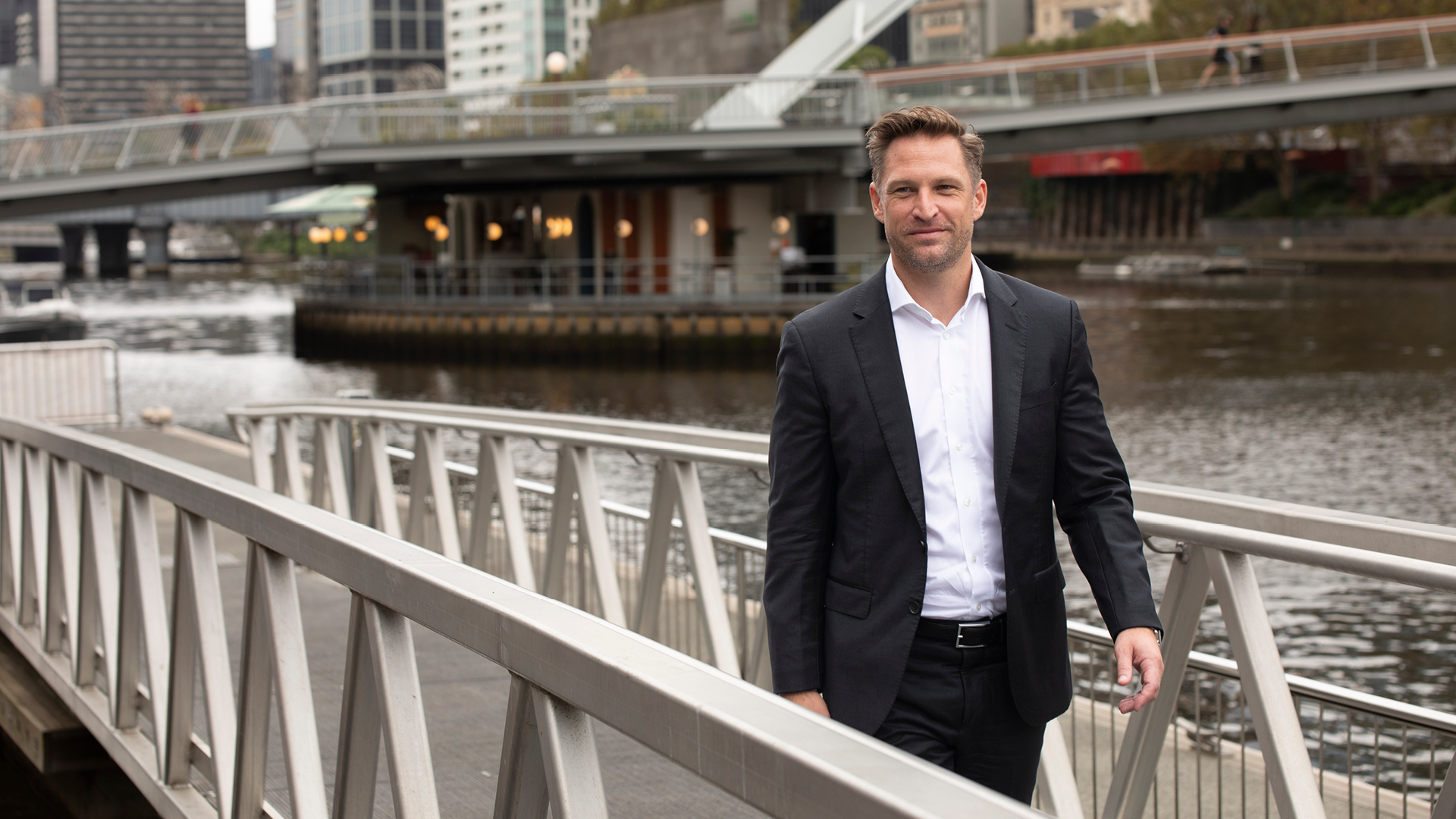 Vol: 45 Issue: 1 | March 2022
Touted as one of Australia's fastest-growing international brokers,
Honan Insurance Group
boasts a 20 per cent year-on-year growth. It is a young and diverse team — in the Australian market, the average age of Honan people is 29, and 60 per cent of them are women — which CEO Andrew Fluitsma sees as a major advantage.
'We have a truly authentic brand voice,' says Fluitsma, one of the oldest people at the company, having recently turned 40. 'We simplify what we do in a complex market.'
A taste for acquisition
Fluitsma confirms the company's previously organic strategy has transitioned to one of acquisition, with the backing of US multi-billion-dollar private equity business TA Associates. Most recently, Honan acquired Modern Risk Solutions, a market-leading insurance and risk advisory specialist in the rapidly growing sectors of emerging tech, start-ups and life sciences.

Fluitsma is passionate about creating a 'fresh, simple' business with an energetic voice characterised by a high level of performance in the market.

'I aim for the organisation to be delivering complex insurance solutions to sophisticated businesses and to be doing it with a lot of energy,' he says. 'We want to break away from some of the traditional norms that have defined insurance in the past.
'I'd love to double the size of this business, and I think we now have the kind of footprint that will enable us to do that.'
All in the family
Fluitsma, who grew up in the Yarra Valley region of south-east Victoria, studied finance and accounting at Deakin University. He was planning to become an accountant, but, fortuitously, his father, a successful loss adjustor who had worked with the likes of McLarens and Cunningham Lindsey (now Sedgwick), convinced him that broking was a much better choice.

After completing some vacation work at accounting firms, Fluitsma agreed that broking would offer an appealing combination of disciplines such as numerical and macroeconomic acumen plus the human interaction he most enjoyed.

In 2003, Fluitsma joined Marsh as a graduate in Melbourne, learning the ropes as he rotated through the larger, more complex ASX risk-managed accounts. He later spent five years at Aon managing a range of client portfolios and working with world-class experts in areas such as risk profiling, accounting, alternate risk financing and facultative reinsurance.

His decade-long journey at Honan began in 2009 as a foundation employee overseeing the growth of the company's Sydney business, before moving back to Melbourne to take on various leadership roles. He was appointed CEO in 2018.

'I am incredibly proud to lead the company as we begin to define ourselves as the largest and best privately held insurance advisory firm in Asia Pacific,' says Fluitsma.
Learning from the Big Four
For its cues on professionalism, Fluitsma says Honan looks to the Big Four consulting and accounting firms — Deloitte, PwC, KPMG and EY — who have created extremely strong brands and positioned themselves as trusted advisers in their markets.

'They do it by employing the right people, fostering an unbeatable performance culture and training, with the ethos that they're providing a service of value,' he says.

As a predominantly fee-based business, Honan doesn't shy away from that notion, Fluitsma says.

'The narrative that advisers are just there to get the cheapest deal or to take money without offering value needs to change,' he says.

'Insurance broking is not just a transaction, it's advice. What we do is incredibly important to the sustainability of business, and that's professionalism to me.'
The name of the game
Fluitsma welcomes continuous regulation that encourages best practice and lessens any misconceptions about the industry.

'Having ongoing, appropriate education is the most important thing,' he says. 'We need to ensure that professionals entering the industry execute on the view that 100 per cent transparency is a critical part of any organisation.'

He is quick to point out that Honan staff are all highly trained and qualified. 'We provide businesses the ability to forecast for certainty and protect their balance sheet,' he says.

'They can't work without our instrument, and we have to value what we're providing them. 'I know that my people care about what they do, and I know that they value what they do. We're not in this game to be taking money off people. We're in this game to be earning what we should be earning for the job that's done. Everyone needs to know what we do to earn money.'
Continuous improvement
Of the recently unveiled upgrades to codes of practice for insurance brokers, Fluitsma says 'bring it'.

'The more codes of practice that come out, the more we'll improve the professionalism of our organisations and the more we'll clean up whatever taint there might be around broking as an industry and the way we are remunerated,' he says.

'Anything we can do to bring credibility to the industry is totally welcome. I know that it will be an ever-evolving process and it should be.'

At Honan, a team of seven compliance experts keeps the organisation across regulatory changes.

'This constantly drives our people to demonstrate best practice from a top-down, cultural perspective,' says Fluitsma. 'That means we feel totally confident that when we ask for a certain level of remuneration from our clients, we can justifiably demonstrate the reasons for it.'

While he says there will always be challenges around rapid regulatory change, Honan's commitment means the company is well prepared and resourced for it.
Tech-savvy with a human touch
In addition, Honan sees itself as a progressive, technology-driven organisation, spending up to 5 per cent of revenue on data and technology each year.

'We've won some technology awards that we're truly proud of,' says Fluitsma, 'but I do think we need to spend more time and effort exploring how it can make the client experience better.

'There is definitely a place for online broking, and we would be naive to think tech isn't going to have a bigger part to play in the transactional process, especially in the SME space, which we're currently exploring.

'I want to create excellent technology portals that can provide real-time information utilising solid data analytics, but dealing face to face with people is still incredibly important. At the end of the day, technology is an enabler, and I don't see it taking away the human element.'
The DNA of the business
For Fluitsma, professionalism also means committing to more than just the commercial side of the business. He says the Honan board has made a decision to support environmental, social and governance [ESG] principles, 'because we want our people to be proud of working in this industry — that kind of pride ultimately filters down to our success as a business.'

Formed in 2020, Honan's multi-sector ESG committee has pillars covering internal and external community initiatives and with in-built reporting mechanisms.

'We're not big enough to clean the ocean, even though we would love to,' says Fluitsma. 'But we want to understand impacts and contribute where we can.'

For example, Honan raises money for Very Special Kids an organisation that provide services for sick children, by participating in its 24 Hour Treadmill Challenge. The company has also been focused on continuing to foster an environment that celebrates the diversity of their employees, proudly showing their support for matters that are important to the team, including the 2022 Sydney Mardi Gras and International Women's Day.

'We want to play a massive part in looking after our people and the community,' says Fluitsma. 'We believe in both taking actions and being authentic from the top down. And I can absolutely assure you that from the point of view of our business and our board, we take ESG really seriously.

'This isn't just about making money and growing. This is about Honan doing its part to be a better corporate citizen and to make the industry a more professional, desired location for young and old and all sorts of people.

'I'll keep focusing on making that happen for the rest of my career, because I want to keep working until I'm 100.'
Two-minute bio: Andrew Fluitsma
COMPANY - Honan Insurance Group
TITLE - CEO
ANZIIF - Fellow
EDUCATION
Bachelor of Commerce (Finance) at Deakin University; Master of Insurance (Risk) at Deakin University; ANZIIF (Fellow) CIP.
CAREER
Andrew Fluitsma started his insurance broking career in 2003 at Marsh in Melbourne as a graduate. He then spent five years at Aon before joining Honan in 2009 as a foundation employee, overseeing the growth of the company's Sydney business. He moved back to Melbourne to take on various leadership roles and was appointed CEO in 2018.
ANZIIF MOMENT
For Fluitsma, becoming an ANZIIF Fellow was a true privilege and a career highlight. 'I've been adamant about ANZIIF membership and keeping my learning going since I started my insurance career with Marsh, which was aligned with ANZIIF,' he says. 'I still remember the day I received my Fellowship certificate in the mail. It was a very proud day for me and my dad, who attained Associate level, and I display the certificate alongside my other degrees. I encourage every one of my people to study and be members of ANZIIF.'
ADVICE FOR YOUNG PROFESSIONALS
'Be proud of what we do. Understand your clients, understand their business, be entrenched in their business and be proud to be rewarded. To this day, I don't understand why every university graduate doesn't want to join the insurance industry. I've had the opportunity to travel all around the world. I have met the smartest, best people over the 20 years I've been in insurance. It's a brilliant industry.'
OUTSIDE THE DAY JOB
Fluitsma has two young children, Stella, 7, and Ted, 5, who keep him very busy on the weekends. He also gardens a lot and likes to keep fit by running and cycling about 30 to 40 kilometres a week.
TOP TIP
'If you're the smartest person in the room, you're in the wrong room. You need to surround yourself with intelligent people so you can learn. I've been fortunate enough to continue finding smarter people than me to work with. I can safely say I'm not the smartest person in this organisation. And I don't ever want to be.'
Read this article and all the other articles from the latest issue of the Journal e-magazine here