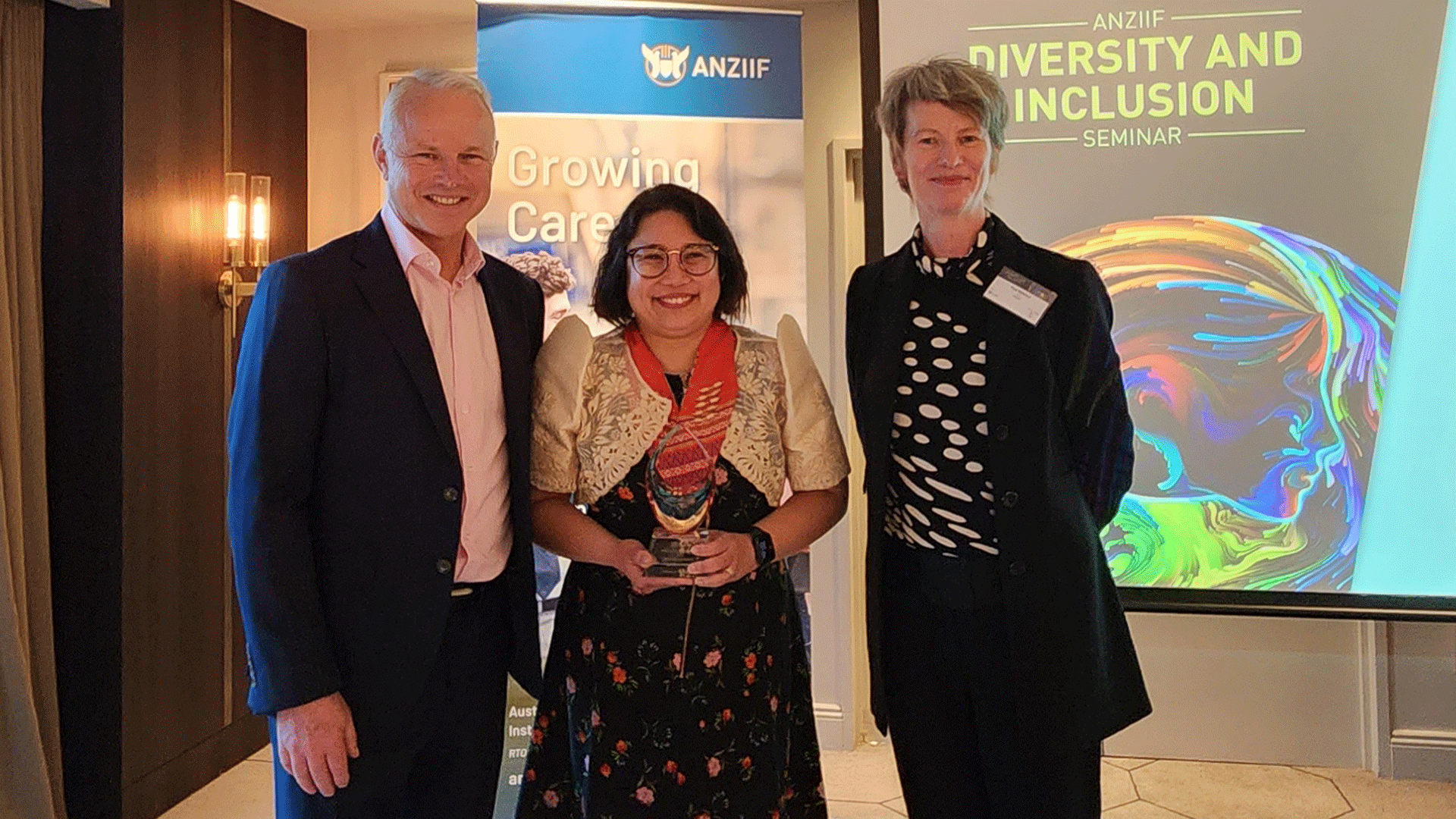 In the process of applying for the 2023 Donna Walker Award for Inspiring Leadership, Natalie Perez had to push beyond her limits and reflect on the value she brings as a leader.
Perez, who is Manager, Internal Audit at IAG, shares that she felt challenged by her title, which didn't necessarily suggest "inspiring leadership".
"I've been working in my career for too long to be described as an emerging talent," she explains.
"But I'm not a CEO, a head of anything or an executive, nor do I have any direct reports in our organisation."
An inspiration to others
Perez, who won the award, has now confirmed for herself that leadership can apply to anyone regardless of their role if they mentor or coach their peers and inspire excellence and integrity.
"The recognition I've received as a recipient of a Donna Walker award should encourage others to apply without having to worry about their title," she says.
A migrant from the Philippines, Perez says her main influence growing up was her father, who entrusted her with mini-home projects such as developing a database to help manage the family's grocery budget.
"I was careful to enter the correct prices of the various grocery items and received instructions from my parents on the quantity purchased," she shares.
"By generating reports to help my parents track prices and grocery spending, I learned the importance of technology in the decision-making process.
"It helped me see the bigger picture about how decision-makers rely on accurate and complete data to make informed decisions."
Trusted adviser
Perez enjoys being a trusted adviser in her current role as a manager in IAG's Group Internal Audit division.
"No two internal audits are the same, even when they relate to the same topic or have the same scope," she says. "My challenge is to adapt to each of the technologies I am auditing."
For Perez, who works across all the different levels in the organisation, providing reliable information to help set priorities and facilitate decisions is a source of pride and motivation.
"Every audit project allows me to meet different teams and build good relationships through the process of improving a stakeholder's risk position," she says.
"I find it fulfilling when they still remember me, even after the completion of an audit project."
Motherhood, the 180-degree change
With a young family of four children between 9 and 16 years old, Perez is familiar with the challenges women like herself face, especially within the technology space.
To that end, she volunteers her time to mentor migrant women colleagues.
"Motherhood is a 180-degree change in which a woman's extended family, such as her mother or sister, is extremely important for both physical support and company. However, most migrant women do not have extended families during this time of need.
"Migrant women not only experience challenges in relation to the care of their children, but also their own mental health. Many of them also suffer with loneliness, knowing they might have had greater support in their home countries."
Looking for role models
Perez also contributes to SheLeadsTech, a diversity initiative of the professional IT body ISACA, which addresses the major gender gap in cyber security.
"Women are still under-represented in the more technical fields of cyber security such as security operations and incident response teams, " she says.
"More women are undertaking degrees, but their focus tends to be on security awareness, governance, risk and compliance."
Perez argues that if women could observe other women being successful and thriving in the technical fields of cyber security, more would be inspired to enter the profession.
She also suggests that more men could become allies by actively participating in childcare responsibilities.
"Many progressive organisations now offer parental leave without distinguishing between fathers and mothers," she says. "Taking parental leave benefits fathers by allowing them to spend time with their babies and step into their partner's shoes."
Opportunity to mentor
Another great opportunity for men is to participate in mentoring, coaching and leadership development for women.
"Many women do not have access to coaches and mentors, so if men can help in this way, they can champion change. They can contribute to building women's confidence and understand their strengths and vulnerabilities better."
Perez praises the psychological safety at IAG, which "brings out truthfulness and authenticity" and led to the company being named the Best Workplace for Women in Security in the 2020 Australian Women in Security Awards.
"One of the key dynamics of our team is that we're not to be afraid to ask for help, whatever the circumstances," she explains.
"Our leadership team values having enough transparency to understand the support required, while effectively balancing commitments to our stakeholders."
Cyber security thought leader
Perez, who aspires to be recognised as a thought leader in the field of cyber security and data protection, says she hopes to lead a diverse portfolio of influential and inspiring people who are role models in the community.
She sees technology becoming a driver rather than merely an enabler in the insurance industry.
"This means that people working in technology will not just be required to ensure the operability of systems. They'll have a greater responsibility to deliver a safe, protected environment for consumer data, and to provide ethical outcomes for users."
The challenge of taking responsibility
For example, Perez points to the implementation of AI, which includes research, data gathering, development and continuous refinement.
"Currently, the people behind the research don't necessarily have diverse backgrounds or mindsets," she says. "As a result, the initial outcomes of AI may be prejudiced or exclude underrepresented individuals and communities.
"While research, data gathering and development are outside the control of end consumers, we as professionals can challenge the outcomes until we are satisfied that the results are unbiased and ethical."
Image: (From left) Richard Feledy, Managing Director, and CEO Allianz Australia, Natalie Hingco Perez, Prue Willsford, CEO ANZIIF