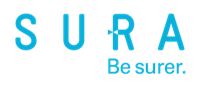 Locations
Adelaide
Brisbane
Hobart
Melbourne
Perth
Stay in touch
SURA Pty Ltd is a leading family of Underwriting Agencies in the Australian insurance market that employs over 200 industry professionals throughout Australia.

We focus on the niche industry segments we understand back to front and develop products from the ground up to suit specialist needs. We are a progressive organisation that values our staff and offers them superior working conditions.
Benefits of working for SURA
Flexible working
SURA's new 4/1 work policy allows team members to work 1 rostered day per week in the office and the remaining 4 days from home. Additionally, staff are provided with a home office set-up allowance and a fortnightly work from home stipend to ensure staff can build and maintain a home office space.
Generous approaches to leave
To encourage our employees to protect themselves and others from COVID-19, SURA is offering free time-off for COVID-19 vaccinations as well as two bonus days of leave when individuals have been fully vaccinated. Bonus leave is also awarded to anyone who reaches a nil leave balance in any 6-month period.
Healthy body and mind
SURA's health and wellbeing programs are provided to all team members to help them feel their best and get the most out of their professional and personal life. Team members have access to mental health support and advice from our Employee Assistance Provider as well as the opportunity to participate in physical challenges such as team walking 'races' and home virtual exercises.