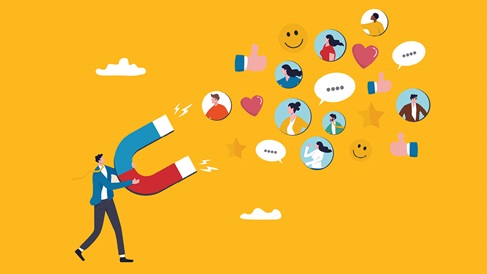 Whether you are a top executive or just starting your career in insurance, your LinkedIn profile is where many people will get their first impression of you and your brand. LinkedIn has almost 800 million members across 200 countries, making it a great platform to generate both local and international professional connections.

We asked Lucy Bingle, LinkedIn strategist at Australia's leading LinkedIn agency, for her top tips to build a credible professional brand for yourself on the social platform.
1. Pick the right photo
Your LinkedIn profile photo is your first chance to communicate your personality and build a connection. 'People like working with people who look friendly and approachable,' says Bingle. You don't need a corporate headshot taken in front of the white background. 'Use a friendly headshot photo taken in natural light to showcase the real you,' she says. Don't forget the background image, she adds. 'A vibrant background image can bring your profile to life. If you use an image with a tagline or words, make sure that it has been optimised for all devices.'
2. Craft a detailed bio
'The lost opportunity I see often on the LinkedIn profile pages is that people haven't completed their "About" section,' says Bingle, who encourages people to write their introductions in first person to sound more approachable. Don't just include your job title. Clearly articulate what you do, how you help people and the challenges you solve,' she says. Bingle recommends adding links to your website, rich media files and direct contact information in this space.


3. Adjust your privacy settings
Bingle says turning on certain privacy settings will hide your headshot, engaging intro and rich media snippets, which will stop people from connecting with your profile and brand. 'I recommend keeping your full profile visible because at the end of the day LinkedIn is where people come to do business,' she says. 'When you choose to be anonymous or partly anonymous, you miss a lot of commercial opportunities of being seen by potential employers or customers.'


4. Engage with your network
'Once you have optimised your LinkedIn profile and built a network, take that next bold step to share insight and knowledge around your area of expertise by sharing posts wrapped with expert commentary,' says Bingle. She also encourages leaders and managers to recognise the work and achievements of the people they work with. 'This activity demonstrates your organisation's culture, which, in turn, helps attract top talent,' she adds.
5. Request recommendations
When people land on your profile, you want to showcase powerful recommendations that communicate your professional expertise. 'Seek out recommendations from people you've worked with to show to the world that you are easy to work with, that you deliver on time and that you deliver quality work,' says Bingle.
This content was originally published in the ANZIIF Journal, read the latest issue of the Journal e-magazine here