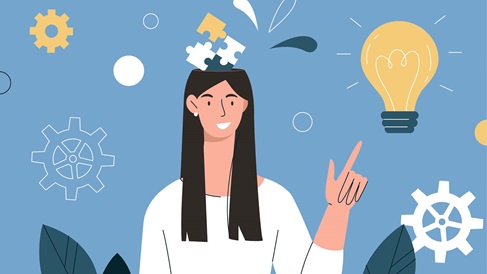 If an employer has two candidates with equally strong technical ability vying for a role, the deciding factor will always come down to the candidate with superior soft skills, according to Carl Piesse, regional director at recruiting specialist Hays. 'Employers already look for jobseekers who have the soft skills required to succeed in the face of constant new challenges, from being curious and inquisitive to having strong communication skills,' he says.
While technical skills are important, it's the ability to communicate effectively, empathise with customers and work together in a team that are increasingly valuable assets for global companies.
Piesse suggests further developing your soft skills by taking advantage of any training and resources that your employer offers, or ask your mentor or manager for advice. 'Outside of work,' he says, 'read top business books, listen to podcasts, attend virtual events, conferences and webinars or take an online course.'
1.) Adapt to change
In a rapidly changing industry, adaptiveness is an important skill for insurers to develop. 'Whether organisational, technological or skills-based — or, as we've seen recently with COVID-19, totally outside of our control — the jobs we do and the way we do them will evolve again and again,' says Piesse. When viewed through a positive lens, change can be an opportunity for problem solving, growth and innovation.
2.) Keep up communication
'Your skills and ability to do your job get lost if you can't communicate with others,' says Piesse. Effective communication also means active listening techniques — demonstrating you're listening through non-verbal indicators such as eye contact and nodding, and being able to absorb and paraphrase what has been said. Regular updates and check-ins with colleagues and customers will ensure all parties are kept informed, even when there are no changes.
3.) Collaborate with colleagues
No person is an island in the workplace — at least no successful person. The ability to work collaboratively with a team is a highly valued skill. And this doesn't always mean leading from the front — Piesse advocates supporting the ideas of others, accepting and sharing responsibility and understanding the strengths of other people in your team as important skills to bring to a collaborative work environment.
4.) Build resilience
Although many people strive for perfection in their careers, it's the ability to bounce back from difficult times that can set an employee apart from their counterparts. 'We all face adversity from time to time in our jobs, so being able to succeed despite the demands placed upon us helps people stand out and thrive,' says Piesse.
5.) Be willing to learn
'This soft skill is necessary because the world of work changes so rapidly that people need to be able to keep their skills relevant to remain employable,' says Piesse. Another trait that will support your willingness to learn is self-awareness — this allows you to identify gaps in your knowledge and find opportunities to bridge them.
This content was originally published in the ANZIIF Journal, read the latest issue of the Journal e-magazine here