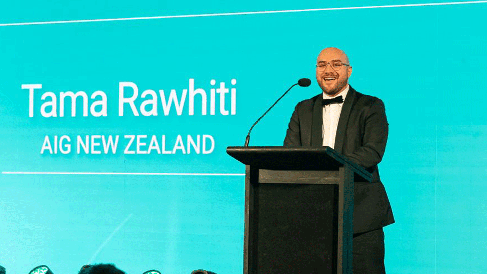 Tama Rawhiti joined the insurance industry as a claims consultant at Lumley 10 years ago. He quickly realised that the industry offered rewarding career opportunities.
"I made a conscious effort to learn as much as I could from well-respected and established insurance colleagues," he says.
The investment he made in continuous improvement paid off. Last week, Rawhiti won Young Insurance Professional of the Year at the 10th ANZIIF New Zealand Insurance Industry Awards.
"I feel very humbled and honoured about winning the Young Insurance Professional of the Year," says Rawhiti, who is the head of risk at AIG New Zealand.
"It's been a real privilege to be considered for this award, alongside an impressive group of industry peers. I'm also very proud to be a part of the great team at AIG."


Measuring carbon footprint
Rawhiti loves the variety of his current role at AIG, which includes providing input into the company's strategy, responding to crisis events, working with the board or regulator and developing the insurer's approach to climate change.
"No two days are ever the same," he says.
"The nature of my role requires flexibility, so I often need to switch my thinking from short-term to medium and longer-term issues — that is something I find enjoyable.
"Not to mention the stakeholder management aspect of my role and the wide range of people I get to work with, both internally and externally."
Most recently, Rawhiti has been involved in AIG New Zealand's carbonreduce certification, which has been running for three years.
The insurer measures its carbon footprint in accordance with ISO 14064-1 and the Greenhouse Gas (GHG) Protocol. This is part of its ongoing commitment to manage and reduce its emissions.
"It's a great start, but we know there's a lot more work to be done, both in terms of mitigation and adaptation. I'm proud of my team who have established and continue to lead this essential program of work."
Globally, AIG is committed to reaching net zero GHG emissions across its underwriting and investments portfolios by 2050.
"I'm excited to support our colleagues from across AIG to implement and align AIG New Zealand's efforts with our company-wide [environmental, social and governance] ESG strategy," says Rawhiti.
ESG Leadership opportunity
His long-term career aspirations are entwined with sustainability and ESG issues. In the next five to 10 years, he plans to deepen his knowledge in these areas so that he can help businesses and communities adapt to the changing world.
"I'm relatively new to my senior leadership role, so my career focus in the short term is to learn from my esteemed colleagues and mentors to become a more effective insurance leader, as well as embracing the valuable opportunities in my current role at AIG," he says.
In a world where risks come in multiple forms and stem from various sources, keeping up to date with the latest risk trends and issues can be challenging, says Rawhiti.
"Cybersecurity, ESG, people and talent, economic, conduct and culture risks are all top of mind — so it's important to prioritise and maintain focus."
Making risk management simple
Part of his role involves the integration of risk systems and processes, which is inherently challenging for any risk officer. He says he strives to always make risk management simple and applicable to real life for his team members.
This makes it a valuable business tool as opposed to a "tick-box exercise".
Before joining AIG in 2020, Rawhiti worked at Auckland Council — first as a senior adviser in enterprise risk management, and then as risk functional lead in the COVID-19 emergency response.
He says it was a unique opportunity to understand how a public service approaches enterprise risk management.
"If you think about local government and what it does — there's a lot to it, from waste, infrastructure, community facilities, parks and recreation to city planning, policy and regulatory services — with that comes a very diverse risk profile.'
Good advice
He learned a lot about the importance of governance, particularly through exposure to the Audit and Risk Committee, as well as the governing body made up of the mayor and its elected officials.
In March 2020, he was deployed into Auckland Emergency Management, to support with the all-of-government civil defence response to COVID-19 at the start of the pandemic.
"This was interesting and challenging, as there was significant uncertainty and we needed to make sure we could ensure continuity of critical services for Aucklanders."
Rawhiti is quick to encourage graduates to consider a career in insurance.
"Insurance plays such a vital role in society," he says. "It's an ecosystem that not only supports the global economy but protects individuals and businesses from the unexpected."
Graduate or internship programs are a great way to start a rewarding and meaningful career in insurance and Rawhiti says AIG has fantastic Early Careers programs designed to train and develop the next generation of leaders, and provide resources to map a career path across many disciplines and geographies.
Whether it's working for an insurer, broker, consultancy, adjuster or one of the key service providers, there's a place for everyone in insurance," he says.
His ultimate piece of career advice?
"Think big and keep an open mind."