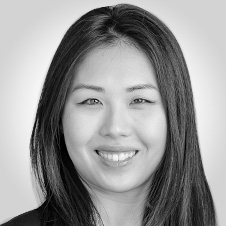 Fiona Fong
Cyber Incident Management and Claims Lead – Pacific - Marsh
A lawyer by background, Fiona leads the cyber incident management and claims practice for Marsh Pacific. She is involved with providing a range of pre-incident and claims management services to large corporate and global clients, with a particular emphasis on managing a portfolio of complex cyber matters.

In 2017, Fiona won the Turkslegal claims scholarship for her essay on 'Navigating Cyber Claims in an Evolving Landscape' where she devised a six- step process to assist claims handlers with building experience in the area of cyber claims. Fiona was also named ANZIIF Young Insurance Professional of the Year in 2018 and Insurance Business Young Gun in 2019.
You have an educational background in Psychology and Law. What career goals did you have before you decided you wanted a career in Insurance?
"Funnily enough I'd always wanted to be a Lawyer. I started work experience at a law firm back in year 10, and my whole education and background was dedicated to becoming a Lawyer. I had an opportunity to work as an Insurance Litigation Lawyer, and just before completing my post-admission I decided Law just wasn't for me. I thought, why not give Insurance a go? And so I transitioned from a Lawyer to a Claims Consultant at Marsh about five and a half years ago, and I'm still there today!"
Did you have any misconceptions about joining the industry initially and how did that change over time?
"As bad as it sounds the initial image that I had of insurance was that it was for old people. I never thought as a Graduate I'd go into Insurance. The misconception provided by media definitely contributed to that. I'm so glad I gave it a go and dived in because five and a half years later, I'm still around!"
Tell us a little bit more about your role and a day in the life of Fiona Fong?
"Every day changes, no two day is the same. As fancy and long as my title sounds, essentially I'm doing two things: Incidence Response Management and Managing Claims.
To give you a feel of what a day in the life of Fiona Fong looks like:
Yesterday I was back in the office
I caught up on my emails that came through overnight
I might get some queries from clients, brokers about policy interpretation or issues with claims that might crop up that I need to address
Meetings or conferences with lawyers, clients, loss adjusters about claims that I'm managing.
Presenting at workshops for clients on Ransomware and Cyber "a topic that's definitely on the forefront of clients minds at the moment."
What do you love about working in Claims?
"I'm a Claims Handler. As Brokers we essentially we will assess the risk for our client, work with the market in obtaining the best policy, and place the policy on their behalf. What I love about Claims is that there's challenges popping up every day. The emphasis around claims is a lot on client management and helping them resolve an issue. Being that first point of call and solving problems when they arise.
It may sound negative because they often won't approach you until something bad happens but at the same time I see myself as their advocate, their guardian angel, I'm there to help and respond when an incident occurs."
Are you finding a lot more organisations are focusing on Cyber protection due to an increase of cyber breaches?
"Definitely, there has been an increase in Cyber Claims and many people working from home during COVID have been targeted. There is a lot of material on Cyber out there and a greater emphasis and focus from industry."
For students thinking about joining the industry, where in the world can a career in insurance take you?
"Opportunities are unlimited. There are definitely plenty of chances to travel (obviously not right now due to COVID). We have offices all around the world - we have had many colleagues that have transitioned globally to UK or even Canada! I've transitioned across different insurance lines including: liability, property, marine and in my current role I am working on some extremely high profile complex cyber matters. To date they have been some of the most interesting matters that I've worked on."
What advice do you have for students thinking about joining the industry?
"I would say do a lot of research and try and understand what different companies do, what roles are available within the company. Don't limit yourself to your degree or discipline. Opportunities are limitless, you just have to find them. Network, talk to people in the industry and find out what role suits your career aspirations".
Enjoyed reading and want to find out more? Watch the full interview with Fiona Fong here: