Fiona Fong, Marsh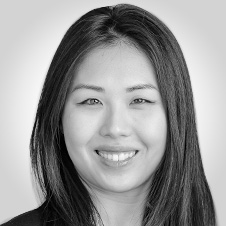 'Don't be shy approaching people in the industry. There is honestly something for everyone out there.'
ABOUT YOU
I am currently a Senior Claims Consultant in Marsh's Advocacy team. Like many people in the insurance industry, this was a career I fell into. I initially worked as an insurance litigation lawyer and after two years, I took a year off to teach English in South Korea. This gave me the opportunity to reflect on my career and upon my return to Sydney I decided to focus my career in the insurance industry. Aside from insurance, I love latin dancing, reading, travelling, eating and spending time with my French bulldog Truffles (not necessarily in that order).
WHAT DOES YOUR CURRENT ROLE. SENIOR CLAIMS CONSULTANT AT MARSH, ENTAIL?
As a Senior Claims Advocate I specialise in handling major loss, complex and non-routine claims. This involves handling major catastrophic loss from natural disasters to managing high-profile liability and professional indemnity claims. My day-to-day role involves interpreting policy wordings; driving settlement negotiations on behalf of client; conducting claims meetings; advocating, strategy development and efficiently managing matters to achieve the best outcome possible for my client.
YOU WERE PREVIOUSLY A LAWYER AND AN ENGLISH TEACHER, TELL US HOW AND WHY YOU MADE THE JUMP TO INSURANCE.
My role as an insurance litigation lawyer gave me my first exposure to the insurance industry. It made me realise that insurance plays a critical role in all aspects of society and I became drawn to the innovative and dynamic nature of this industry. In particular, I chose a career in claims as the work is varied and allows me to utilise my legal skills in a commercial environment.
YOU ARE ALSO THE CO-CHAIR OF THE MARSH YOUNG PROFESSIONALS COLLEAGUE RESOURCE GROUP. WHAT DOES THIS GROUP DO?
This group was founded to empower my fellow millennial's in the workplace and help them to reach their full career potential. By the same token, the group aims to educate and up-skill allies of millennial's to help them engage with this cohort, especially since we recognise in the next 5 – 10 years millennial's will make up the majority of the workforce.
IT SEEMS YOU HAVE A PASSION FOR LEARNING AND DEVELOPMENT AND FOR SUPPORTING PEERS IN THEIR PROFESSIONAL DEVELOPMENT. HOW IMPORTANT IS PROFESSIONAL DEVELOPING IN SUPPORTING CAREER GROWTH?
Continued professional development is essential to support your career growth. I regularly attend industry events to keep myself updated on the latest news and legislation. I also love reading business development books and thought leadership articles on Linkedin – nerdy I know! However, I believe in order to experience career growth you need to continually upskill and stay relevant with the industry.
YOU RECENTLY WON THE ANZIIF INSURANCE INDUSTRY YOUNG INSURANCE PROFESSIONAL OF THE YEAR AWARD. HOW DID IT FEEL WINNING THE AWARD AND HOW IMPORTANT ARE THESE INDIVIDUAL AWARDS IN SUPPORTING CAREER PROGRESSION?
It's a great feeling to know my efforts and achievements have been recognised by industry leaders and peers. However, I am also mindful that an award is not a substitute for skills and experience. This is something you always need to work on.
WHAT ADVICE WOULD YOU GIVE SOMEONE LOOKING TO GET INTO INSURANCE?
Research all the different career opportunities within the insurance industry. Consider carefully what your strengths and skills are, and how that can translate to an everyday role in insurance – there is honestly something for everyone out there! Don't be shy about approaching people in the industry to find out more about what they do on a daily basis. Building relationships is at the core of this industry, so be sure to polish up your interpersonal communication and networking skills.